Moving can be a stressful and overwhelming experience. With the right design concepts, it's possible to transition a home seamlessly into its new environment. From selecting furniture that matches the space to working with professional house movers, these interior design tips along with moving tips will help you create a beautiful living space.
Making Your New Home Feel Like Home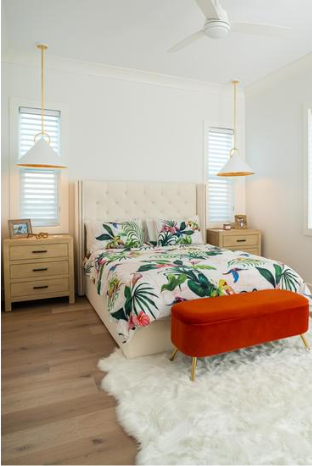 Design by Patricia Davis Brown Designs
In this blog post, we'll explore ten ways to make your move smoother and less time-consuming while offering design solutions to make your new home feel like home.
1. Enlist The Help Of Professionals
Moving can be a hassle and an added stressor if you do it yourself. Working with a professional company like Baymeadows Movers will certainly take some of the burdens off your shoulders so that you can focus on effortlessly setting up and decorating your new home. They take care of the packing, loading, unloading, and even unpacking for you—allowing for a smoother transition into your new space.
2. Interior Design Tips That Help You to Unified Your Design Style
Home decor is all about cohesion and balance—but that doesn't mean you have to stick with one style throughout the house. Introducing different elements of design such as color, texture, and pattern helps create a unified look that ties the room together.
Patricia recommends layering pieces like area rugs, curtains, and accent pillows to add pops of color and texture for a cozy feel.
3. Embrace Vertical Space
Don't forget about vertical space when it comes to storage! This is especially important if you're moving into smaller quarters with limited square footage. Invest in quality shelving units or wall-mounted cabinets for storing items in an organized fashion that won't take up floor space. It's design tips like these that will help to eliminate clutter and create a comfortable relaxing vibe.
4. Interior Design Tips To Help You Add Greenery
Plants are not only aesthetically pleasing—they can help purify indoor air quality as well. Houseplants such as spider plants, dracaena, peace lilies, and more are relatively easy to take care of and they make a big impact on a room's décor.
5. Get Rid Of Clutter
An uncluttered space is essential when it comes to creating a peaceful atmosphere in your home.
Get rid of anything you don't need or use regularly—this could include extra furniture, clothing, appliances, etc.—to make the most out of the available space.
6. Invest in Multipurpose Furniture
Furniture pieces like futons, sleeper sofas, and ottomans with storage capabilities are great for maximizing a small space without sacrificing comfort or style. This type of furniture allows you to do double duty as both seating and storage.
7. Don't Forget About Lighting
One of the easiest ways to make a room look and feel more welcoming is with proper lighting. Natural light is best, so consider forgoing heavy curtains in favor of sheer ones or no window treatments at all if the room doesn't demand privacy. Patricia is known for her intricate lighting designs. She says LED lighting can be harsh and visually fade out the colors in the room. Working with a lighting specialist who can help you select the right color temperature with your LED lights will help you create the right visual atmosphere in your new home.
8. Use Wall Art As A Focal Point
Wall art can instantly transform a plain white wall into something special. Choose pieces that reflect your personality and fit within the decor scheme of your home. Canvas prints, tapestries, photography prints—the possibilities are endless!
9. Get Creative With Storage
If you don't have much storage, get creative with your solutions. Consider using peg boards for organizing items and displaying decorations, or investing in ottomans with built-in storage.
10. Take Your Time
The process of transitioning into a new place can take some time, so don't rush it. Take your time to find the right furniture and decorations that reflect your style and create a space that is both functional and aesthetically pleasing.
Final Reflections
With these design tips in mind, you'll be on your way to creating a beautiful new home and it will feel like home in no time.
Other posts you might enjoy:
Home Wall Murals: 5 Interior Design Tips for Success
3 Design Tips for Your Holiday Home
Design Tips to Increase the Value of Your Home
Share This Story, Choose Your Platform!