Indoor Garden Designs Are Beautiful
Dutch artist and gardener, Fedor Van der Balk has designed self-supporting hanging plant containers. This project, the String Gardens, allows people who live in cities the luxury of growing a garden indoors. I am so glad that green design is becoming popular in home design. I love the idea of designing indoor garden designs for my clients. Today there are several options that allow us to do gardening that fit all levels of gardening abilities.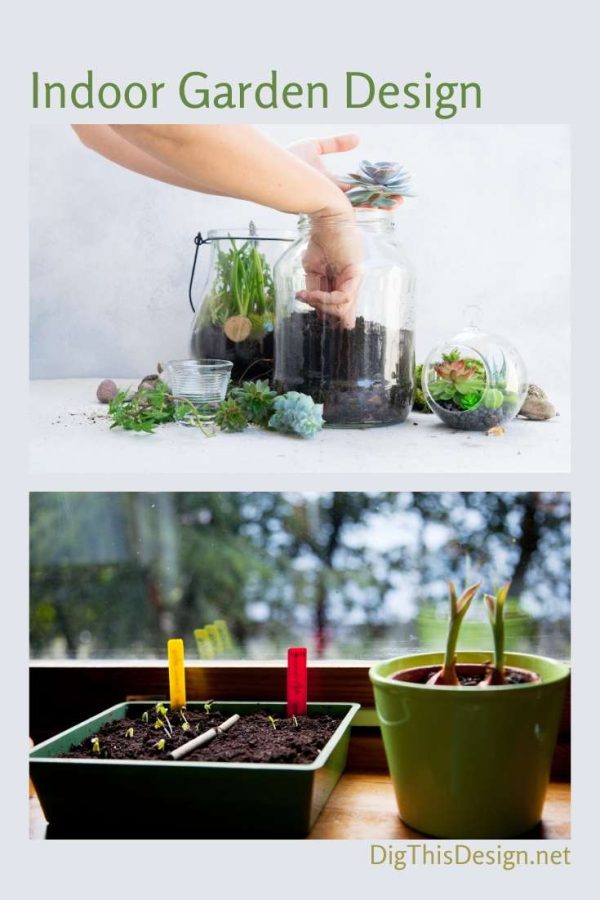 Window Herb Indoor Garden Designs
We are all familiar with growing herbs in our kitchen window but, with a little designing upfront, you can create added color to any kitchen. I like the effect of the bright colored pots with the green herbs against the blue sky. There is nothing like having fresh herbs when you are preparing a healthy meal. As a kitchen designer, I am hearing a lot of buzz about indoor growing stations in kitchen design for the future. I can't wait to attend this year's Kitchen and Bath Industry Show, in January to see if any manufacturer has stepped out of the box to make this a reality.
Hydroponic Indoor Garden Designs
There is an organic coolness about clear globes with hydroponic plant growth. If you are not familiar with hydroponics, it is a form of soilless agriculture where plant roots grow in nutrient-enriched water. I love the translucent effect of the glass globes, they give the effect of floating-in-air.
Air Plant Garden Designs
Air plants are for those people, like me, that do not have a green thumb. Air plants are relatively easy to care for. Every week you should take them out and give them a good soak in a water bath (submerged in the water) for about 30 minutes. Remove them from the water and give them a simple shake and set in a spot with a bright light and good air circulation to dry off. They need some form of light from indirect sunlight or under fluorescent lighting.
If if you need more supplies for your indoor garden you can consider an online retailer such as Growace.
Images Courtesy of Canva.
Other posts you might enjoy:
Give Life To Your Design With Plants
Share This Story, Choose Your Platform!