Bringing a bit of color into your home is a great way to showcase your personality and add interest to any room. Using the inspiration from just one accent piece can bring your entire decor together, giving it a stylish and finished feel.
Have a Seat – In Bold Accent Colors
These chairs full of accent colors by Bokja can brighten even the darkest winter day.
Not quite that brave? Pick just one of the strong accent colors for your accent piece. According to Pantone (the world's authority on color) the deep red-orange color (like this year's color of the year, Tangerine Tango) is intended to give us all a big energy boost; a refresh and a recharge.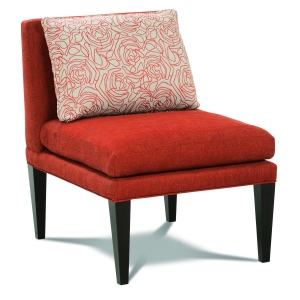 This is Rowe Furniture's Ferguson accent chair in tangerine tango.
Eye Catching Color Splashes
Following are some fabulous pieces with strong accent colors from westelm.com that will add an eye pleasing focal point to any room in your home.
Feeling blue? Run with it! These bright blue accent bowls will give you a taste of spring to help beat the winter blues.
 Brighten up a room with yellow accessories to help beat the winter blahs!
Thanks to Kimberly Anderson, Lifestyle Expert, Host, Kim's Closet – everyday style with Kimberly Anderson for helping us spot some of these fabulous finds drenched in mood brightening accent colors!