When it comes to adding character and vitality to a room, few techniques can match the transformative power of faux finishes. Far from the uniformity of simple paint jobs, faux finishing imbues walls with depth, texture, and artistry that can mimic everything from marble to rustic barn wood. The right technique can turn a bland wall into a canvas of illusion, creating an ambiance that is both inviting and unique.
6 Faux Finishes Adding Texture and Depth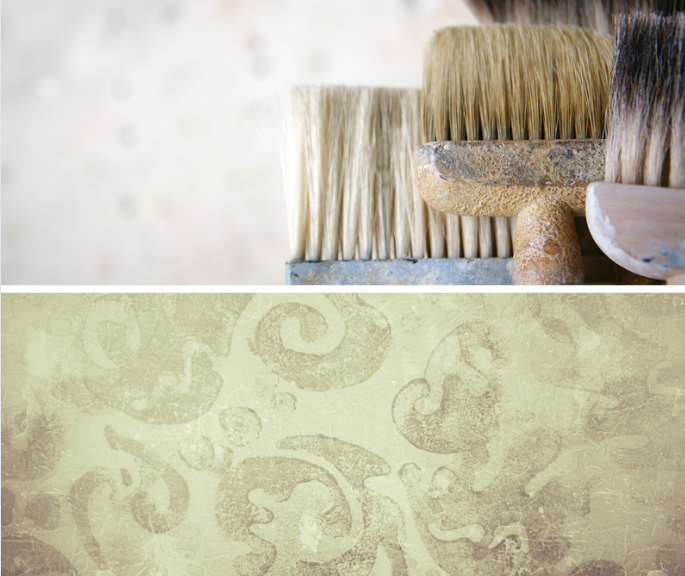 Faux finishing is a revered art form, and its history is as layered as the techniques themselves. Here we delve into the world of faux finishes, showcasing the sophistication they can bring to any room in your home.
1. Strié Technique: Subtle Stripes, Significant Impact
Strié, or dragging, involves dragging a brush through wet glaze to create fine lines that mimic the grain of wood or the weave of fabric. These faux finishes bring an understated elegance to walls, often used to add a silk-like texture that's both touchable and visually stunning. When considering the strié method, it's essential to turn to seasoned professionals, so check Paint Corps Painting Company, who can advise you on any paint techniques. 
2. Venetian Plaster: A Touch Of Italian Luxury
Venetian plaster faux finishes date back to Roman times and have been perfected in the palazzos of Venice. It involves applying multiple layers of plaster, each one polished for a smooth, glossy finish that can look strikingly like marble or natural stone. 
The result is a wall with depth and a subtle luminosity that plays with light in enchanting ways. This type of finish not only adds a layer of sophistication but also stands the test of time, both in durability and style.
3. Graining: Bringing The Outdoors Inside
With the graining technique, you can infuse your space with the organic beauty of wood. This method uses paint and glaze to replicate the appearance of various wood grains, adding warmth and richness to the room. Whether you opt for the opulent swirls of burl wood or the straight lines of pine, graining can turn a plain surface into a conversation piece, complete with the charm of natural elements.
4. Color Washing: A Whimsical Dance Of Hues Using Faux Finishes
Color washing is a playful yet sophisticated faux-finishing technique that involves layering a glaze over a base coat in a random, overlapping motion. The result is a wall that boasts a soft, cloud-like texture with subtle color variations. This method is ideal for creating an atmosphere of relaxation and whimsy, where the walls seem to have a gentle, almost watercolor-like movement.
5. Metallic Finishes: The Midas Touch
Metallic finishes are the go-to choice when you want to inject a bit of glamor into your space. Using paints with metal particles or metallic leaf, artisans can transform your walls into a shimmering backdrop that reflects light and adds an element of opulence. 
This approach works particularly well in areas where you want to make a bold statement, such as a formal dining room or a luxurious master bedroom.
6. Sponging: A Symphony Of Textures
Sponging is one of the most accessible faux finishing techniques, involving dabbing a sponge into glaze or paint and then onto the wall. The beauty of sponging lies in its randomness and the unique patterns it can create. The technique adds a rich texture and depth to the walls, creating an engaging and dynamic surface that flat paint can never achieve.
Conclusion
Faux finishes are the unsung heroes of interior design, capable of turning nondescript walls into works of art. They provide a tactile and visual depth that goes beyond mere color, playing with light, shadow, and texture to transform spaces into bespoke environments. Whether you desire the earthy allure of grained wood, the sophistication of Venetian plaster, or the glitzy drama of metallics, these techniques offer an elegance and complexity that standard paints cannot.
So next time you consider a change, think beyond color swatches and imagine the possibilities that faux finishes can offer—a world where your walls whisper stories of texture and elegance.
Other posts you might enjoy:
Share This Story, Choose Your Platform!