I think all of us at one point have been in a hotel room and felt envious at the design. After all, some of the rooms in trendy boutique hotels are drop dead gorgeous. Have you ever wished your home could have the same edgy feel? The following are decorating tips to creating your boutique hotel home design:
Decorating Tips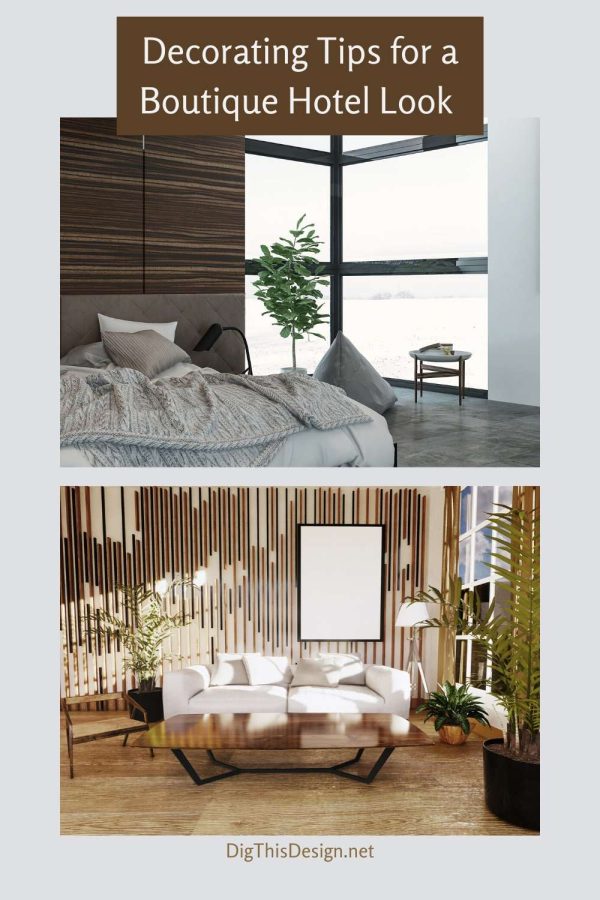 Keep Your Background Colors Black and White
You will find that hotel rooms tend to go minimalist, when it comes to colors. In fact, they tend to stick to neutral colors to ensure the room looks fabulous. Therefore, when you create your bedroom, you should opt for a black and white theme. You might want to paint the walls white and then you can add black accessories to make it look fantastic. As well as looking ultra modern, it can help the room to be stylish. And when it comes to selling your property, black and white will help you to score your asking price.
Stick with Classic Furniture
When you stay in hotel rooms, they tend to have a classic wardrobe and bedside tables where you can keep your belongings. After all, these tend to look beautiful and can look expensive. Therefore, you should opt for some beautiful and classic bedroom furniture for your room. Go for a large vintage wardrobe which is big enough for all your clothes. And you might want to opt for a large dresser to sit near your bed. Having luxury bedroom furniture will help you to create that five-star look in your bedroom.
Cozy Bedding
One of the best things about staying in a hotel room is the cozy bed. After all, you love wrapping yourself up in the sheets during the night. And the comfortable bed can ensure you get a good night's sleep. Therefore, you should go cozy when you are buying bedding for your bed. You should choose a high-thread count fitted sheet which can fit on your bed. And go for a bed cover with a duvet which will keep you cozy in the night. And remember to add a good pair of pillows and plenty of cushions to make your bed even comfier. That way, it will feel like you are going to bed in a hotel room, rather than your actual bed!
Decorating Tips for Dramatic Lighting
The lighting in a hotel room is always ultra-modern. They tend to have spotlights which you can adjust so they dim when you are reading. These would be perfect for your bedroom to ensure it's a relaxing haven. Also, hotel rooms tend to go for glamor when creating their rooms. You might want to create this in your room by opting for a chandelier in your bedroom. Or a beautiful ceiling fan would also be an excellent choice; it will also keep you cool during the summer months! Here are some other glam lighting options for your bedroom.
And remember pictures are everything in your bedroom. Fill your room with beautiful artwork to really create that hotel room look. Boutique hotel rooms are full of decorating tips you can apply to your own home.
Images Courtesy of Canva.
Other posts you might enjoy:
Taking Design Inspiration from UK Boutique Hotels
Bed Bugs – The Uninvited Guest
A Visit to Almeria, Spain – Old Town
Share This Story, Choose Your Platform!