Bathing isn't for everyone, but to me, it is where I retreat every night to decompress. As a certified bath designer, I find that more and more clients are requesting luxury bathing experiences in their home master suite. I get it because I myself have created my master suite with all the technologies that make me feel better. If you are considering remodeling your bathroom or building a new home, you might want to consider what you need to create a home spa for your comfort, all it takes is planning.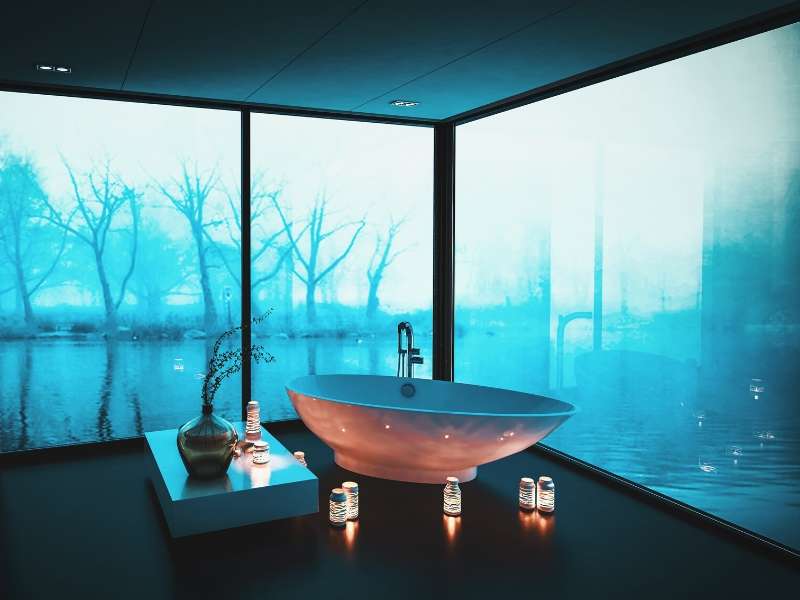 Benefits to Luxury Bathing
Besides being aesthetically beautiful a soak in the tub can also improve your health.
Improves Blood Circulation
Helps Improve Sleep
Improves Muscle Fatigue
Helps to Lower Blood Pressure
Helps with Weight Loss
Outdoor Bathing Experiences
The outdoor bathing experience is the ultimate luxury in bathing. Of course, you need a secluded location to be able to accomplish this. If you do not have such seclusion and live in a warm climate, you can create it by designing a secluded patio built for your outdoor bathing experience.
Consider The View
If you have a home with a view, make sure to design your soaking tub with the view in mind.
This gorgeous luxury bathroom design by Renata Pfuner, owner and founder of Pfune Design in Miami, Florida, designed the space to look light and translucent and with the big view of the water I would say she accomplished her goal.
Work with a Professional
I can not stress it enough how important it is to work with a professional before embarking on a new bathroom design. This will ensure that you get the latest in design and technology and help you to create the luxury bathroom you want and deserve.
Other Posts you might enjoy:
Neutral Bathroom Designs Making Big Statements
Luxury Master Bathroom Designs for Your Home
Tips to Designing a Layered Lighting Plan for Your Master Bathroom
Share This Story, Choose Your Platform!