A few months back, we had a great time putting together the "DigThisDesign WTF Design Awards".
We searched the internet looking for designs that were just completely weird. If you haven't seen them yet, here's one of our favorites:
Really – WTF were they thinking?!
WTF Photo Contest
Now – we're turning the fun over to you! Announcing the DigThisDesign.net WTF Photo Contest.

Your Mission
It's easy – just submit pictures of designs you see that make you say "WTF were they thinking?!" Maybe it's…
A strange piece of art in the lobby of your office building
An over-decorated and completely outdated bathroom at your mother-in-law's house
An attempt that one of your friends made to replicate something she found on Pinterest
A crazy room in a new house you've just bought
Whatever you find – we want to see it!
The Prizes (7 Winners!)
We're going to award 7 prizes for this contest:
The first place winner will receive a Kindle Touch 3G ($149 value) – along with a copy of Patricia's "How to Survive a Kitchen and Bath Remodel" seminar video to watch on their new Kindle!
The second place winner will receive $100  along with "How to Survive a Kitchen and Bath Remodel"
5 Runners Up will receive  a copy of "How to Survive a Kitchen and Bath Remodel"
You can submit as many photos as you'd like to improve your odds.
We'll be highlighting many of them here on the DigThisDesign.net blog.
How to Enter the Contest
Entering is easy! You just have to be a fan of our Facebook page! You'll see the charcoal "Photo Contest" icon at the top of the page.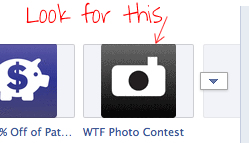 Click that to view the photos that others have sent in – and send us your WTF photo.
Click here to go to our Facebook Page and get started!