The Ugliest Kitchen Contest
Danielle K. from Waianae, HI is a finalist in our Ugliest Kitchen Contest. Danielle is hoping to win the grand prize – which is a complete design plan for a new kitchen from Patricia Davis Brown and ongoing consulting services to help Danielle through a complete kitchen transformation.
Take a look at Danielle's kitchen and use the form below to vote if you think this kitchen deserves the grand prize!
Meet Danielle's Kitchen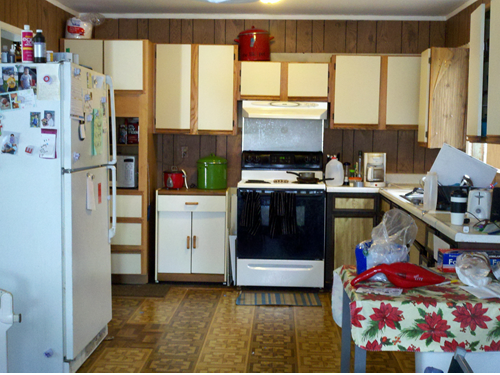 It's obvious storage is a problem in this kitchen – in function and in style! The current cupboards are mis-matched and uneven and don't have enough space for this young family. Plus the heavy, dated pattern on the floor and wood paneling on the walls make the space look dreary, tired and old.
Danielle's Dream Kitchen
Danielle is dreaming of an updated kitchen with new appliances that will allow her to cook more and a stylish look for a young family. She'd like to have the heart of her home be a place that she and her family will love spending hours in.
Cast Your Vote
Voting is now closed.
See the Other Finalists
Check out the other finalists and all of the details about this contest by clicking here.
Help Danielle Get More Votes!
If you'd like to help Danielle get more votes, use the buttons below to share this page with your friends on Facebook, Twitter and via email!