A night vision camera captures images in low-light environments or at night. They use a particular type of technology that amplifies existing light, such as moonlight or starlight, to create clear images even when minimal visible light is present. Night vision cameras can be used for security and surveillance applications, wildlife observation, and more.
Night vision cameras generally utilize infrared (IR) technology, which captures invisible light from the near-infrared spectrum and transforms it into visible colors on screen. The IR light interacts with a pixelized sensor within the camera lens to create an image of what's going on in the dark environment. A night vision camera gives enhanced video in darker atmospheres, which is valuable to any home or a business owner.
Why You Should Buy a Night Vision Camera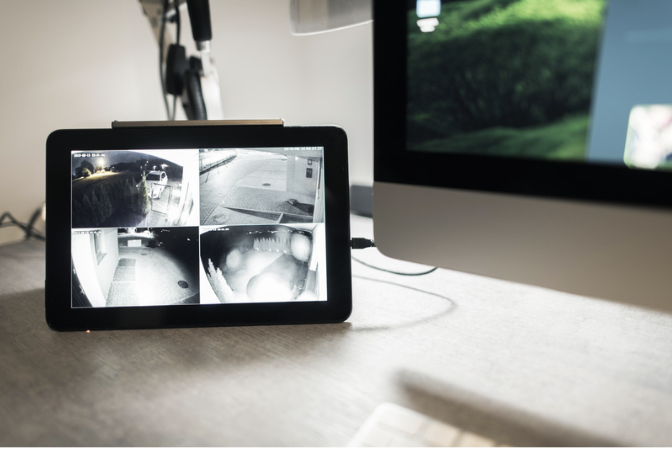 Here are some reasons you should invest in a night vision camera:
Increased Security with a Night Vision Camera
Night vision cameras are invaluable for security purposes and can monitor activity at home or in businesses after dark. With enhanced visibility, you can identify potential intruders or other unexpected visitors.
It also allows you to see events that may have otherwise gone unnoticed during the day. Night vision cameras provide better coverage of your property when there is no light available, from suspicious behavior to package delivery.
Affordable & Versatile
 With technological advances, night vision cameras are now available at affordable prices. 
Motion detection, wide-angle lenses, and other features make night vision cameras useful in a variety of situations.
Easy Installation & Durability
 Most security camera systems come with easy-to-follow instructions, so you can install them independently without having to hire an installer or technician.
Weatherproof and temperature-resistant night vision cameras are available. Unlike replacements every couple of years, they are long-term investments.
Night vision cameras provide homeowners and business owners with a cost-effective way of ensuring that their properties are secure 24/7. With improved visibility and reliability, these cameras are a great choice for anyone looking to monitor their property after dark.
What to Look For in a Night Vision Camera
Resolution: The camera's resolution is an essential factor to consider, as this will determine how clear the images or videos captured will be.
Field and Range of View: This is determined by the lens the camera uses and can range from a wide angle to a narrow angle. A wider field of view allows for more coverage.  For limited spaces use a narrower one. This will also indicate how far away the camera can detect motion or objects in dark conditions. The longer the night vision distance, the better visibility you'll get, even when it's completely dark outside.
Durability: Make sure that your camera is designed to withstand extreme weather conditions and temperatures.
Installation: If you're not tech-savvy, find a camera system that offers easy installation and comprehensive instructions on how to install it on your own.
Choosing the right night vision camera is essential to ensure that your home or business is secure after dark. With the right features and specifications, you can rest assured that no activity goes unnoticed, even in low-light conditions. 
Other Posts You Might Enjoy
The Importance of Home Security
How to Avoid Mistakes with Home Security Systems
Security Features Every Home Should Have
Share This Story, Choose Your Platform!