With the development of digital technology for flawless printing, the use of construction site banners has increased drastically. 2020 left us with ongoing challenges. However, with the help of construction banners, business failure and financial distress are a thing of the past. Not only are they visually appealing, but these banners are also budget-friendly, allowing businesses to grow.
We invite you to continue reading to learn why constructions banners are so important to businesses.
What is So Great about Construction Banners?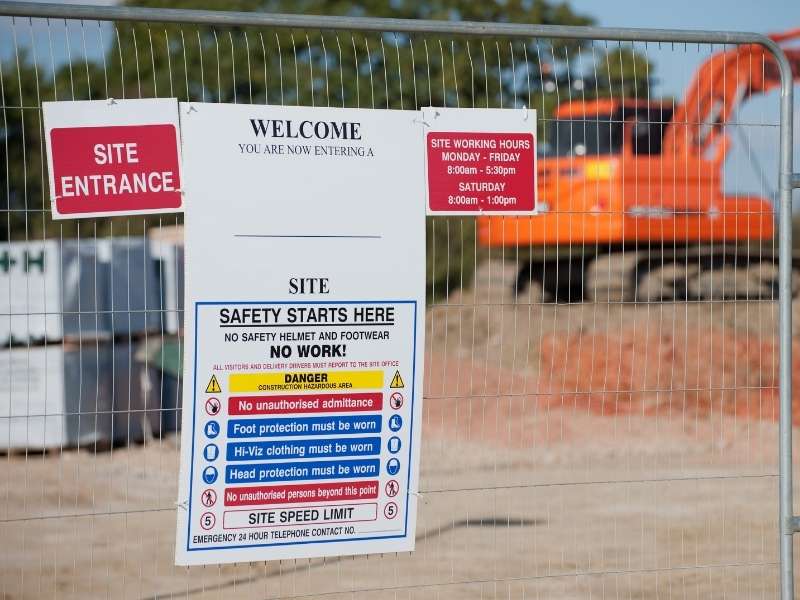 We see advertising on a daily basis. A growing number of businesses are making use of branding and marketing tools to reach a larger number of customers and construction banners are one of these tools. No matter what materials they use or what type of business they are, these banners are an essential factor to construction work. Construction banners hold the power to be in the public's line of sight in a non-intrusive yet effective way.
Flawless Advertisement
Consider a person who recently got employed in a new city. Their job is starting in a couple of months and they are strolling around in their new home area, hoping to find a place to live once they officially move. They come across a construction site in an ideal location, but because they have no information on who is behind the construction and no way to make an inquiry, they move on, and the developers miss the opportunity for a potential sale. If only they had a banner to display more details about the company—now that is more beneficial.
Advertising is an art and one of the many purposes of a construction banner. It adds an element of professionalism around the construction site. As the construction develops, so does the number of customers. Moreover, construction banners aid businesses by informing more people about their services and thus results in more sales.
Captivate Your Audience
A person is more likely to take part in purchasing if they are satisfied with how the business looks. Physical appearance is an important factor to consider for consumers in terms of buying from a business. Fortunately, construction banners are versatile, making it effortless to attract the eyes of the public. Banners are designed in a way to make the information conspicuous, usually indicating simple and clean designing with aspects of primary colours to grab the attention of passers-by.
Cost-Efficiency
The affordability of these construction banners means that more businesses have the opportunity to get their names out there, even if they are on a budget. This proves to be very convenient for those who are looking to expand their business but are afraid of the cost it comes with. But fear not, with these construction banners, businesses have easy access to expansion with no worries of financial consequences.
The Must-Have Item of 2020
With the affordable and practical nature of construction site banners, it is the helping hand of a business, whether it's still growing or one that is already successful but looking for more. As 2020 is a year filled with opportunities as well as hardships, a business will be able to expand through every external influence.
The Importance of Construction Mesh
Those who are involved in the construction industry are already well aware of the importance of having construction banners around a site. The banner mesh is the most popular and constructive grade in regards to print impact and durability.
Not only is banner mesh reusable, but it has a very high photo-like print quality as it is made from woven fabric with a PVC coating. Construction mesh allows businesses in Australia to promote their services to a broad range of customers with its affordability and resilience.
Job-Site Safety
Not only does a construction mesh help grow a business, but it also reduces the risk of injuries within the construction site. Dangerous particles such as loose debris won't be able to pass through the protective layer of the banners and hurt the passers-by.
There is a variety of information that can be put up on these banners, such as warning pedestrians to ensure their safety and well-being.
The Best Quality Out There
There is a range of possibilities when it comes to the best quality of construction site banners, making sure that they are as effective as possible. Because they are versatile and are made especially for outdoor conditions, these mesh banners are UV resistant, waterproof, as well as eco-friendly.
Being lightweight and easy to install, construction site banners are reuseable with no effort or have any risk of damage.
Construction Banners, the Key to Success
Not only do construction banners aid in the department of advertising, but they also increase the safety and privacy of a construction site, automatically offering a tidier and more professional-looking site. By installing these banners, the amount of rubbish and the level of dust are reduced, helping maintain a cleaner environment.
Construction banners shield the construction site from the public's eye but at the same time attracts their attention and provides them with principal details and information.
Where Businesses Evolve
The use of construction banners is rapidly increasing throughout Australia. They promote business awareness and it gives them an opportunity for expansion. With the help of multipurpose construction site banners, the business grows while ensuring the privacy of the construction site itself.
If you are smart enough to make the best use of construction banners while making an informed and educated decision, then you can reap the huge benefits for sure.
Fencewrap.com.au has been serving the fence banner industry for years and they are capable of creating a design that can leave the impression on the minds of onlookers for years to come.
If you have any questions or suggestions, we'd love to hear from you in the comments below. Also take a look at the variety of links below for more articles about all things design!
Images Courtesy of Canva.
Share This Story, Choose Your Platform!