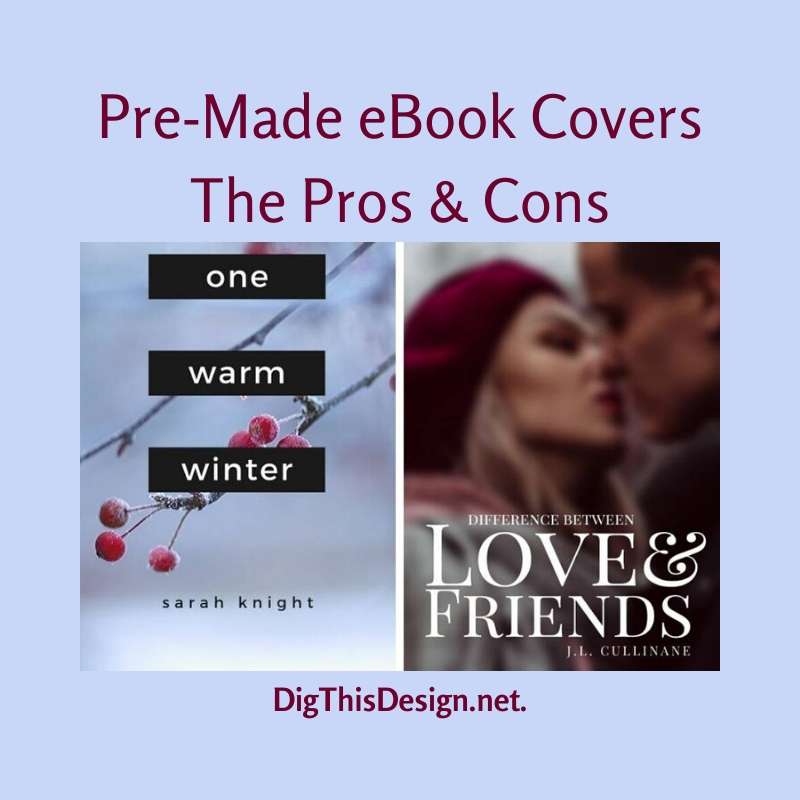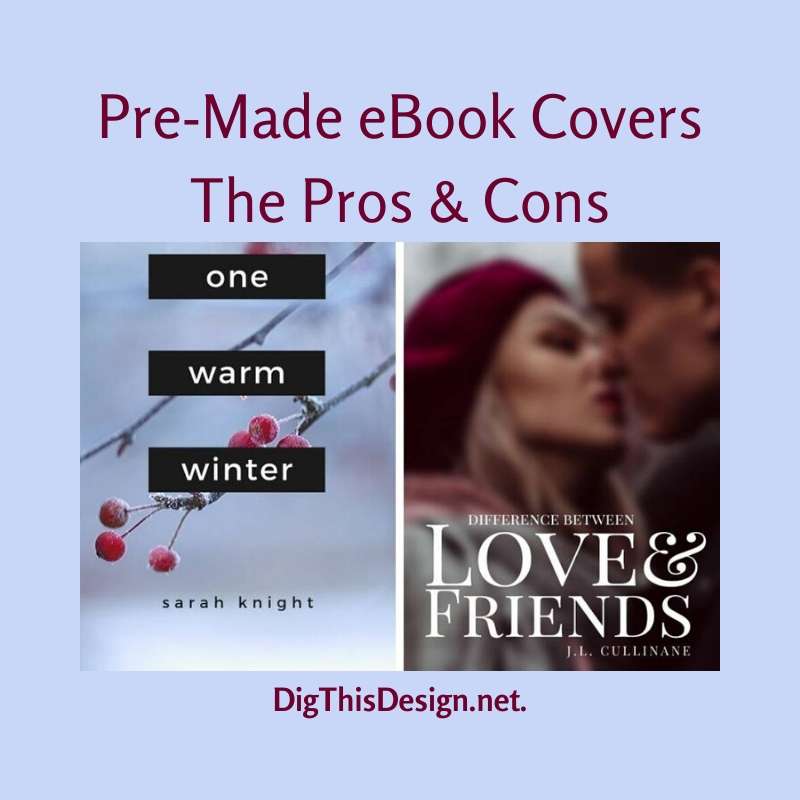 Book covers are often the most powerful selling features for your book, so it's natural you want your ebook cover design to follow suit. Because of this, your ebook cover requires special consideration. These days, there are several ways you can go about getting a cover for your ebook. You could create your ebook cover design yourself, you could hire a designer, or you could choose to use a pre-made cover.
Obviously, there are pros and cons to each choice and scenario. If you have the money, we always recommend hiring a designer because it's their specialty. However, the price tag is usually higher and it's not always the most feasible. This is, in large part, why pre-made ebook covers are so prevalent these days. Today, we're going to discuss some of the pros and cons of using pre-made covers for your ebook cover design.
Pre-Made eBook Covers • The Pros & Cons
First – What is a Pre-Made Cover?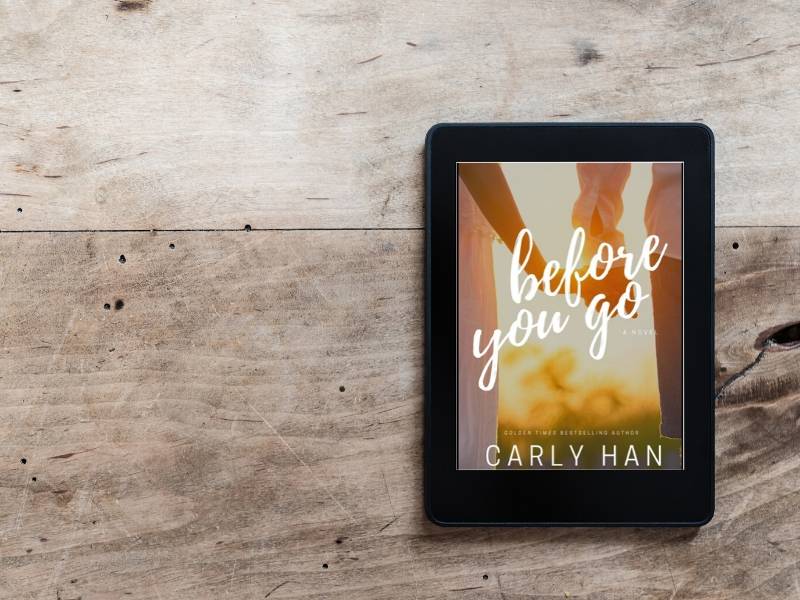 Pre-made covers are those that have been professionally created by a designer but left generic enough to customize for use. Basically, you purchase the pre-made cover, and you apply your book title and author name. There's a wide market for graphic artists who specialize in book covers with no particular project in mind. They're paid for their work when an author decides their pre-made cover works for their particular story.
The Pros of a Pre-Made Cover
Pro 1: Affordability
Pre-made book covers can usually be purchased at extremely reasonable prices. You have the option to flip through a virtual catalog of designs and you choose the one that best fits the theme of your book. It's easy, fast, effective, and the price point is much lower.
On the other hand, hiring a professional designer for a custom ebook cover design is usually quite expensive. You're paying for their time, energy and expertise. You could choose to make your cover yourself, but you'll want to have some semblance of design prowess to do so. The cover is an integral part of selling ebooks online and you want to make sure you're skills are up to snuff. If they're not, you might want to consider a pre-made cover because you get professionalism at a smaller price tag.
Pro 2: Timing
You've written what's destined to be a bestseller and you want to get it on the market as soon as possible. That's great! You absolutely need to have a cover that reflects its quality though and that takes time; or does it? The beauty of pre-made ebook covers is that they're ready and waiting when you are. You can flip through an online catalog at your leisure (or on a time crunch) and pick the one that fits.
If you choose to go the custom route, you have to wait for your photographer or designer to create a unique cover just for you. You also run the risk of multiple revisions if it doesn't fit your vision right away. With a pre-made cover, you choose what works for you the first time – and it's ready within minutes.
The Cons of a Pre-Made Cover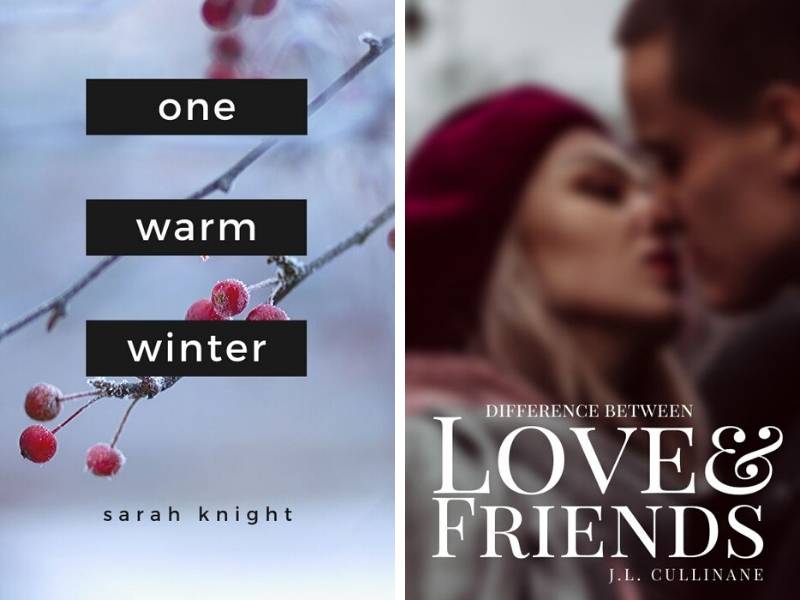 Con 1: Generic
As we mentioned before, you want your ebook cover design to stand out from the crowd. Unfortunately, one of the drawbacks of pre-made covers is that the style may not be one hundred percent aligned with your book. Furthermore, if you're planning a series, it's often more difficult to create a uniform and signature look all your own.
This is because the individualization of cover design is bypassed when you opt for a pre-made cover. They're created for a broad range of topics, but none of them offer customization that makes them uniquely your own. Some authors believe this means you run the risk of being lost in a sea of great, but generic, covers.
Con 2: Non-Exclusive
Pre-made cover designs tend to rely on the use of stock images. This means that the fabulous image you chose to work for your book might very well end up used for another book. While most pre-made book cover designers offer individual rights to specific cover design, they can't offer exclusivity on stock imagery.
Basically, any designer could use the same photograph or image and spin it their own way. Suddenly, that beautiful design you loved so much is out there gracing another ebook cover design, as well. It's not the end of the world, but it's also not most writers' first choice, either.
eBook Cover Design Selections
It's obvious that, when weighing the pros and cons of pre-made book covers, price and turnaround are nearly incomparable. However, it's something that an author should consider carefully. Your ebook cover design is extremely important, so weigh your options and consider them all before you choose which route to go.
Images Courtesy of Canva.
Other Posts You Might Enjoy:
4 Interior Design Tips That Look Expensive But Aren't
5 Design Tips for Improving Office Space
Home Office Design Tips for a Comfortable Working Space
https://digthisdesign.net/wp-content/uploads/2018/04/Pre-Made-eBook-Covers-•-The-Pros-Cons.jpg
800
800
Melissa Moore
http://development.digthisdesign.net/wp-content/uploads/2016/11/OLD_DigThisDesign_logo.jpg
Melissa Moore
2018-04-02 01:02:08
2021-01-16 10:43:10
Pros & Cons of Pre-Made eBook Cover Design