Starting a coffee shop business is both an exciting and daunting experience, and there are plenty of learning curves along the way. That said, before entering into such a field, there are some things you'll need to know first, such as what to expect from a business and operations perspective, how a coffee shop should run, and the importance of creating the right atmosphere, among other things.
For example, you'll need to consider things like location and design elements. Articles like Caesarstone can help you with key design decisions, particularly in choosing the right countertop material for your coffee shop.
7 Tips to Consider When Opening a Coffee Shop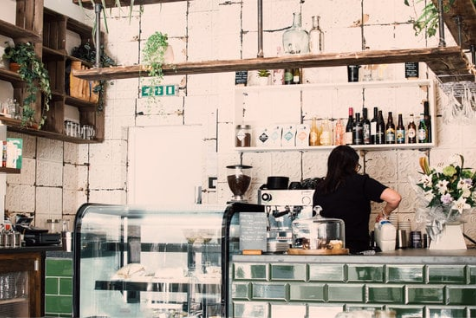 Below, we've compiled a list of important things to keep in mind when opening a coffee shop. Let's examine them in more detail.
1. Have an established design concept
Aside from making great coffee, having an established aesthetic and theme for your café is one of the most important aspects of opening a coffee shop. The way a customer feels when entering your establishment will greatly impact their likelihood of returning, and a cohesive, clear design concept will make a customer feel more comfortable and relaxed.
There are plenty of aesthetics you can go with, whether it's minimalism, eclectic, artisan, and so on. Whatever style you choose, make sure that it is reflected in your color palette, furniture selection, and decor.
For example, a minimalist cafe design could feature beige and brown walls and simple geometric furniture, and white quartz countertops would look great in the coffee bar.
2. Location is everything
Location, location, location! There's little point in opening a café if customers can't even find it. So, when it comes to selecting a place to set up your café, choose a location that will drive plenty of foot traffic and attract your target audience.
Another important aspect of selecting the right location is your proximity to other competing coffee shops. If you're surrounded by competitors, will your coffee shop prosper, or will it be squashed out by the other established cafés in your area? 
Overall, to select the right location, you need to know your market and be aware of where your target audience will be more effectively reached in your local business community. 
3. Focus on creating an inviting atmosphere
When your customers enter your coffee shop, you want them to feel welcomed and relaxed. A coffee shop should serve as a third-place environment where customers can work, spend time with friends, or read a book in a comfortable and pleasant atmosphere.
Many things contribute to the atmosphere of your coffee shop–the layout, lighting, scents, cleanliness, crowding, and even the music that you play over the speakers. So, consider the type of ambiance you want your coffee shop to portray and how the above factors can work in your favor to elevate the customer experience. 
4. Have something of value to offer customers
To put your coffee shop on the map, you need to offer something that customers can't get anywhere else. Specialty coffees and gourmet desserts have become the norm for many established coffee houses, so focus your energy on emphasizing something more interesting about your shop.
Perhaps you're the only locally-owned coffee shop that has a mobile rewards app, or maybe your café provides live entertainment from local artists. Whatever your unique trait, you need to capitalize on it. If you're asked what makes your coffee shop stand out from others in your area, you should be able to provide a clear and direct answer.
5. Practical experience is essential
If you've never worked in a coffee shop, it may be difficult to run your own café successfully without that practical experience. So, before deciding to open your own place, try working in an established coffee shop as a barista or cashier for a few months to see how you fare.
Many are unaware of what running a coffee shop entails and think that it's a relatively easy and peaceful job. However, coffee shops are hotspots for customers. Therefore, baristas are expected to work fast and efficiently to get orders filled so that everyone is served promptly. Depending on your location and how many coffee shops are available in your area, you may end up serving hundreds of customers per day. 
As well, coffee drinkers have very diverse and specific tastes, so you'll likely be on the receiving end of criticism and complaints from customers who dislike your menu options. Therefore, you need to have a decent level of patience, self-confidence, and professionalism to handle these types of interactions.
So, before deciding to open a café, make sure it's the type of work environment you can handle and even thrive in. 
6. Be selective in the hiring process
Finding the right employees for your café shouldn't be rushed. The way staff members work, handle certain situations, and treat customers will greatly impact the atmosphere and environment of your cafe. Some experts recommended stalling the hiring process for the first few weeks of operations by enlisting the help of friends and family to get the business off the ground. 
Once you know how you'll be running the floor, you can slowly begin the process of hiring baristas and cashiers one at a time. It can be difficult to gauge whether an individual is a good fit for your business at the outset, so observe them in their dealings with customers, other staff members, and the way they work.
If, over the first few weeks, you find they have a poor work ethic, aren't performing their tasks well, or are rude to customers, there's nothing wrong with letting them go and finding a more suitable employee.
7. Success won't be immediate
Opening a business takes time- you can't begin operations the moment you sign the rental agreement for your shop. Rather, there are a few things you'll need to deal with before you can start serving customers, from issues with your location to the cost of opening a coffee shop.
For example, it's important to know why the previous tenant is no longer operating their business from your new rented space. If the neighborhood has experienced recent changes or the previous business has a negative reputation, you need first to figure out how to work with these issues. Once you find the problem, you can better execute your business plan. 
On average, coffee shops take from three to eight months to begin operations. This is due to delivery times for equipment, food service license approval, and obtaining the necessary funds to meet the costs of opening a coffee shop. So, practice patience!
Follow your business plan and set realistic goals for your opening. If you're unsure whether your plan follows a reasonable timeline, consult an expert and see how it can be reworked.
Final thoughts
When opening a coffee shop, keep the above factors in mind. Choose a cohesive design, make sure you know your market, and focus on creating a space that makes customers feel welcome to ensure they come back again!
Other posts you might enjoy:
Tips for Buying Raw Coffee Beans Online
Home Office Designs That Inspire
Design a Restaurant Correctly Using the Basics
Share This Story, Choose Your Platform!