If you're interested in pursuing a career as a residential contractor, you must learn more about the industry to ensure it's the perfect job for you. But first, it's important to understand the responsibilities and skills for residential contractors.
If this piques your interest, we invite you to continue reading to understand the process for becoming a residential contractor.
What is a Residential Contractor?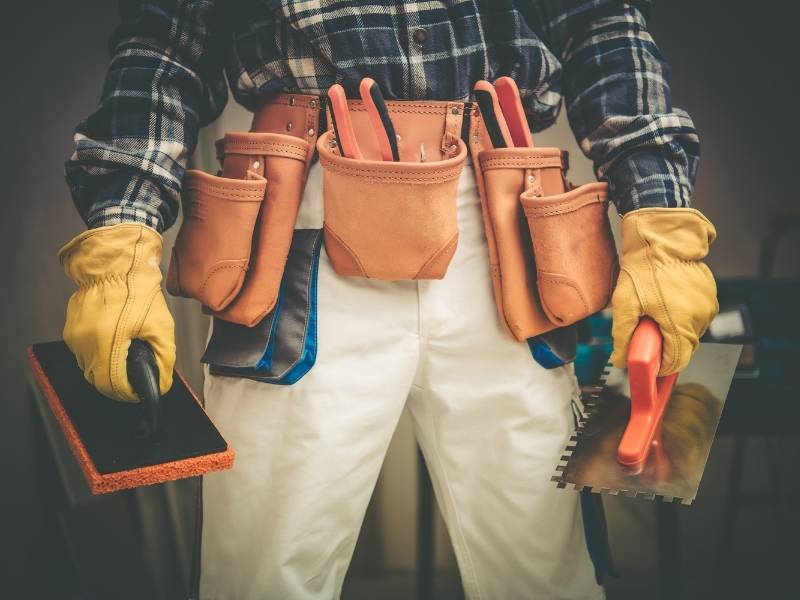 First, residential contractors are often responsible for home remodeling or construction projects. Therefore, understanding the roles and responsibilities helps you decide if it's the ideal career path for you.
For instance, residential contractors must know how to perform the following tasks:
Become familiar with suppliers
Procure materials and equipment
Hire employees
Follow timelines
Residential contractors also offer design and architectural ideas. This helps to create beautiful, spacious, and functional homes.
But, by also serving as the manager of a construction site, residential contractors ensure a project completes in a timely manner.
⎆ Required Skills
Residential contractors must acquire extensive skills to become an expert in their industry. Then, after earning sufficient experience, residential contractors move forward to into home renovations or builds.
Important skills required for residential contractors include the following:
Awareness of relevant regulations, codes, and laws
Knowledge of business terminology and practices
Management capabilities
Experience with construction materials, tools, and equipment
Comprehension of design, architecture, and engineering
⎆ Excellent Benefits
Residential contractors also enjoy a wide variety of benefits. Advantages include excellent pay, job security. You might even get the freedom to be your own boss. Plus there is task variety, and daily interaction with others
Research a variety of residential construction benefits to decide if this is the job for you. Then, launch your new career as a residential contractor!
By earning an education, gaining experience, and obtaining a license, you can become a successful residential contractor.
Steps to Becoming a Residential Contractor
⎆ Earn an Education
Earn an education to start the process of becoming a residential contractor. Generally, the minimum requirements for residential contractors is a high school diploma or equivalent degree. However, a higher education is increasingly popular and beneficial for residential contractors.
Consider achieving a degree in construction management to jump start your career. Important courses to pay attention to during your education include math, engineering, surveying, business law, and construction concepts.
Earn a quality education to ensure you're fully prepared to operate as a residential contractor.
⎆ Gain Experience
Once you've received a top-notch education, it's time to gain valuable experience. By experiencing on-the-job training, you'll learn the knowledge, skills, and qualities required in the construction industry.
Search for an entry-level job or apprenticeship program related to residential construction. This is where you'll earn the necessary experience from through hands-on training.
Clients seeking residential contractors will confirm your level of experience. So ensure that you receive ample experience in your chosen field. In fact, experience is paramount to learning everything you need to know about becoming a residential contractor.
⎆ Obtain a License
Before you can begin operating as a residential contractor, you must obtain a contractor's license. However, to earn a contractor's license, you must complete the necessary training, pass multiple exams, and provide important documents.
Interestingly, there are two exams you must pass to earn your residential contractor's license: The Business and Law exam and your industry specific exam.
To take these exams, carefully locate quality study resources, such as useful materials and online courses, to fully prepare yourself for success. Then, once you pass your exams, apply for your contractor's license.
Remember, your contractor's license must be regularly renewed through continuing education. So, obtain your residential contractor's license to start building!
⎆ Advance Your Career
Continue to increase your experience through quality work to advance your career. Also, continue to explore higher job opportunities. You might also earn valuable certifications. Moreover, you might start your own business to enhance your knowledge, skills, and possibilities.
We wish you the best as you advance your career as a residential contractor to achieve your dreams and goals. So, continue to do your research. Then, learn everything you need to know about the job's responsibilities, benefits, and process.
If you have questions, please leave your questions or comments below. You will also find links below that take you to more interesting articles about all things design.
Images Courtesy of Canva.
Other Posts You Might Enjoy:
How to Hire Good Construction Workers
5 Things You Can Do With Excess Construction Materials
3 Products to Prevent Damage During Construction
Share This Story, Choose Your Platform!