There's just something irresistible about peering into the lives of the super famous. Celebrity excess never disappoints. Of course, there's no greater display of egregious expense than opulent celebrity homes. So, let's go on a voyeuristic tour of some of the most expensive celebrity homes of all time. If this list inspires you to strive for this kind of living, you should start saving now. You might also want to consider becoming amazingly beautiful and good at something.
If you love looking at luxury homes for inspiration and ideas, even Hoboken apartments can have the style of a celebrity, here is the list for you! Be sure to click through the links in each item below to see more about the celebrity and their home.
A-List of the Most Expensive Celebrity Homes Around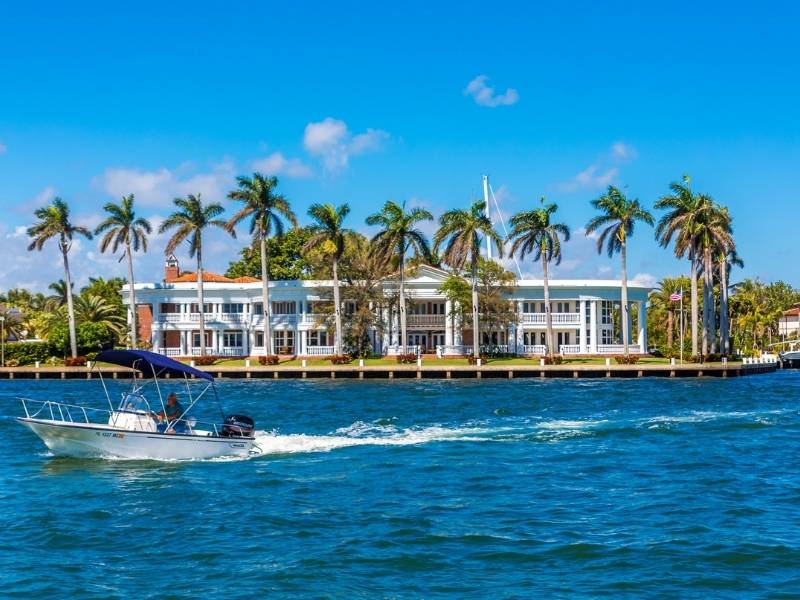 ○ Oprah Winfrey
Everyone who knows basic Oprah facts knows that she grew up in a low-income environment. So how can you really fault her for literally dipping into a little extreme luxury these days? Oprah reportedly has a serious affinity for finer things in the loo, so, when it came time to craft the bathroom at Promised Land, her $100-million estate in Montecito, California, she almost certainly had a squadron in her employ, breaking out the tile tools and artistic know-how to craft a luxury bathroom complete with a bathtub carved to the shape of her body.
○ Brangelina
If one super-wealthy actor marries another super-wealthy actor, the resultant pair has some pretty serious buying power. This brings us to Chateau Miraval, Brad Pitt, and Angelina Jolie's $80-million literal castle in France. Even though the relationship fizzled, the 17th-century, 35-room castle remains. Perhaps another pair of super-wealthy, gorgeous celebrities will make the castle a home someday.
○ Beyonce and Jay Z
Beyonce and Jay Z are another pair with some pretty serious buying power. The couple reportedly dropped a cool $88 million on the 30,000 square-foot manses in 2017. The Bel-Air super-pad is well-equipped, featuring four swimming pools—three just doesn't quite get the job done, a full-on wellness center, a basketball court, and, of course, a spa.
○ Howard Stern
The same year Beyonce and Jay Z settled into their mansion in Bel-Air, Howard Stern ponied up $52 million for a 19,000-square-foot mansion in Palm Beach. Don't feel bad for Howard if the square footage feels somewhat modest—that's just the main house. The entirety of the property has about 40,000 square feet of living space. It also has a swimming pool along the beach. Not bad, Howard.
○ Hugh Hefner
Hugh Hefner's famous Playboy Mansion is the most famous party house on the list. It might be the most famous party house in world history. It's a cozy 29-room, 22,000-square-foot legend. Hefner lived there, roaming the grounds—and doing god-knows-what else—in his ubiquitous bathrobe from 1974 until he passed in 2017. Hefner reportedly bought the mansion for just $1 million. In 2016, J. Daren Metropoulous, heir of the Hostess snack foods empire, bought the mansion for $100 million.
○ George Lucas
Homes with their own Wikipedia page tend to be fairly impressive. That's certainly the case with George Lucas' Skywalker Ranch in Nicasio, California. The famed movie director doesn't just chill there, though. Skywalker Ranch is not just a home—it's not even Lucas' primary home. It's basically its own little movie studio. The whole 4,700-acre operation is worth more than $100 million.
○ George Clooney
Turns out being one of the most famous actors in the history of the world affords you a pretty nice lifestyle. Clooney's 25-room Villa Oleandra mansion, nestled alongside Lake Como in Italy, is valued at something north of $100 million and comes equipped with some eye-popping features, including an outdoor movie theater, which is surely a great place to screen films that garnered the mega-wealth that affords full immersion in Italian luxury.
○ Bill Gates
It stands to reason that a man who ranks as among the richest in the world has an insanely expensive home. Bill Gates's mansion, dubbed Xanadu 2.0, is reportedly worth a cool $147.5 million. It's a mind-boggling 66,000 square feet, which is equivalent to about 94 average-sized apartments in Manhattan.
Everything about the palace, situated in the Seattle suburbs, is jaw-dropping. It has 18.75 bathrooms; uses an intricate system that automatically adjusts lighting and temperature to suit guest preferences; has a reception hall large enough for 200 guests; and, for just a taste of how-could-this-be-necessary, it also reportedly has its own trampoline room with a two-story-high ceiling. 
○ Jeff Bezos
In February 2020, Jeff Bezos slapped down $165 million for the Warner estate in Beverly Hills. The 13,600-square-foot mansion is primed—wink—with about everything you could imagine. Of course, it has the requisite amenities—your tennis court, your swimming pool with the finest tiles—but Bezos wanted it to be extra special, so he dropped an additional $10 million on the modest little estate next door—not a bad guesthouse.
In Conclusion
Wow. These are nice homes – aren't they? Do you know of any extra special homes that you want to add to this list? If so, please do so in the comments below. Also below you will find links to more fantastic articles about ALL things DESIGN for your home or business.
Images Courtesy of Canva.
Other Posts You Might Enjoy:
What Is the Best Roofing Material for Homes? 4 Common Options
A Detailed Guide on the Different Types of Fences for Homes
4 Reasons Why Virtual Staging Sells Homes Faster
Share This Story, Choose Your Platform!