Choosing a medium to print on can be very difficult, but acrylic will certainly give you some vibrant results. Even if you have the perfect picture, it is hard to pick a medium on which to print. A medium has a large impact on how people perceive the picture, how the ambiance of a room is affected, and how long you want the photo to last. The thing that many professionals do not consider immediately is an acrylic print, which is unique, durable, and classy. Acrylic Photo Art is a great way to add a pop of color in rooms.
Things to Consider when Choosing Acrylic Photo Art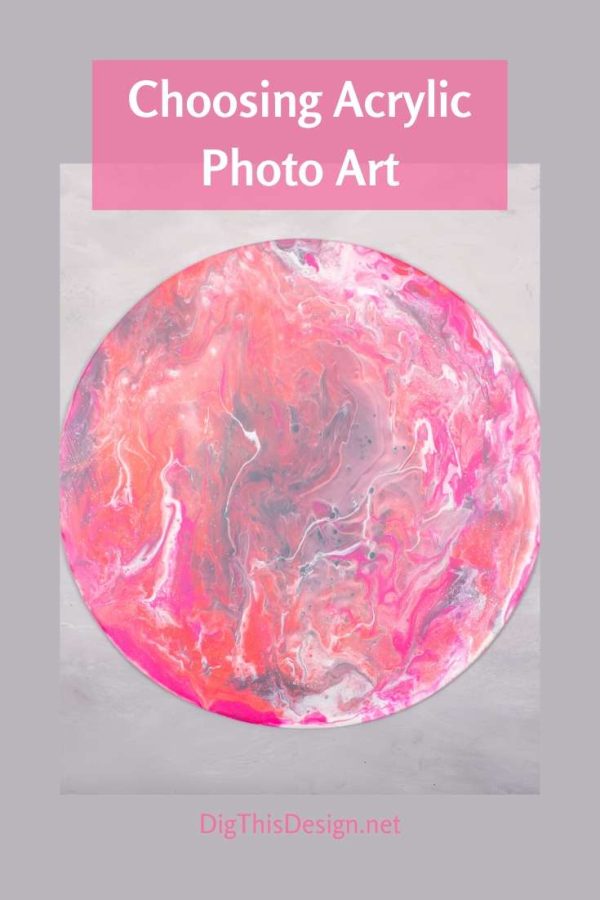 Image suitability
Of course, not every single image that you have will suit acrylic. However, if the picture that you are printing has colors that cross the edges of a printable color range, you should consider it to reproduce the best effect. Canvas can only reproduce two-thirds of the colors that an acrylic medium can. Even when image colors do not run the range, this medium might still be your best bet. It increases the contrast of your picture, making the image pop, and creating a fun effect for monotone pictures. You also need to consider the image's texture range because acrylic accentuates color and contrast whilst retaining a smooth façade. On the other hand, canvas has a considerable surface texture, which gives your image a matte-like finish. This results in a subdued look when it comes to contrast and color.
More than just acrylic
Acrylic prints come in two types: direct print and face-mounted. The latter are printed on archival paper and mounted on the back of acrylic sheets. On the other hand, a direct print is directly printed on an acrylic sheet and lasts longer in humid areas. However, face-mounted prints produce more vibrant colors. The results produced by both types resemble painted images that you usually see in a museum. However, just like in museums, you should not mount an acrylic print opposite a bright window because the reflection will spoil the view.
Acrylic occasions
Mounted acrylic prints provide great accents for most environments, but are best for modern-style homes. They provide a polished look that renders them perfect for a modern home. Such homes allow you to mount statement pieces that draw attention, and an acrylic print will allow you to do this. Another great place to mount an acrylic print is outside the home. An outdoor bar provides a harsh environment for non-acrylic prints because they fade in the light due to UV rays. On the other hand, acrylic prints are tougher than other mediums, as they can resist humidity and light, making them ideal for outdoor areas. If you are a photographer, these surfaces offer great protection for your prints in a gallery. Moreover, it will make your work pop and people will definitely notice it. Whether you are an amateur or professional, you will find this dynamic medium very useful.
Benefits of acrylic prints
Color and style – its high gloss surface enhances the colors on your image, making it vibrant and bright thus bringing out the details. Acrylic will make your pictures look like they are embedded in glass.
Durability – the material provides a high UV protection, which keeps your images looking new. Unlike canvas or paper printing, images that are printed on an acrylic medium are spill and moisture resistant.
Versatility – acrylic prints come in a wide range of shapes and sizes. Therefore, you will have plenty of options to present your pictures beautifully – it does not matter whether the picture you want to mount is a panorama or portrait.
Overall, there are so many advantages to using acrylic prints in your home design. It is durable, versatile, colorful, and stylish.
Displaying Your Acrylic Art
Displaying your artwork for a show needs careful consideration. You want to make sure you are working with a company that can offer you options such as different color boards that allow your work to pop. Also, different systems that will work with your size art pieces. Some companies even offer delivery, installation, and removal making your exhibit as easy as possible.
Images Courtesy of Canva.
Other Posts You Might Enjoy
Artist Adam Cook Rocks Acrylic Color
Coloring with Lisa Jill Allison – Artist
The Different Types of Printing Methods – Which Is Best For What?
Share This Story, Choose Your Platform!