If not managed effectively, construction waste can pose severe threats to the environment and human health. As construction projects continue to surge in urban areas, contractors, builders, and even homeowners must understand the do's and don'ts of disposing of waste responsibly. By adhering to these guidelines, the industry can reduce its carbon footprint, maintain a safer worksite, and contribute to a more sustainable future. 
What to Know About Construction Waste Disposal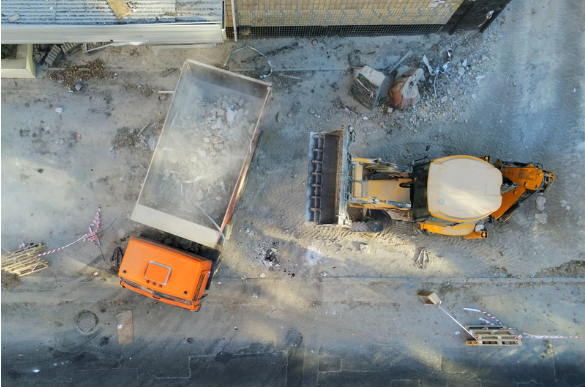 Read on to learn the do's and don'ts of proper construction waste disposal.
Do's: 
Do Separate Waste At Source  
Before disposing of construction waste, segregate it at the source. This can make the disposal and recycling process easier and more efficient. For example, materials like metals, cardboard, and certain plastics can be repurposed if isolated from the rest of the debris.   
Do Use Appropriate Disposal Methods  
After segregating waste, consider the appropriate disposal methods. For large amounts of heavy waste, like the remnants of concrete demolition, consider services like a dumpster rental for concrete. This can help ensure that the waste is managed correctly and doesn't get mixed with other types of garbage, making the disposal more difficult. 
Moreover, renting a specialized dumpster for different types of waste can minimize potential damage to the environment. Companies offering construction waste dumpster rental know how to dispose of debris and scraps that prevent soil and water contamination and reduces the amount that goes to landfills. They're also familiar with the local regulations, so they can safely get rid of construction waste.
Do Stay Updated On Local Regulations  
In addition to understanding disposal methods, it's essential to be aware of local regulations. Waste disposal regulations can vary from one place to another. Always stay informed about the local rules and regulations regarding construction waste disposal to ensure compliance and not inadvertently harm the environment. 
Regularly train your workforce on the importance of proper waste management. A well-informed team will be more vigilant about disposing of waste correctly, ensuring a more efficient and eco-friendly construction site. 
Before embarking on any project, be it a home renovation or constructing a high-rise, always have a waste management plan in place. This includes estimating the amount of waste the project will generate, determining how it'll be segregated, and determining the disposal methods for each type of waste. By doing these tasks, you can dispose of construction waste properly.  
Do Optimize Material Usage  
You can also reduce construction waste by optimizing your material usage. This involves implementing efficient building designs and using materials wisely to minimize the amount of waste generated. Consequently, it can lead to cost savings and a lower environmental impact. 
Don'ts: 
Do Not Mix Hazardous Waste With General Debris  
One of the most crucial guidelines is to never mix hazardous materials, like asbestos and lead, with general construction waste. These materials pose significant environmental and health risks, so they need special disposal methods. For example, you can take them to a hazardous waste disposal facility which is considered the safest and most environmentally friendly option for getting rid of them. 
Do Not Engage In Illegal Dumping  
It's also vital to act legally and ethically when disposing of waste. Illegal dumping not only harms the environment but also attracts significant fines. Thus, always dispose of construction waste at approved dumping sites or recycling centers to avoid trouble later on. 
Do Not Use A One-Size-Fits-All Approach  
Different projects will produce various kinds of waste. Understanding the nature of your waste and adopting a tailored disposal strategy is crucial. For example, a house construction may produce different waste than a commercial building project. Therefore, don't use a one-size-fits-all approach for your disposal as much as possible.  
Do Not Overlook The Importance Of Documentation  
Always document how and where you dispose of construction waste, especially hazardous materials. Keeping thorough records can help in audits and prove your commitment to sustainable construction practices. 
Do Not Neglect Maintenance Of Waste Containers   
Keep your waste containers, including dumpsters, in good condition. Regularly inspect them for any damage, as leaks or spills can harm the environment. If you're using a rented dumpster, ensure it's specifically suited for the waste you dispose of. For instance, concrete debris should be kept in a separate dumpster to prevent contamination with other materials. This way, you can get the most out of your containers for proper disposal.  
Do Not Disregard Community Concerns  
Proper waste management isn't just about following rules; it's also about community involvement. For instance, if a nearby school is concerned about disposal practices, engage in a dialogue and assure them of the safety measures in place. Being considerate of community worries and being transparent about your disposal methods can lead to better community relations and smoother project executions.  
Do Not Underestimate The Value Of Reused Materials  
Reusing materials isn't just eco-friendly but also cost-effective. Materials like bricks, tiles, and certain fixtures can be reused in different projects, reducing the need for new materials. For example, if your old tiles are still in good condition, you can reuse them by re-tiling a different surface in your home, such as a backsplash, countertop, or shower surround. If you have old bricks, you can build a brick pathway or walkway to add a touch of rustic charm to your garden or yard. 
Conclusion 
Managing construction waste responsibly isn't just a nod to industry standards—it's an ethical imperative in our environmentally-conscious age. By adhering to the do's and don'ts outlined above, you can contribute to a more sustainable future in the construction industry.
Other posts you might enjoy:
Waste Management – How to Choose the Right Service
What to Know About Sustainable Wastewater Treatment
Share This Story, Choose Your Platform!