Eco-Friendly Interior: Choosing Sustainable Materials

It's no secret that a well-designed home can improve our quality of life, but a home that also takes into consideration environmental impact is rare. With sustainability and design, you don't have to choose between aesthetics and eco-friendliness. Here we look at ways for homeowners to create a more eco-friendly interior and exterior living space.
Tips for An Eco-Friendly Interior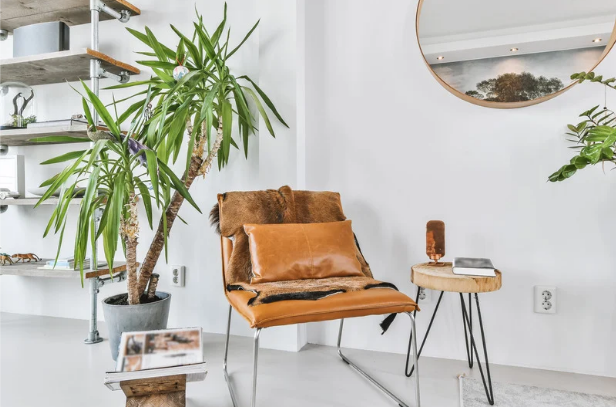 Below there are ten ways for homeowners to create a beautiful yet eco-friendly interior.
1.  Repurposed Materials for An Eco-Friendly Interior
Reusing materials is one of the best ways to reduce your home's impact on the environment. Many household items can be given a second chance with a few clever additions. For instance, an old chair can be given a new look with a paint job and some restructured parts. Another way to repurpose is to transform your existing deck and exterior walls by requesting pressure washing in Fayetteville NC. 
2. Add Living Plants To Your Decor
Indoor plants are not only aesthetically pleasing but also offer numerous environmental benefits. From purifying the air to reducing stress, incorporating greenery into your interior design may just be the greenest touch you can give your home. 
3. Choose Renewable Timber
When selecting wood furniture and other wooden pieces, look for those constructed from responsibly sourced timber. That way, renewable wood sources can be preserved and the new growth absorbs the carbon dioxide released during the cutting process. 
4. Embrace Energy Efficiency
Reducing energy usage can have a huge environmental impact, so make sure you choose home devices and appliances with the highest energy efficiency standard. LEDs, for example, last up to 10 times longer than incandescent bulbs and consume up to 85% less energy. 
5. Buy Sustainable Materials for Your Eco-Friendly Interior
Invest in recycled, natural or certified organic materials whenever possible. In the furniture market, for example, there are now many eco-friendly suppliers who produce organic and sustainable products without harm to the environment. These retailers often guide you with relevant design advice and products that suit your needs. 
6. Focus On Air Quality
Air pollution can be a major factor that influences the sustainability of your home. To reduce this, buy green cleaners and air fresheners which emit fewer volatile organic compounds (VOCs), then run ventilation to expel built-up VOCs. 
7. Have An Efficient Irrigation System
In landscaping projects, setting up a water-efficient sprinkler can help conserve water in the garden. A water-efficient sprinkler will only turn on when needed, ensuring that your outdoor space is responsibly managed.
8. An Eco-Friendly Interior Should Have Sustainable Window Treatments
Adding window treatments can help keep your home cooler in the summer and warmer in winter. This can reduce the amount of energy needed to heat or cool your home, and help you save money in the long run. Just make sure to opt for recycled materials for further green points. 
9. Invest In Eco-Friendly Flooring
Adding eco-friendly and sustainable flooring is a great way to create an eco-friendly interior for your home. Investing in materials such as hemp and bamboo, two rapidly growing plants, will not only help reduce the impact of deforestation on the environment but be durable and stylish for high-traffic areas. 
10. Go Green With Solar-Powered Systems
Opting for solar-powered systems and lighting will take your home's sustainability to the next level. From solar-powered water heaters to solar-powered lighting, these energy-efficient technologies will help you create an eco-friendly home.
In Conclusion
Sustainability and design are compatible when it comes to your home. With these ten practices, you can create a stunning yet green living space that will provide you with years of enjoyment without compromising the environment. By investing in energy-efficient appliances, fixtures, recycled materials, and solar-powered systems, you'll have a beautiful living space that's also eco-friendly.
Other posts you might enjoy:
Eco-Friendly Home Décor – Follow These Helpful Tips
How to Renovate Your Home in an Eco-Friendly Way
Neuroaesthetic Design: Eco-Friendly Living with a Wellness Focus
How to Incorporate Eco-Friendly Items in Your Interior Design
https://digthisdesign.net/wp-content/uploads/2023/03/Sustainable-Design.png
788
940
Patricia Davis Brown
https://digthisdesign.net/wp-content/uploads/2022/11/OLD_DigThisDesign_logo-300x225.png
Patricia Davis Brown
2023-03-14 01:00:00
2023-03-13 19:22:02
Eco-Friendly Interior: Choosing Sustainable Materials