While the thought of transforming your living space may be thrilling, the process of selecting the right tools and managing waste can seem overwhelming. In this article, we'll cover everything from the most essential tools to selecting the right materials, as well as the importance of proper waste management with renovation garbage bins. 
Tool Guide for Your DIY Home Renovations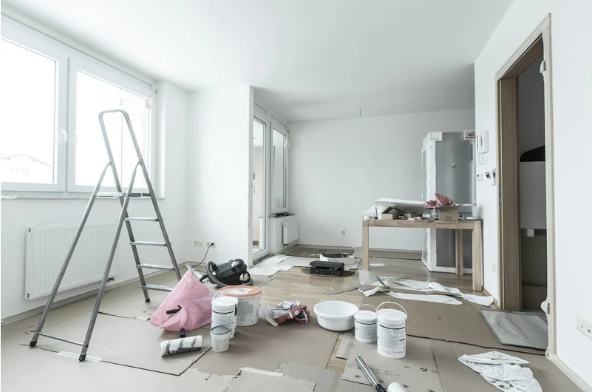 Choosing the Right Tools
When it comes to DIY house improvements, having the correct equipment may make or break the project. Whether you're knocking down walls or merely hanging a picture frame, having the appropriate equipment can save you time and effort while also allowing you to produce a professional-looking outcome. 
Hammer:

From framing to hanging pictures, a hammer is a versatile device that should be in every homeowner's toolbox.
Screwdrivers:

They come in many different sizes and shapes. Consider investing in a set of flatheads to handle all your fastening needs.
Power drill:

Look for a drill with multiple speed settings and variable torque to handle a wide range of tasks, from drilling through tough materials to driving screws into softwood.
Circular saw:

If you're planning on cutting large pieces of lumber or sheet goods, a circular saw is a must-have tool. Look for a saw with a powerful motor and adjustable cutting depth to handle all your cutting needs.
Measuring tools:

From tape measures to levels to squares, accurate measuring is essential for any DIY project. Invest in high-quality measuring devices that will last for multiple projects and provide accurate results.
While the cheapest option may be appealing, investing in quality devices will save you money in the long run by reducing the need for replacement tools. In addition to picking high-quality supplies, it's critical to consider safety when doing so. Look for devices with safety guards to protect your fingers and avoid those sharp edges that could cause injury.
Selecting the Right Materials
Durability:

The materials you choose must be long-lasting, especially if you are remodeling busy areas like bathrooms, kitchens, and hallways. Ceramic tile, hardwood flooring, and solid surface worktops are examples of long-lasting items.
Cost:

Search for those that are within your price range and think about ways to save money, such as shopping around for the best offers or choosing less costly alternatives to high-end products.
Environmental impact:

As awareness about environmental impact increases, more and more homeowners are choosing eco-friendly supplies for their DIY house renovation projects. Look for those made from sustainable or recycled materials, such as bamboo flooring or recycled glass countertops.
Aesthetics:

Select materials that complement your style as well as the design of your house. Get those that will enhance the overall design and feel of your space, whether it is sleek and modern or warm and classic.
Proper Waste Management 

Proper waste management is an often-overlooked aspect of DIY home renovations, but it's a crucial consideration for ensuring a successful outcome. Failing to properly manage waste during a renovation project can lead to cluttered and hazardous workspaces, environmental damage, and even legal issues. This is where renovation garbage bins come in handy.
Other posts you might enjoy:
Essential Tools for Your Home DIY Projects
5 Common Table Saw Uses for DIYers
Share This Story, Choose Your Platform!