Whether you're an experienced DIYer or just starting, choosing the right power tools can make all the difference, especially regarding quality, affordability, and durability.
4 Tips for Choosing the Right Power Tools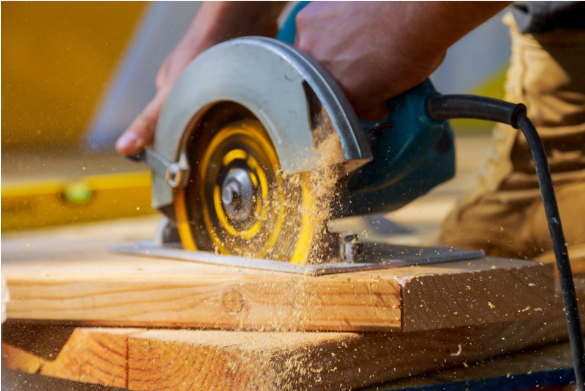 Luckily, there are some simple tips to help you get started! Let's look at some of them:
Know Your Needs
The first step is to determine the type of power tools you need. This can be done by researching the materials you'll be working with, the size of the pieces, and other factors that affect the function of a power tool. This can help you determine what features are necessary for an efficient job.
It's also important to decide whether you need corded or battery-powered tools. Although there used to be a clear trade-off between the two, lithium-ion technology has made battery-powered tools nearly as effective as their corded counterparts.
It's worth checking the deals here, learning about the different options on the market, and considering buying a bare tool (one without batteries) rather than one with batteries included. This can save you money, and it's often easier to find adapters with a wide range of power tools. This is especially helpful for those who plan on upgrading their tool collection.
Budget
Whether you're a do-it-yourselfer who indulges in the occasional home improvement project or a professional contractor who uses power tools daily, establishing a budget is essential for making the right purchase. Power tool brand loyalty is an inescapable part of the purchasing process, and staying loyal to one manufacturer is often more accessible, cheaper, and more efficient than using multiple brands.
Staying within a power tool brand ecosystem will help you adapt to its supply chain, support, and warranty processes. Additionally, some parts from different models are interchangeable – so even if you're a beginner, you can save money by upgrading to a better model over time.
You can also consider saving by looking for used tools on Facebook Marketplace or other reputable online outlets. However, you'll want to ensure a trusted seller is selling the used devices and that they haven't been used on a job site where they could be damaged or compromised.
Safety
Power tools can be dangerous when they're not handled properly. This is why it's crucial to use personal protective equipment (PPE) such as safety glasses, ear protection, a mask, gloves, and work shoes, depending on the task.
Also, read the tool's user manual and follow its instructions. This will help you inspect and maintain the device regularly, making it less likely to suffer from a mechanical problem that puts you in harm's way.
Keep other people and pets away from the area where you use a power tool. They might trip or stumble over cords and hoses, which can cause injuries. Make sure to keep the workspace clear and use a workbench or another stable surface for the power tool you're working with. Also, be careful when changing accessories or device bits, and never leave a power tool unattended, as it can overheat and eject battery liquid, which is hazardous.
Brand
Having the right power tools can make all the difference when completing projects. Choosing the best brands can help ensure your devices last and be easy to use for years. Many power tool manufacturers offer different line-ups for both professionals and homeowners.
The quality of power tools is also reflected in their warranty and service agreements. Some power tool brands offer extended warranties and benefits such as free repairs or lifetime service agreements.
Other factors to consider when selecting power tools include extra accessories and whether or not they comply with industry standards. For instance, some power tools integrate dust collection systems into their designs to prevent air pollution.
Conclusion:
In your journey to select the right power tools, remember that making informed choices can greatly impact the quality, affordability, and durability of your tools. Whether you're a seasoned DIY enthusiast or just starting out, these tips have equipped you with valuable insights.
Understanding your specific needs and the materials you'll work with is the foundation. Additionally, deciding between corded and battery-powered tools has become easier with advancements in lithium-ion technology. Consider budgeting wisely, exploring brand ecosystems, and even hunting for deals on reputable online platforms.
Safety should always be a top priority, and using the right personal protective equipment and following user manuals can prevent accidents. Keep your workspace organized and be cautious when handling accessories.
Lastly, the choice of the right brand can be pivotal. Some manufacturers offer extended warranties and valuable service agreements, while others prioritize innovation with features like dust collection systems.
By applying these tips and making informed decisions, you'll not only have the right power tools in your hands but also the confidence to tackle your projects with ease. Whether you're a professional or a DIYer, your journey to success begins with the right tools. Happy crafting!
Other posts you might enjoy:
What Are the Signs That Power Tools Need To Be Repaired?
Tips for Selecting the Right Tools and Materials for DIY Home Renovations
Share This Story, Choose Your Platform!