The need for easy access to plumbing and HVAC systems for maintenance and repairs is a universal issue in both residential and commercial buildings. Traditionally, getting to these concealed systems meant cutting holes in walls, ceilings, or floors – an invasive, messy, and costly process. However, a simple solution exists that prevents this destruction—flush access panels.
For Seamless Design Consider Flush Access Panels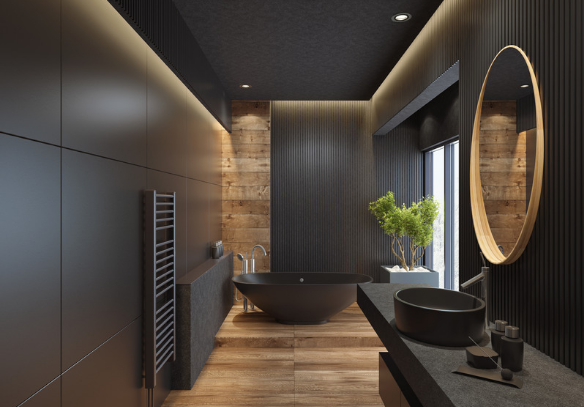 What are Flush Access Panels?
Flush access panels are openings in walls, ceilings, or floors that allow access to plumbing, electrical, HVAC, and other utility systems. These panels are designed to integrate seamlessly when closed so they match the surrounding walls and ceilings. They come in common dimensions to suit typical installations, though they can also be tailored to meet unique size requirements for a precise fit in any setting.
Durable materials like steel, aluminum alloys, or composite boards are used to construct these panels, allowing them to handle regular use and match different décor. Flush access panels also feature cam locks, key locks, or concealed latches.
Unlike basic removable panels, flush access panels sit completely flush with the surrounding drywall, tile, panels, or other finishes. This gives a smooth, continuous appearance that maintains the aesthetics of the space when closed.
Benefits for Residential Settings
In homes, flush access panels provide several advantages. They preserve the integrity of walls and ceilings, avoiding drywall dust, debris, and remodeling hassles. Flush access panels maintain attractive, neat appearances in living areas and allow fast access behind showers, tubs, and other wet areas. Homeowners can easily enable DIY repairs and maintenance without demolition by strategically placing panels during construction or remodeling.
Typical residential access panel locations:
Bathrooms – Behind tubs/showers, under sinks

Kitchens – Under sinks, behind appliances

Laundry rooms – Behind pipes and stacks

Attics – Near HVAC equipment

Basements – Near water heaters and HVAC
Durability and water resistance make flush panels ideal for wet areas like bathrooms. Their low-profile fit means no unsightly protruding panels disrupting home aesthetics. The subtle, integrated look also maintains the stylish, clean aesthetics of modern bathrooms, while the waterproof seals and corrosion-resistant materials allow the panels to withstand wet conditions without visual deterioration.
Benefits for Commercial Buildings
For commercial buildings, flush access panels make maintenance faster, neater, and more cost-effective compared to cutting openings. They avoid disrupting occupants and operations, prevent damage to expensive finishes, and eliminate demolition waste removal and disposal fees. Flush access panels, like the Acudor DW-5040 flush access door, allow quick access for repairs and inspections—simplifying compliance with building codes and standards.
Typical commercial applications include offices, hotels, hospitals, schools, and restaurants. In offices, panels can be placed above drop ceilings near ductwork. Hotels can install them inside guest room bathrooms. Hospitals may position them near in-wall medical gas and vacuum systems. Restaurants can place them behind sinks and appliances.
Proactive planning during construction lets facility managers optimize future maintenance access. Panels can also be retrofitted onto existing walls or ceilings after their initial construction to create new access points that were not originally incorporated.
Key Features to Consider
When selecting flush access panels, keep the following key features in mind:
Locking Mechanism

– Consider the application's security requirements. Simple friction latches allow tool-free access, while combination or key locks restrict unauthorized entry. Matching the lock type to the expected access level ensures proper protection.
Load Capacity

– Check expected vertical and lateral loads based on the panel's placement. For ceilings, account for HVAC equipment weight and maintenance foot traffic. For walls, factor in plumbing pipes and water pressure loads. Select panels rated for these anticipated loads to prevent sagging or failure.
Substrate Compatibility

– Ensure the panel integrates properly with the surrounding finishes based on materials. For drywall installation, metal or composite panels with adjustable tab margins work well. In tiled surfaces, thin aluminum or stainless-steel panels adapt flush. Research material suitability for each substrate.
Customization

– Take advantage of specialized sizing, materials, and hardware options to optimize each installation. Custom sizing tailored to framing spacing streamlines fit. Specialty metals or composites suit specific loads or substrates. Custom locking options provide specialized security levels.
Aesthetics

– Carefully evaluate how the closed panel will integrate visually with the larger space. Frames and door surface finishes, seams, and corners should all blend into the surrounding look. Color-matching to existing finishes conceals it.
Ease of Installation

– Prioritize quick and simple installation to minimize construction time and hassle. Look for prefabricated panels with templated openings, simple attachment methods, and adjustable margins that reduce fitting guesswork.
Final Thoughts
Incorporating flush access panels during building construction or renovations saves significant time, money, and headaches during maintenance and repairs compared to cutting access holes. Select durable, versatile panels customized for each application. Strategically place panels to optimize maintenance access.
With meticulous planning and panel placement, facility managers can redefine their maintenance access. Flush access panels allow fast, simple access behind walls and ceilings without destruction or obtrusive visual disruption. Their seamless integration keeps both residential and commercial spaces looking polished.
Other posts you might enjoy:
Tips for Upgrading Your Attic Access Door
How Drywall Inlay Access Panels Revolutionize Plumbing and HVAC Serviceability
Share This Story, Choose Your Platform!