An automatic security gate is great for adding an additional layer of security to residential or commercial properties and providing convenience for entering and exiting property driveways. 
Whether you have a sliding gate or a swing gate installed, it's important that you know it's functioning properly.
A Checklist for Your Security Gate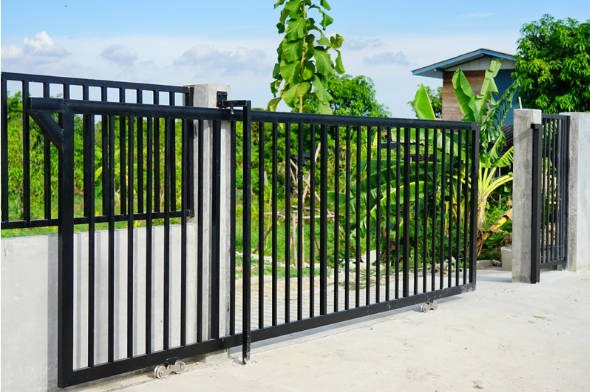 Check the Gate's Timing
The time it takes automatic security gates to open and close depends on the type of gate you have installed, such as a swing or sliding gate, and the specifics of your gate, such as its size and weight. 
The type of gate opener that is used to power the opening and closing, such as the LiftMaster LA400 dual swing gate opener, can also make a difference. But typically, opening or closing times for security gates are between fifteen and twenty seconds. 
You should know how long your gate should take to open or close to find out if the timing is off. If your gate seems to be taking longer to open or close than it should, then you should contact a professional security gate repair company.
Check the Gate's Balance
If a sliding gate is not balanced properly, it will have trouble sliding along its track. Swing security gates can also function incorrectly if they're not balanced right. So, check that your gate is aligned and correctly balanced. If it isn't, it's best to contact a security gate repair company. 
Though, if you identify that the problem is something simple like a loose hinge on the gate or debris along the track, you may be able to remedy the problem yourself. You could simply need to tighten the hinge or remove debris. 
Are Check Detectors Working on the Security Gate?
Your gate most likely has a safety feature that causes it to stop or reverse when it hits an obstruction. That's an important feature for your gate to have because, without it, people, vehicles, or structures could become damaged. 
So, try purposely putting an obstruction in the way of your automatic gate to discover whether this safety feature is functioning properly. Again, if it isn't, contact a professional repair service.
Make Sure You Can Open the Security Gate Manually
When security gates are installed on your property, you need to make sure you know how to open them manually in case of an emergency. For example, should there be a fire, it's important that people can leave the property without encountering a gate that can't be opened manually. 
Once you know how to manually open the gate, periodically test it to ensure there are no issues. Also, make sure every member of the household knows how to manually open the gate. 
If you're using an automatic security gate on commercial premises, security guards and other personnel must know how to manually open the gate in case of emergency. 
Ensure Your Security Gate Isn't Stuck in Manual Mode
Following on from the last point, it's also important that your automatic security gate doesn't become stuck in manual mode. After all, one reason for installing an automatic security gate is that it's automatic; providing convenience for entering and exiting properties. 
Sometimes, automatic gates can get stuck in manual mode and not open and close automatically. If that happens, first check the remote control. It could be a simple matter of needing to replace the batteries. 
If your remote is fully functioning, check the gate's opening mechanism to identify any potential issues. If you're still having trouble, call a security gate repair company.
Other posts you might enjoy:
Home Security: The Importance of Keeping Your Home and Family Safe
How to Avoid Mistakes with Home Security Systems
Share This Story, Choose Your Platform!