Finding a reliable home electrician is a crucial part of modern homeownership, as households rely heavily on electricity for various purposes. But finding the ideal professional for your home's electrical needs isn't as easy as it seems. Not every electrician you encounter will be adequately trained and experienced to handle your home's unique electrical system.
That's why knowing what to look for in a reliable home electrician is important. Here's a brief guide to help you make an informed decision before all the lights go out.
What You Should Look for in a Home Electrician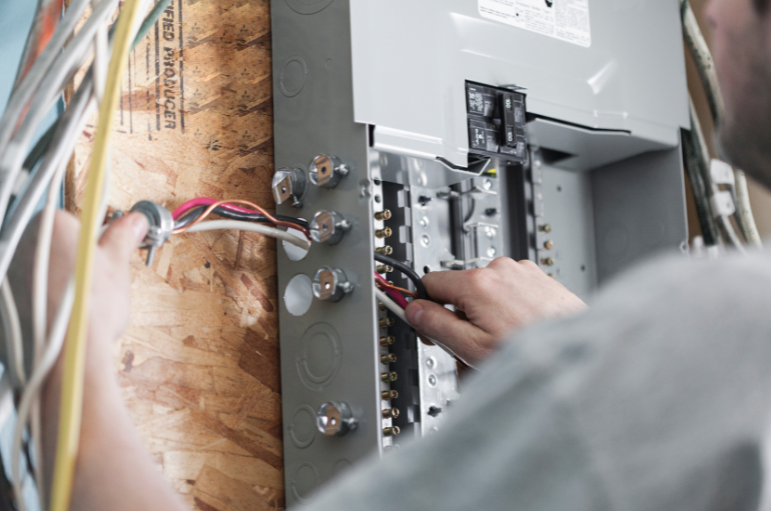 Experience should top your list. Seasoned pros, such as these electricians in Durham, handle various electrical issues, ranging from simple lighting installations to complete system upgrades. Years, or even decades of hands-on experience, mean they've worked on various systems, old and new. With extensive experience, an electrician gains comprehensive knowledge to manage the wiring of any home effectively.
Proper licensing and insurance are non-negotiable for electrical maintenance and repair jobs. Licensing signifies the electrician has undergone stringent training and meets the standards set by your state's regulatory body. On the other hand, insurance shields you from any unforeseen liability during the job. You can typically check an electrician's license status via your local government's online portal.
Clear communication is another crucial aspect to look for in your electrician. A reliable home electrician should be capable of breaking down technical jargon into understandable language, allowing you to grasp the scope of work, required repairs, and cost estimates. Additionally, a good listener who swiftly addresses your concerns and queries makes the entire process smoother.
In the world of electrical work, surprises are inevitable, especially in older homes. This calls for an electrician with impressive problem-solving prowess. Electricians must swiftly adapt to any situation, be it a hidden wire, an obsolete panel, or mismatched components, and formulate effective solutions.
Electrical work involves a fair bit of complexity and potential risk. Hence, you need an electrician who misses no detail. 
A meticulous professional, whether planning wiring routes or inspecting the areas that need further electrical maintenance, will account for every detail. This thoroughness not only ensures the work's accuracy but also enhances safety within your home.
Updated Electrical Repair Tools
Being on par with the latest industry advancements also translates to possessing up-to-date electrical repair tools. Modern equipment can speed up repairs, improve safety measures, and enhance job precision. 
While expertise with traditional tools is admirable, it's also important for an electrician to be adept with modern, advanced tools. Reliance solely on older techniques might not guarantee the longevity of the repairs. An electrician who maintains a current toolbox demonstrates their dedication to quality service and customer satisfaction.
Electricians who value your time can make a world of difference. They should provide accurate job duration estimates, arrive as scheduled, and complete the work within the agreed timeline. Slow and steady may guarantee better inspections and repairs, but time is of the essence in any task. 
Practicing punctuality and effective time management means minimal disruptions to your routine. The faster they finish the job, the earlier you can turn the lights on again.
Prioritize safety in any electrical task. In the U.S. alone, electrical injuries account for 1,000 deaths annually. This statistic highlights how essential it is for homeowners and electricians to stay safe when dealing with electrical systems. 
A reliable home electrician adheres strictly to safety protocols and guidelines, such as wearing the right protective gear. Part of their duties includes ensuring circuits are deactivated before starting work and meticulously verifying their work to avoid potential accidents. If an electrician ignores these steps, they're likely unqualified for the job.
Superior customer service is more than just technical aptitude. It's also about respect and professionalism. A reliable home electrician carries themselves professionally, maintains the cleanliness of your home, and promptly responds to your inquiries with clarity.
Always ask for references before hiring an electrician. Feedback from prior clients can provide insight into the electrician's timeliness, quality of work, and overall dependability. It's also important to consider the cost of hiring an electrician, as rates may vary. If feasible, get in touch with these references to inquire about their satisfaction level with the work performed.
Final Thoughts
Choosing a reliable home electrician may seem daunting, but evaluating the qualities listed above can ease your decision-making process. Weigh your options based on experience, licensing, insurance, communication skills, meticulousness, problem-solving abilities, updated toolkits, time management, safety measures, customer service, and previous client testimonials. 
Your home deserves an electrician who offers not just temporary fixes but sustainable solutions. Choose wisely, as investing in a reliable electrician contributes to your home's safety and peace of mind.
Other posts you might enjoy:
Reasons Why You Need Trusted Electrician Services for Your Home
What to Expect When Upgrading Your Home's Electrical Panel
Share This Story, Choose Your Platform!