No matter where you live, disaster can strike without notice. Unfortunately, water damage can happen to anyone regardless of their location and can wreak havoc on your home or business as well as your belongings. The best way to deal with such a situation is to act quickly. Water damage is one of the most common culprits of property damage. The longer you wait when you have a flood, the worse the situation and the less likely you are to salvage your property and belongings. Here is what you need to do when you are facing a crisis that requires emergency water damage restoration.
No matter what the cause of the water damage on your property, whether it is a sewage backup, flood or a broken water pipe, this is the type of crisis that requires immediate action. It might come as a surprise that water damage can be a worse problem than you might think. There are some things you must know so that you can have your water damage addressed. These issues may be surprising but are as follows:
3 Things To Do For Water Damage In Your Home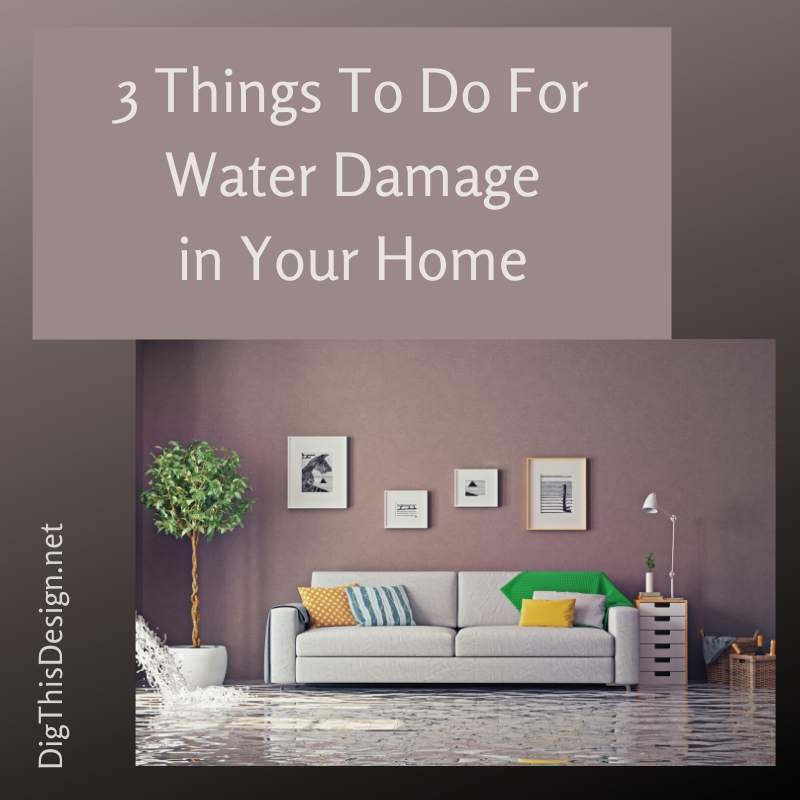 Determine if the Water is Contaminated
Sometimes, the water wreaking havoc in your home or office may be polluted. Generally, the more polluted the water, the worse your situation and the more complicated the process when it comes to remediation. According to the Institute of Inspection, Cleaning and Restoration Certification (IICRC), water can be placed into three categories: Category 1 is water that is sanitary; Category 2 is water that is significantly contaminated; Category 3 is water that is grossly contaminated. The specific category of water present on your premises will determine how water damage restoration services are performed and how much of your property can be saved.
Mold Can Make You Sick
Mold is a very serious problem because the presence of water allows it to freely grow throughout your property. It can also cause a number of health problems, especially in people who have lung issues like asthma or in individuals who have compromised immune systems. Because the fungus can grow and spread in as little as 48 to 72 hours in perfect conditions, it is crucial to deal with it immediately. The five perfect conditions that allow for mold to grow and thrive are moisture, a food source, prime temperature, no air movement or minimal air movement and no light or minimal light.
Contact Your Insurance Company Immediately
The issue of insurance is another reason why it's so important to act fast when you have water damage. Making a claim immediately is wise because it allows your insurance company to be informed sooner rather than later, which makes processing your claim for damages much easier. When an insurance agent knows about the water damage to your home or office, it gives you a better chance of having your claim approved and lets you avoid the potential problem of having a "sudden" damage claim.
The best way to deal with a water catastrophe such as a flood is to waste no time and tackle it immediately. With water damage mitigation and restoration services, it is necessary for the situation to first be evaluated and your property to be thoroughly inspected for any possible safety issues. Afterward, structural drying, pumping or extraction of water is performed to remove all moisture from the walls, floors and anywhere else on the property. After the work is done, your home is restored to the best condition possible.
Images Courtesy of Canva.
Other posts you might enjoy:
Water Leaks Can Start Small But Become a Big Problem!
5 Home Improvement Fixes for the House Structural Problems
House Renovation Priorities From First to Last
Share This Story, Choose Your Platform!