A vegetable garden is a wonderful thing. No matter how small your outdoor space is, you can relax and enjoy the weather, soak up some sun, and grow plants and flowers. You can also grow vegetables if you have green fingers and a taste for organic vegetables. Of course, growing anything is not always easy and some people really struggle to cultivate plants, but with the right equipment and a willingness to try something new, you can succeed with your very own vegetable garden.
Tips to Creating a Home Vegetable Garden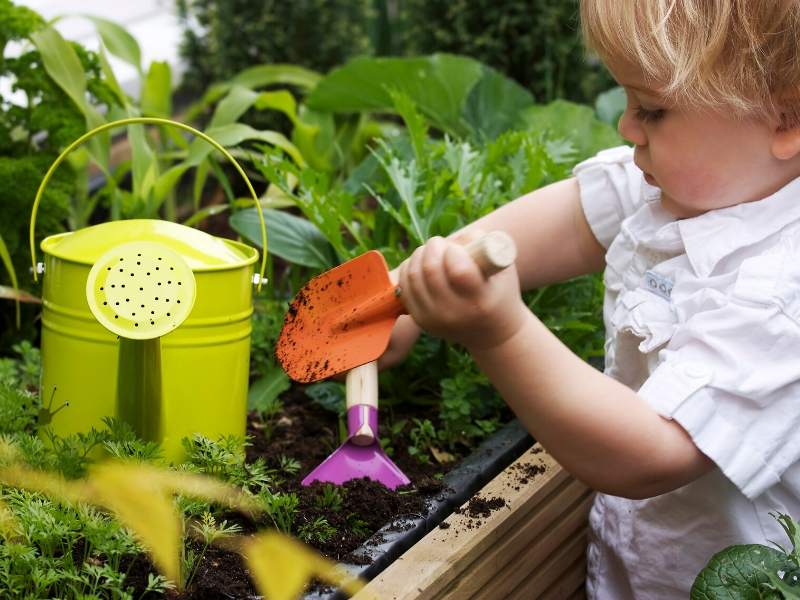 Why Bother Growing Vegetables?
We can easily buy fruit and vegetables from the local grocery store or a huge supermarket like Walmart, but where's the fun in that? Most mass-produced vegetables and fruit sold in large grocery stores is not organic. In fact, most vegetables have been sluiced in all kinds of chemicals, which is not exactly healthy for us.
There is plenty of organic vegetables and fruits available from local growers, but you will have to pay a premium for them. Growing your own organic vegetable garden is a healthier alternative and you can eat the fruits of your labor. For many people, growing soon becomes a real passion in their life. Instead of sitting around watching TV all day, they spend time and energy in the vegetable garden, tending their crops and watching plants grow.
How Much Space Do You Need?
The good news is that you don't need much space to start a vegetable plot. A small patch of dirt will do, but if you don't have a garden or your backyard is concrete, invest in some plastic containers or build wooden tubs. Even if you live in an apartment, window boxes and tubs are still suitable for growing vegetables, so don't let apartment life put you off.
Investing in Equipment
You don't need much equipment to grow vegetables, but some essential tools will make life easier. Invest in gardening gloves to protect your hands. The best gloves are made from leather, but to begin with, a cheap pair of fabric gloves will do just fine. Buy some basic tools, too, including a hand fork, a trowel, a hoe for weeding, and a rake to level off the soil.
For container gardening, you will need bags of compost to provide a suitable environment for seeds and seedlings. Ask your local garden center for advice, as there are several different types of compost available. Some are suitable for seedlings and others are for mature plants.
Once you are familiar with the basics of growing, you may wish to invest in a greenhouse. Gardeners use greenhouses to cultivate seeds and bring them on before they are planted out in the garden. Light deprivation greenhouses force plants to grow out of season, which is useful if you have a taste for summer veggies in the middle of winter.
Soil and Climate
Pay attention to your local soil and climate, as this will directly influence what you can and cannot grow. For example, if you live in a hot climate such as Florida, you won't have a problem growing oranges and other citrus fruits, but if you live in Michigan, it would be a complete waste of time and energy.
It is worth having your soil tested. That way you can add any missing nutrients and improve your crops.
Seasonal Growing
Different types of fruit and vegetables grow at different times of the year, so read up on what to grow and when. Gardeners typically plant seeds in early spring so they can enjoy a crop of fresh vegetables in the summer, and then plant in summer for a winter crop. Find out what types of vegetables grow in your neck of the woods and have a go at some of the simpler varieties until you learn the ropes.
Get the Kids Involved!
Kids love to get involved in practical tasks and growing vegetables is a great way to spend some quality time together. Younger children might not be able to do too much manual labor, such as digging up a large patch of compacted soil, but they can plant out seedlings, harvest ripe fruits and vegetables, and help you out in the greenhouse.
If this article inspires you, it is time to think about growing your own vegetables. Start with some simple veggies such as tomatoes and peas and once you are comfortable growing these, branch out into other vegetables, such as potatoes, carrots, and anything you enjoy eating. Thanks to the internet, it is possible to order seeds and seedlings online from a range of growers, so there are plenty of obscure varieties to choose from.
Outsource it!
Gardening just might be for you, but you still want to enjoy fresh fruits and vegetables then outsource it and try Richmond garden care service or a company near you. There is no reason not to have your own garden if you want it.
Images Courtesy of Canva.
Other posts you might enjoy:
Outdoor Living; How to Create the Perfect Living Area in Your Garden
DIY Garden Tip Guide for Summertime Gardening
Summer Garden Ideas; 4 Tips to a Beautiful Garden
Share This Story, Choose Your Platform!