The moving process is never easy. Of course, that's why many people decide to spend a bit more on a moving company than deal with it themselves. That's completely understandable, especially when there are companies that do everything for you. Their services include showing you how to pack and unload the truck. What's more, most moving companies do long-distance moves at an affordable price. For example, a moving company can help you move to LA, or wherever you want. But if you like to save money, consider these DIY moving tips!
Even with DIY moving tips, it's not an easy task, but it's doable if you are up for a challenge. So, if you plan to move soon, keep reading to learn a few interesting and very helpful DIY moving tips.
Your Source for DIY Moving Tips!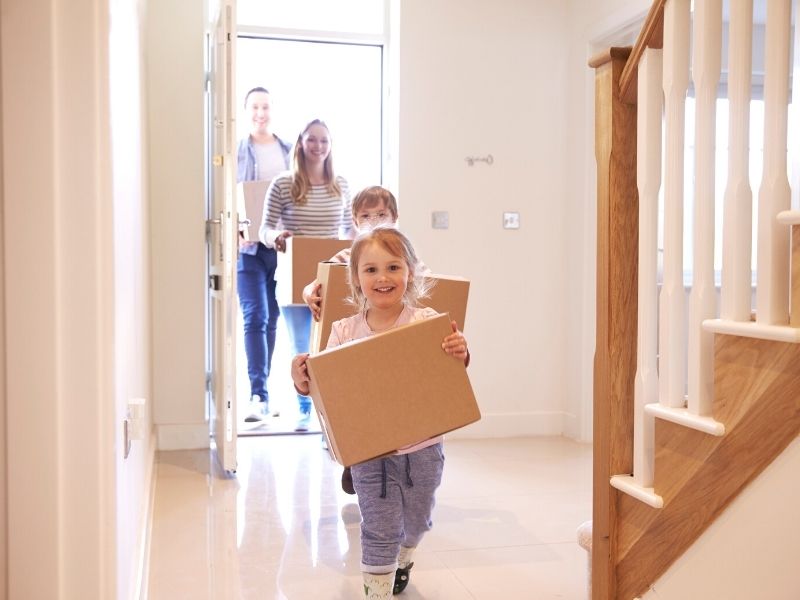 1. Rent a moving truck or trailer.
The first thing to consider when taking on a DIY move is to arrange transportation. The best way to get your stuff from your old home to the new one is to rent a truck or trailer. Putting everything into your car or your friend's pickup truck may be a less expensive option, but it is definitely a riskier one.
Moving trucks and trailers are not too expensive. In fact, by using one, you ensure that your belongings get to your new home without fewer scratches.
Just make sure to reserve your truck rental or trailer well ahead of time, especially during peak moving season, (April to October). One more thing to consider is the size of the vehicle you're renting. If you're not sure which one will fit all of your possessions, go with the larger option. Finally, make sure the company you rent from has a return center near your new home.
There's also one more transportation option. You can pack everything yourself and hire a moving company to move everything to your new home. You still save money, but you rid yourself of a big headache.
2. Rent additional moving equipment.
While we're on the topic of renting, you can also rent the tools you need during the moving process. This might include dollies, straps and tie-downs, and furniture pads.
Tools such as dollies are incredibly helpful, as moving things on wheels is much easier than carrying them, especially if you live on a higher floor. But there's no reason to buy these items when you don't know if you ever need them again!
3. Enlist help for packing and moving.
DIY moving does not mean you have to do everything by yourself. Moving is a lot of work, and if you want to be done with it within a reasonable time frame, you need help. We suggest you get at least two and up to four helpers (friends and/or family) for packing and moving things.
However, make sure to give them a few weeks' notice. No one wants to plan a relaxing weekend and find out on Thursday they need to help someone move.
Also, provide enough drinks and food to get them through the day. What's more, it's even better if you take them out for dinner or drinks at the end of the day to thank them for all the help.
4. Declutter before moving day.
The less stuff you have, the easier it will be to move them! So, before you start packing, get rid of as much as possible.
For things that are still in good condition but you no longer use, you can organize a garage sale and make some extra money. Or, you can donate to charitable organizations, such as Goodwill — especially clothes, furniture, and other household items.
5. Purchase good moving supplies.
The last thing you need on a day as stressful as moving day is your valuables falling out of the boxes. So, before packing, make sure you have the proper moving supplies ready. To pack everything right, follow these tips:
Buy actual moving boxes. It might seem easier to get used boxes from your local grocery store, but those boxes are not meant for moving, and most of them are probably already damaged. Moving boxes aren't expensive (usually $1-$3 a box), and you won't have to worry about your dishes breaking.
However, not all moving boxes are the same. You should get boxes of various sizes, as well as different kinds. Normally, you will need special wardrobe boxes for your clothes and linen, dish pack boxes, and bankers boxes for your documents.
In addition, you need bubble wrap (or old newspapers), moving straps, several rolls of packing tape, and markers.
Don't pack at random — each box has a purpose. Heavy items like books, documents, and small electronic devices should go into small boxes. On the other hand, pillows and blankets will only fit into large boxes. So don't make the mistake of getting too many large boxes — you need more of the small and medium-sized ones. And don't forget to label them!
6. Load the truck like a pro.
While it may not seem important in which order you put the boxes into the truck as long as they all fit, it's actually essential to load the truck properly. Namely, heavy items such as the fridge, dishwasher, and washing machine should go near the front of the truck. Next up are large items such as the couch, closets, and chairs. Place them along the sides of the truck.
After all the appliances and furniture are set in their proper place, you can load the boxes. Be careful to put the heaviest and largest boxes on the bottom, and the lighter ones on top of them.
In conclusion.
While hiring a moving company is probably the least stressful way to move, you can also try to do it yourself. Hopefully, now that you have our tips, DIY moving doesn't seem like such a daunting task. Just remember to plan ahead (don't forget about forwarding your mail!) and pack carefully, and your transition to a new place should be a smooth one!
If you have any questions or suggestions, we always love to hear from you in the comments below. Also below are links to more fantastic articles about ALL things DESIGN for your home or business.
Images Courtesy of Canva.
Other Posts You Might Enjoy:
Moving Checklist: What To Do Before Moving To A New Home
Are You Moving? Take Your Interior Style With You!
6 Common Mistakes To Avoid On Your Moving Day
Share This Story, Choose Your Platform!