Tiny Home Design Ideas
1. Maximize ALL of the Kitchen Space in a Tiny Home
The kitchen is an important room in any type of home and needs to be functional. Working with a certified kitchen designer is a good idea always, especially in a more challenging design such as a tiny home design. A professional kitchen designer teamed up with a reliable general contractor can turn your dream of having an efficient tiny home into a reality.
A kitchen designer is up to date on the latest in space-saving accessories which will help you maximize every nook and cranny in your tiny home kitchen.
2. Change Your Wall Colors
Spicing up your tiny space can be done easily with a new set of wallpaper or paint. Feel free to get creative and really put your personality into selecting your wall designs. However, certain colors will lend themselves to making the space feel more open than other color choices. Typically, the lighter the color, the bigger the space will feel and may even make you feel happier. Use pops of color to focal point a wall and add a layer of texture to the room design. Design is all about balancing colors and patterns and a professional team can help you make the right choices.
3. Decorate With Mirrors
If your goal is to make your indoor space feel more open and spacious, then adding some mirrors to your decorative style will help. This works by adding more natural light to your space and providing the illusion of a bigger area with reflections.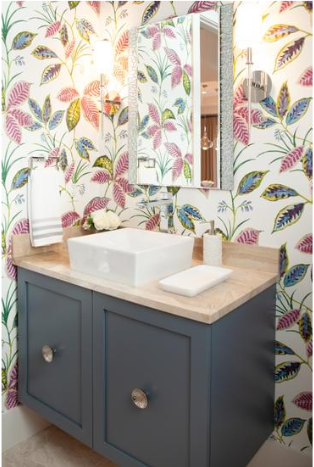 Design by Patricia Davis Brown
Using a decorative mirror in a small bathroom with the right type of vanity lighting will make a big impact in a small bathroom.
4. Declutter Your Tiny Home
While decorations are lovely, having many decorative items in a tiny home can make the limited space feel cluttered. A way around this cluttered feeling is by reducing the number of decorative items you use in your home. Choosing a minimalist type of décor or lifestyle will be the most effective in your tiny home to prevent the space from feeling small or claustrophobic. Be strategic with your décor on how much to use and where to place it.
5. Convertible Furniture is Perfect for a Tiny Home
Creating multi-purpose spaces in a tiny home is smart. A murphy bed, for instance, serves as a bed and when put away can become an office space. A sleeper/sofa couch is perfect for when you have a guest staying the night.
Go Tiny in Style
Living in a tiny home is extremely rewarding and can give you an entirely different perspective on the world. Inside your tiny home, you can still maximize your space so that you can live a comfortable life. Use some of these tips and tricks if you have a small home or are looking to live tiny.
Other posts you might enjoy:
Tiny Houses – Does it Make Sense to Downsize Your Dreams?
Living Small: What You Should Know About the Tiny Houses Trend
6 Tips About How to Decorate a Small House
Share This Story, Choose Your Platform!