When is the last time you went through the steps to refresh your laundry? I'm sure we can all agree that nothing smells or feels better than a fresh load of laundry.
Sadly, not everyone can master the art of perfect laundry. In fact, many of us often end up with loads that smell damp, musty, or otherwise unpleasant.
It is certainly frustrating to end up with a lackluster load after working so hard. So, to help you switch it up, here are six easy tips to help refresh your laundry.
Refresh Your Laundry 6 Easy Ways!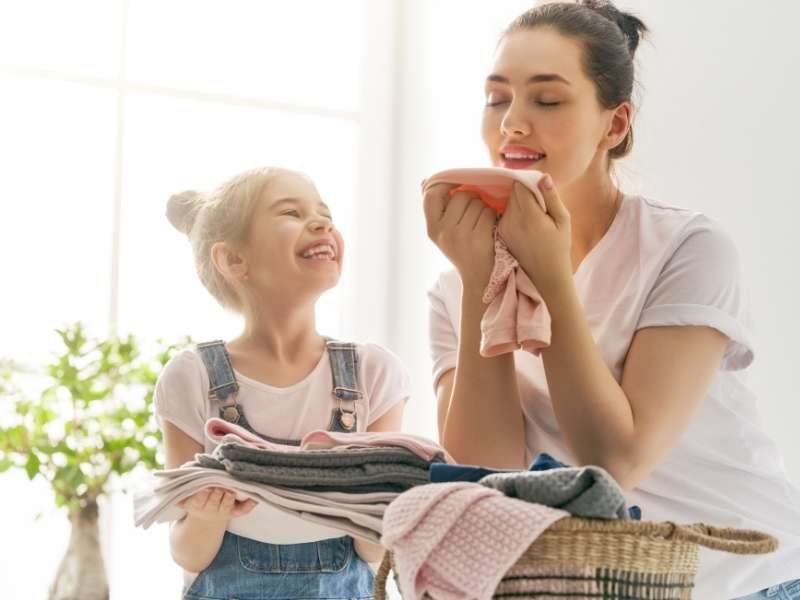 1. Inspect Your Dryer
Do you know that the cause of your less than pleasant smelling laundry could actually have to do more with your dryer than your washer? It's important that you check your lint filter and ensure that it's clear. Failing to do so may result in poor circulation of air which is often the culprit for musty smelling laundry.
Another thing to pay close attention to is the airflow. If your dryer's exhaust duct is blocked, humid air then lingers inside the unit, causing an unpleasant smell.
Another way to upgrade your drying routine for better smelling laundry is to include an aromatic essential oils sachet when drying your clothes. Caution: Avoid using essential oils on their own as they can cause skin irritations and might be flammable.
2. Ditch the "Quick Wash"
With such busy lives to lead, it is not uncommon for most of us to rely heavily on a "quick wash" or "30-minute wash" setting on the washing machine. While this option is great for when you're in a hurry, we always recommend ditching the quick wash and opting for a longer cycle.
Allowing your clothes to soak for a long time is a surefire way to ensure they come out of the washer smelling much better. Quick washes also often use cold water which over time can cause a buildup of mold in the washing machine which is something we can all agree that we'd rather avoid!
3. Set Up a Clothesline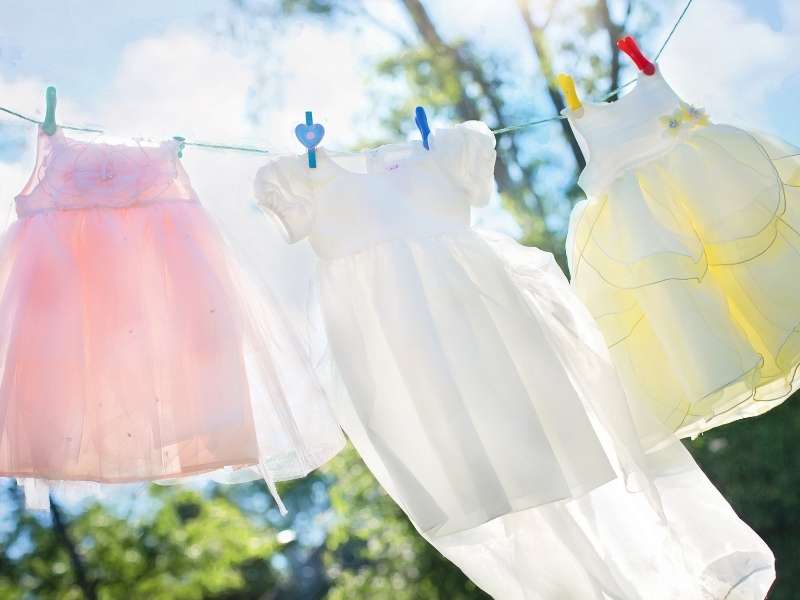 Using a clothesline year-round may not be a viable option for those who live in temperate climates, so save this tip for the summer months. It is almost universally agreed that laundry dried on a clothesline almost always feels and smells better.
An added bonus to drying your clothes the natural way is that sunlight helps to brighten whites and fade stains. You'll also save a fair amount of money on your utility bill which is a win-win.
4. Deodorize Your Washing Machine
Washing machines can accumulate mold, mildew, and bacteria over time which can cause unpleasant odors. A simple and very cost-effective trick to turning back the clock is to use white vinegar.
To do this, simply fill the drum with hot water and add 2-cups of vinegar. Allow this mixture to sit for 30 minutes and then start a regular wash cycle without adding any laundry into the machine.
Go through this twice if you really want to give your washing machine a good clean. What's more, your laundry instantly smells a hundred times fresher with this simple deodorizing hack!
5. Wash with Smaller Loads
As tempting as it may be to chuck all your clothes into the washing machine at once, we highly recommend washing in smaller loads if odors and smells are an issue for you.
Washing a fewer number of garments will increase accessibility to water and detergent. Therefore, you get a much fresher and cleaner load of laundry.
The same applies for your clothes dryer. Overfilling it results in damp smelling clothes. It also causes the dryer to overheat and pose a fire threat.
6. Lay Off the Laundry Detergent
This last point may seem counterintuitive, but using too much laundry detergent can actually cause your garments to end up more acrid than aromatic.
Interestingly, the reason for this is by using too much laundry detergent or softener you end up trapping bacteria that are living inside your clothes in thick, soapy suds that end up doing the very opposite of cleaning.
If you find that your laundry comes out of the washer with traces of detergent, this is a good indicator that you're using too much detergent. Reduce the amount of detergent and softener you use and you'll find that your clothes not only feel cleaner but also smell nicer.
Here's to Your Fresh Laundry Day!
Perfect smelling laundry is but a few steps away. We hope that this article offers you some useful tips, tricks, and techniques that you can use to refresh your laundry.
If you have any suggestions you want to add, please do so in the comments below. You will also find other suggestions for more great articles about ALL things DESIGN.
Images Courtesy of Canva.
Other Posts You Might Enjoy:
BLANCO Answers the Need for Multi-Tasking Laundry Rooms
4 Common Appliance Fixes and How to Do Them Yourself
Gas Leaks; the Dangers You Need to Know
Share This Story, Choose Your Platform!