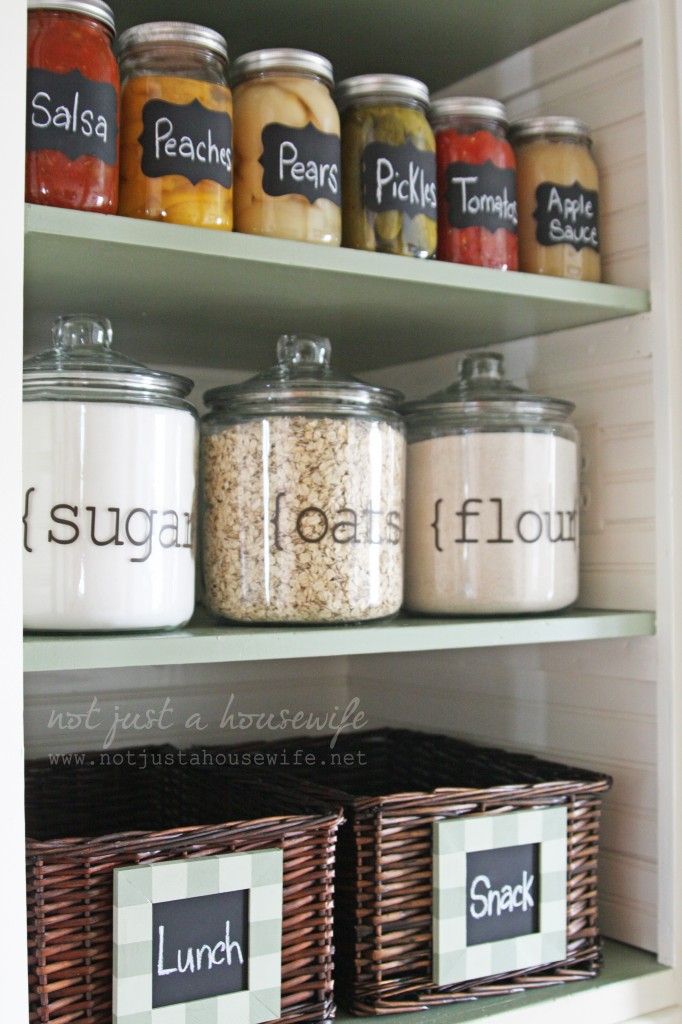 The whole intent of a pantry is to store your food items and make them easily accessible. Knowing where your go-to items are, and have a system in place to re-stock the pantry when necessary will help you out on many fronts: with being more organized at home, in planning meals, and with grocery shopping.
Organize By Labeling
If you've been putting this task off for a while, I've got three really great reasons for you to finally tackle it this weekend. Spoiler alert: it will save you money, it will save you time, and it will teach you about your shopping, eating and cooking habits. This is valuable information when you're trying to budget and meal plan.
Take stock of what you have, which items you use, and which items are just taking up space and crowding up more important foodstuffs. People often fear decluttering and then have a huge sense of relief with it's over, like this example shown below.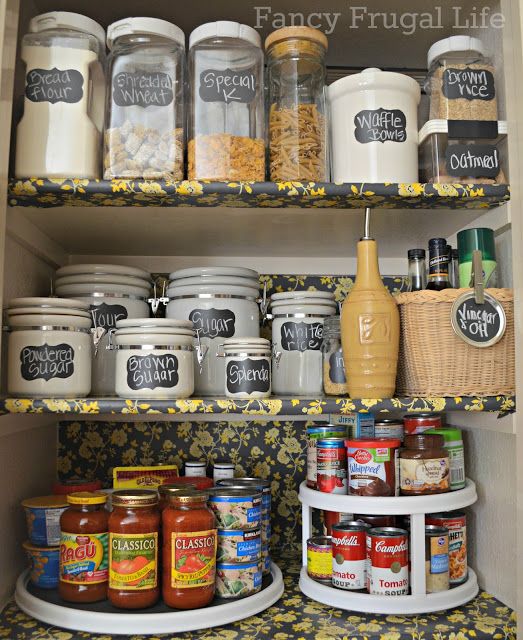 (Dig This Design On Pinterest)
This kind of labeling can help with making a list of your pantry staples and update it regularly. When it's time to go grocery shopping, take your list with you. You can download pantry inventory lists online for free.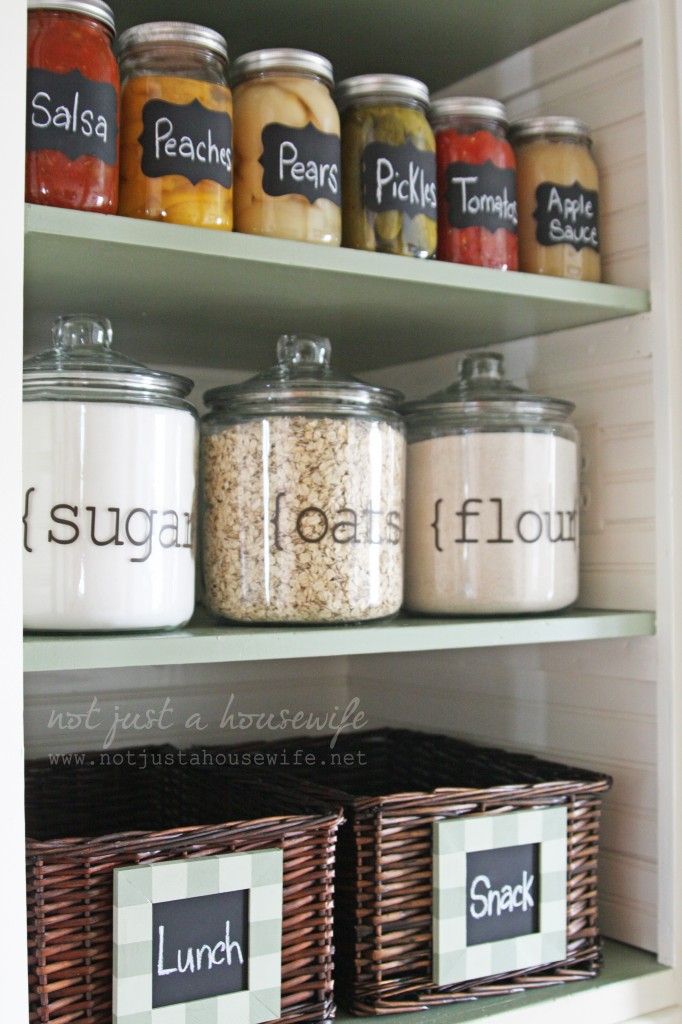 (Dig This Design On Pinterest)
Organizing A Pantry Closet
When you have an entire closet to work with, there are plenty of ways left to organize the closet. I always arranged by size of container in order to save space. I quickly learned that there is a more efficient way to arrange things.
With a closet this large it's important to categorize and place like items together. By doing this, you will be able to find what you're looking for quickly.   As suggested above label like items and each bin and shelves with the contents inside.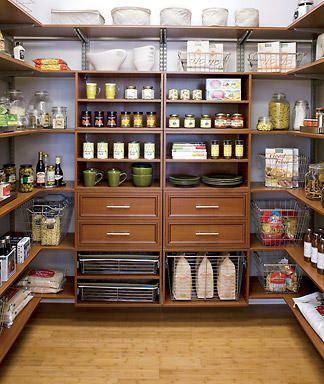 (Dig This Design On Pinterest)
A large pantry closet affords you the ability to use your best organizational abilities.  Store food in baskets and bins to save space, and for the doors on your pantry, hang organizers specifically designed for them. Canned goods, spices, oils and jars easily fit inside the organizers.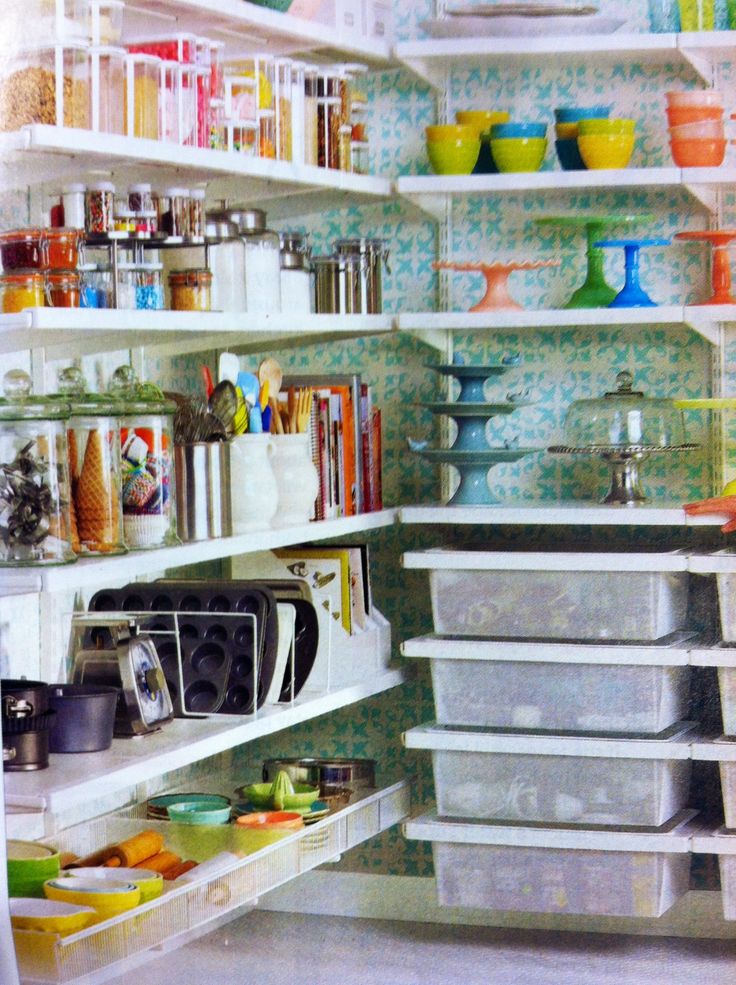 (Dig This Design On Pinterest)
Organize Pantry Shelves
This pantry includes substitutes for fresh foods, such as powdered milk, dried fruits and vegetables, and protein products. A mid-range pantry offers convenience and basic protection.
Make a shelf at child's level fill that bottom shelf with snacks so kids can put away their own groceries and easily grab a snack on their own.
Divide your pantry shelves into zones to keep your food organized and to reduce your meal-preparation time.
https://digthisdesign.net/wp-content/uploads/2013/09/labelshelvvvves.jpg
1024
682
Patricia Davis Brown
http://development.digthisdesign.net/wp-content/uploads/2016/11/OLD_DigThisDesign_logo.jpg
Patricia Davis Brown
2013-09-13 14:38:14
2017-02-25 08:12:00
3 Tips To Organizing Your Pantry