In spring and summer gardens are a huge part of our lives.  Gardens are beautiful and can be a great little escapes from the confines of the house or indoors. Decorating your outdoor space with a garden can give it a sense of calm, beauty, and engaging aromas.
The Shady to Partially Shady Garden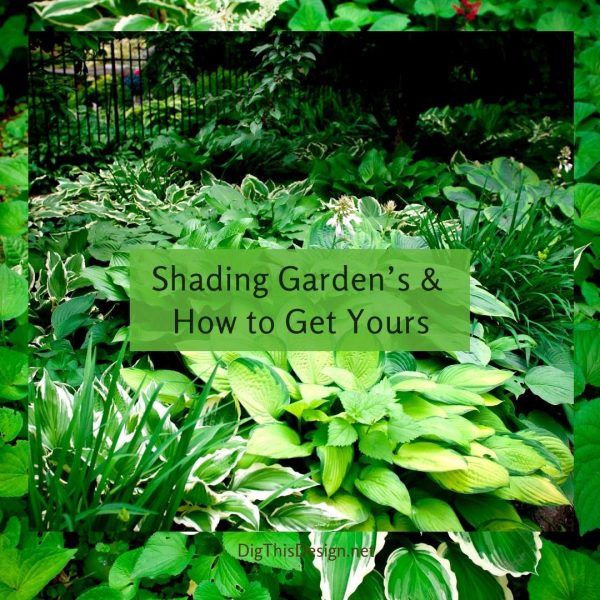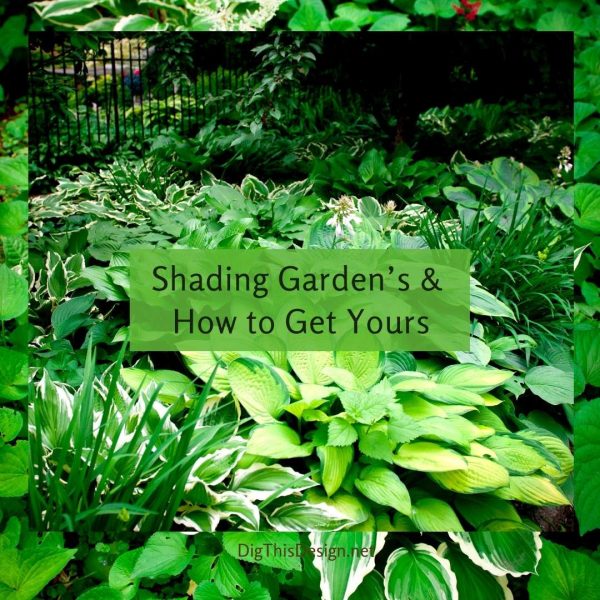 My sister says that outdoor plants come to her house to die. She lives in East Tennessee where everything seems green and lush. Although she has had a lot of plants die after planting, their deaths might be because of anything from the soil acidity or the amount of sunshine or shade in the area of planting. There are also plants that die, but return the following year, like the peony that came up and she didn't remember planting it.
As with most of us, my front and back yards are different in sun or shade.  My front yard has bright sun for about 6 hours a day in a certain area, but due to tall trees and shrubs, much of the front yard has partial to full shade. My back yard I have left as a mostly untame area that we thin out on occasion. That being said, I can tell you that I have much experience with shady or partially shady gardens. 
Hostas for Partial to Full Shade
Hostas are my absolute favorite as they like partial shade to full shade and have multiple types to choose from: green leaves with white trim; green leaves with yellow trim; a yellow-green color that I don't think has a formal name (grellow?)  Hostas get larger every year and can be thinned by cutting through the bulb and replanting elsewhere.  There are also hostas known as "giants," that literally grow 3 to 4 feet wide and 2 to 3 feet tall.  They are gorgeous.  I have some of these giants mixed in with English Ivy at the side of my house which gets morning sun and afternoon shade.
Azaleas for Partially Shady Areas
Azaleas are also a great shrub for partially shady areas in your gardens.  The Encore Azaleas bloom spring and fall and come in beautiful colors of pink, red, white, coral, etc.  They should be fertilized in late fall and early spring in order to maintain their health, growth, and beauty.  Another shrub that prefers partial shade is the Peony.  The Peony is a flowering shrub that only grows to about 2-feet high.
English Ivy for Garden Ground Cover
For shaded areas that need ground cover , I would definitely choose an English Ivy, either the traditional variety or the variegated ivy.  However, be warned that the ivy is invasive and will spread and thicken with time, the leaves getting quite large.  It will be necessary to thin out the ivy.  This is especially necessary if you have planted ivy around a tree or where the ivy can climb (and choke) your beautiful shrubs.
Gardenia and Camellia Shrubs
Gardenia and camellia shrubs like full sun to partial shade. To me, that means they can tolerate direct sunlight for up to four hours, but then must be shaded. The wonderful aroma of gardenias wafting in your garden is unbeatable.
Living in Georgia, I can tell you that our summer sun is brutal on plants and people. Even flowers and vegetables that are supposed to require full sun 6 to 8 hours per day cannot tolerate the heat without being watered every day. They will shrivel up like a prune and die. So, in Georgia at least, it is not only okay but probably preferred to plant flowers and sun-loving plants in an area where they will get some partial shade in the late afternoon to evening hours when it is hottest.
Rhonda Emerson is the "President" of Emerson Legal Support
A 20-year veteran of the legal profession as a paralegal, Ms. Emerson decided to start her own business providing freelance paralegal services to trial lawyers, claims examiners, and litigation support professionals. She also loves gardening, cooking, and spending time with her grandchildren.
Images Courtesy of Canva.
Share This Story, Choose Your Platform!