Green living doesn't just mean focusing on your recycling and energy use. You can also set up your landscaping so your yard becomes a pollutant-free paradise that birds, small animals, and your family all enjoy. That's where information about green landscaping ideas for your yard come into play.
However, to have a green yard, you need to replace ideas of what a yard is with ideas of what a yard can be. Of course, first of all, it needs to be healthy and sustainable.
If this piques your interest, we invite you to continue reading for some terrific ideas for green landscaping. 
4 Ideas for Green Landscaping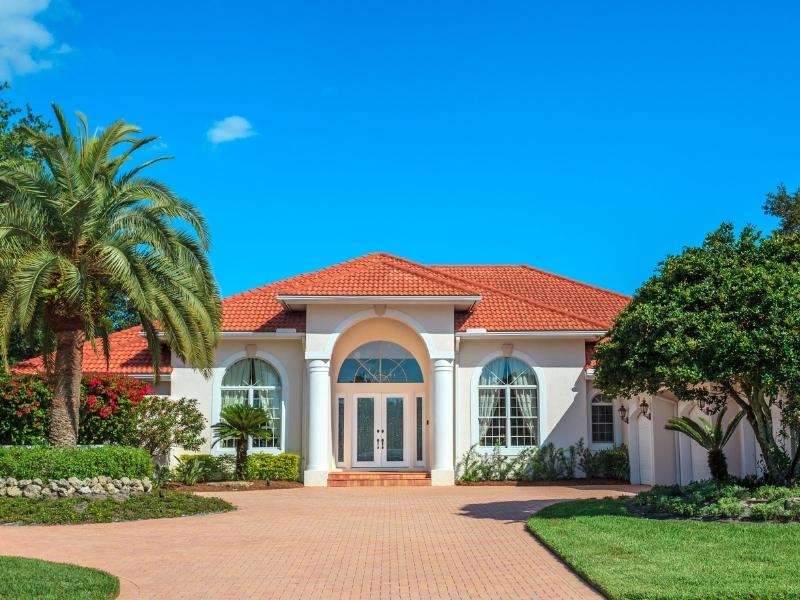 ⎆ Placement of Trees for Shade or Sun
Your landscaping can actually contribute to your eco friendly living practices by helping reduce your energy bill. To make it work, you must be aware of how trees behave during different seasons, as well as the location of the sun. For instance, deciduous trees are thick with foliage during the warm months, but during the winter, their limbs go bare.
You can take advantage of the tree's seasonable properties by planting your deciduous trees on the south and west sides of your house. This way, during the summer they'll provide cooling shade for your home, while during the winter they will allow the sun to shine through and provide needed warmth.
⎆ Providing the Right Amount of Water
The idea of green living does not equate to having a green lawn. Actually, you can train your lawn to become richer by watering it less frequently. When you water your lawn, give it a good soaking. If you just sprinkle the top layer of your soil, you'll have shallow root growth. Shallow root growth means your grass can dry out faster under the hot rays of the sun, turning it brown and unattractive. 
You should also accept that it's okay if your lawn isn't a deep, lush green. Having this type of lawn requires mass amounts of water, and using that much water goes against eco-friendly ideals.
One way you can provide ample amounts of water to your lawn is to harvest rainwater. Basically, you provide a system of gutters and drains that lead the water that lands on your roof into a storage system below. The water is housed in the storage containers until it is needed. 
If you live in an area where it wouldn't be possible to collect enough rain water to make it worth the effort, you can also learn to use xeriscaping. With xeriscaping, you design your landscaping with drought-tolerant plants that still provide beauty.
⎆ Fertilizing Your Soil Properly
Placing chemicals in your soil from fertilizers, herbicides, and pesticides is harmful to all the life in your yard and beyond. When it rains, those chemicals spread further in the run off and could even end up back in the water supply.
Composting is a great alternative to chemical fertilizer, and you have all the ingredients necessary to get started right in your own home. Look for chemical-free treatments for pest control. 
⎆ Green Mowing and Pruning
When you mow, you are releasing pollutants from the fuels in your mower. Using manual mowers and hand tools is not only better for the environment, but it also provides a healthy workout for you. 
Cut back on how often you mow your lawn. Allowing your grass to grow during the summer will help keep your soil cool and retain moisture. Another benefit of allowing your grass to grow a little taller is it cuts back on the amount of weeds that grow since the tall grass blocks needed sun to weed seedlings.
When you do mow, allow your clippings to remain on the grass. They will provide natural fertilizer for your lawn.
Having an outdoor paradise that is eco-friendly really doesn't take more work than a lawn that is finely manicured. While both look great, you can take pride in knowing that the beauty that comes from your yard is natural and friendly to the environment. As you begin the practice of eco-friendly gardens, you'll learn other practices along the way that make gardening an art that is one with the environment rather than a dreaded chore. 
If you have any suggestions you want to add, please do so in the comments below. Also take a look at the links below that take you to more articles about ALL things DESIGN.
Images Courtesy of Canva.
Other Posts You Might Enjoy:
How to Properly Care for Growing Plants in Your Garden
Things To Consider When Choosing Landscape Lighting For Your Garden
4 Tips for Dealing with Common Garden Pests
Share This Story, Choose Your Platform!