We have more fun from the KBIS this week with Tamara Matthews-Stephenson who was also at KBIS with Patricia and post this article, "Luxurious spa-like baths and innovative kitchens this spring, but thoughtful for the environment as well" at her website, "Nest by Tamara".
In it she covered the events and found many different pieces of design interest and Eco-friendly interior designers and design pieces. Here is her article with some other experiences and inspirations at this show!
New Spa, Kitchen, and Bathroom Designs Eco-Friendly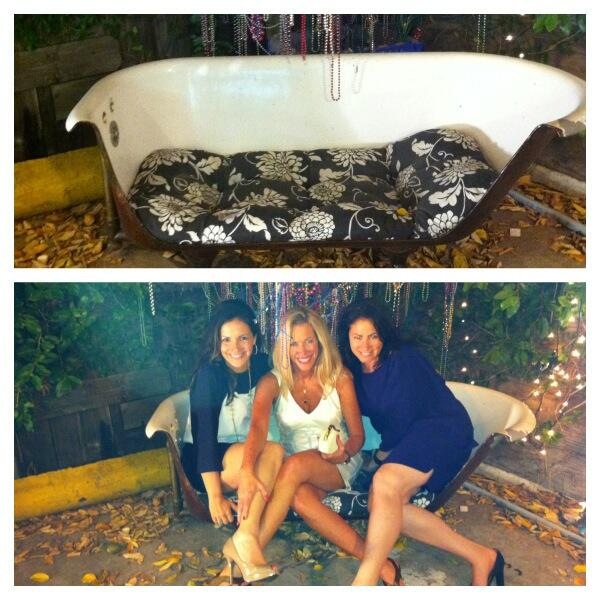 While visiting the KBIS show in New Orleans I was able to take in many of the local sites. Here I am with fellow Blogtour NOLA pals hanging out in a bathtub seat at a local flea market.
We toured many of the vendor booths and symposiums at KBIS, and I noted interesting trends in bathroom design. Words like
luxury, decadence and spa come to mind, and don't usually pair with water-saving, recycling and "green"but these two philosophies play nicely together this spring.
I think many would agree, the ultimate bathroom has a heated towel rack, large over sized tub, beautiful tile paving the floor, a luxurious toilet with bidet and warm seat options, and of course a steam option in the shower,completing the package of a spa bathroom in your home.

The Mr. Steam blog offers regular recipes for facials and skincare as well.
luxury bathrooms brought to KBIS from Mr. Steam One of the reasons this seems to be in the forefront of our thoughts may have been answered by my friend, Los Angeles interior designer Lori Gilder. Gilder was invited by KBIS, along with a select group of designers, to present innovative design plans to show attendees. I was struck with the thorough kitchen plan she designed for a GenXer couple. Gilder played to the crowd, showing her design expertise and had clearly done her research.
The talented bunch of designers bringing their kitchen plans to KBIS Gilder told us 52 Million people were born between 1965 and 1981, making this large group of consumers currently aged between their 30s and early 50s. This important group making up the Generation X members are interested in luxury, yet they understand the importance of being conscientious towards the environment. This may explain why both luxury and "green" philosophies were heavily emphasized at KBIS this year.  I noted many brands launching state-of-the-art products with the highest quality and options, yet with features offering recycled material, water saving techniques and energy saving properties.  I left KBIS longing for my very own home steam shower, just like in a spa.  Who wouldn't love a heated towel rack to boot.
Wall mounted seats in oiled teak one of the many options Mr. Steam brings to showers and baths
Mr. Steam offers Eco-friendly steam products for the home.
Their most popular model uses only 1 gallon of water per 20 minute use. They also create products utilizing 100% recyclable stainless steel, inside and out. Additionally, the Mr. Steam systems allow homeowners to improve the quality of their lifestyle, while embracing a holistic, healthy life. An example of this is the new Auto Flush system, option,  which introduces fresh, clean water each steam bath and providing clean steam every time.
Botanical oils in the heated towel racks infuses the air with myriad of scents.
"Social responsibility is a catalyst for Mr.Steam's innovative design of ecologically conscious, water conserving steam-bath products," states Charles Monteverdi, president of Mr.Steam.  "Today's savvy homeowners have a vested interest in using green products.  Buying from companies like Mr.Steam fulfill the need to have only Eco-friendly products for their home."
Combining the steam options with Chakra oil, sign me up!
The Mr. Steam blog offers regular recipes for facials and skincare as well.
Now, let's take a look at the fabulous GenXer kitchen Lori Gilder designed below:
Lori Gilder, INTERIOR MAKEOVERS INC.
Images by Patricia Davis Brown Designs, LLC.
Share This Story, Choose Your Platform!