Sticking with our trend of black and white this week we are going to delve into the design space where we eat, drink, and be merry; our kitchen and dining spaces! There is something about the theme of black and white together that comes off as minimalist, strong, and often elegant. There is something powerful about simplicity in a design.
Here are some black and white dining rooms, and also some black and white kitchens to inspire!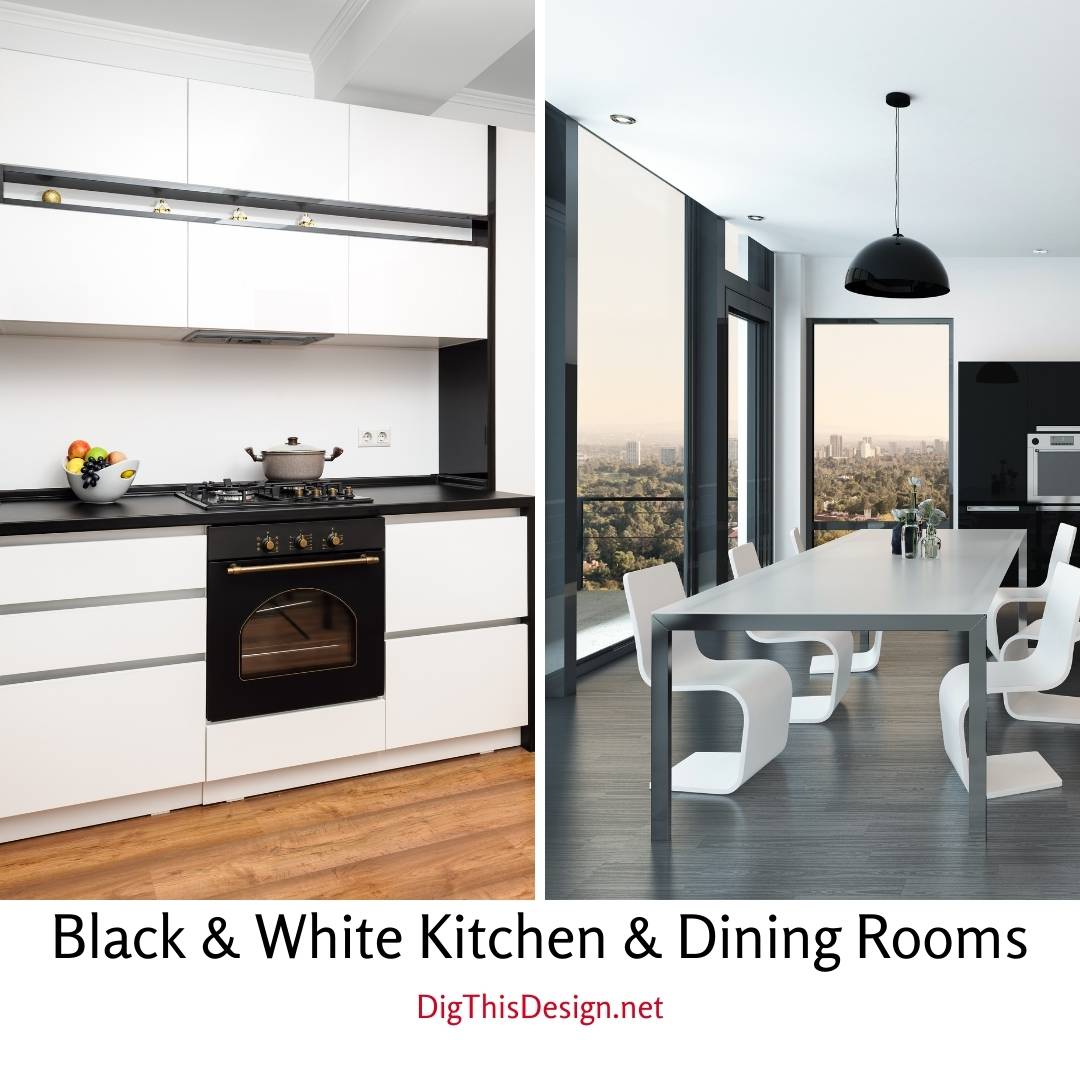 Black and White Dining Rooms
The colors of black and white can inspire through minimalism, luxuriousness, and a modern point of view. Dining areas can be either traditional and simple for a family or over the top and fantastical to impress. These black and white trends exemplify that.
This dining room featuring the black and white trend uses color blocking giving it both a modern and an elegant inspiration. This is a room meant to impress and features recent trends in design decor.
Another black and white dining room dressed to impress with a regal chandelier in this open floor plan is in a large room using mostly white which reflects beautifully off the glass chandelier. This is an elegant room meant for special occasions.
For a more casual dining space this dining room is a great inspiration integrating the contrast of black and white against each other, the walls pure white and the kitchen table black, with a touch of black on the wall tying it all together.
For a more fun and relaxed dining experience this dining area is whimsical using black and white prints on the table, with white walls, and black trim and chandeliers. It's fun and youthful!
Black and White Kitchens
White alone with an accent of black is a lovely statement to make, or both black and white together, but a kitchen that features this strong trend of black and white color connection will be dramatic and regal.
This kitchen splits right down the middle with black on one side and white on the other but cleverly connects the two areas with a black and white checkered floor embracing both black and white in this kitchen.
This kitchen seems rather simple but it has cleverly completed a theme connected black and white together. With white paneling, walls, and equipment the dining table is black and the one piece of color in the kitchen is the counter top which is also black connecting the two rooms together.
This kitchen takes a modern and futuristic approach with it's stylings, but also embraces the current black and white trend, featuring one black wall and white room. This room isn't formal, but it is fun!
Embracing natural light everywhere possible, this black and white kitchen is mostly white feeling bright and light with only black handles to bring color  and wood paneling on the ceiling.  This would be a great room for a kitchen in the country.
Images Courtesy of Canva.
Share This Story, Choose Your Platform!