We love our pets. Anyone who has a precious fur baby though is familiar with the evidence they leave behind. It can sometimes seem impossible to have pets and also have a nice home. The good news is that you don't have to make that choice. As a pet owner, there's no need to sacrifice style or your pet's comfort. Even a couple of small touches can help create a beautiful, pet-friendly home. Here are nine decorating ideas that both you and your pet will love. 
9 Pet-Friendly Home Design Ideas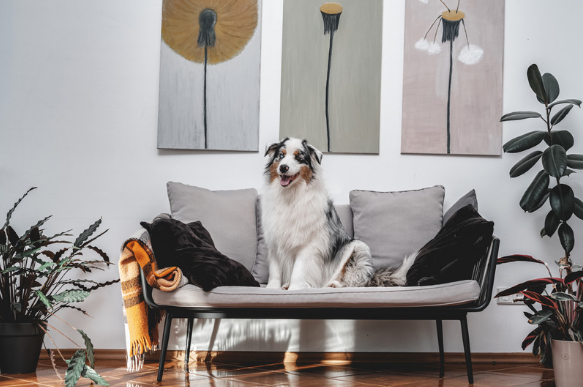 A Gorgeous Rug (That's Easy to Clean)
An area rug is essential for a well-put-together room. A rug enriches the space, adding color and character. Plus, pets love a soft spot to curl up on. However, don't invest in a material that will take hours or great effort to maintain. Look for rugs made up of materials that are durable and easy to clean. Synthetic fibers like nylon, polypropylene, and polyester are excellent low-maintenance options that can handle wear and tear.
Keep away from rugs with long, thick fibers that will trap dirt and pet hair. Low-pile rugs are easier to maintain when pets are in the equation. Accidents are always bound to happen, but the right material will save you a ton of time in the cleanup. 
The Miracle of Performance Fabrics
Pets shed. You've probably gone through miles of lint roller tape to tackle pet hairs. Especially if you have upholstery that are fur magnets, like velvet or chenille. Give yourself a break and look for fur-resistant fabrics such as ultrasuede, microsuede, and microfiber. These fabrics are soft and look lovely on couches, chairs, and pillows. They're also durable enough for spot cleaning and pet cleaners.
If you prefer a sleek look, opt for materials like leather and pleather. You can easily brush, vacuum, or wipe down fur off of these materials, and they bring sophisticated energy to the room. If there's a scuff or scratch along the way, sometimes it just adds to the leather's vintage charm. 
Under Cover
With washable covers, you don't have to be stressed about permanent damage to your furniture. Whether combating shedding, muddy paws, or a hairball incident, you can strip a cover, throw it in the wash, and return it good as new.
Some examples are changeable pet bed covers, duvet covers for the bed, or slipcovers for chairs and couches. This is a practical option if you have a hard time keeping pets off of the couch, or if you simply can't resist cuddling. 
Attractive Pet Accessories
Between garish pet toys and litter boxes, sometimes it seems like the pets own the house and you're just the visitor. There are ways to keep your home still looking like you while accommodating all of your pet's needs.
Ditch any makeshift pet beds that are eyesores  (an empty cardboard box, workout trampoline, etc.) and invest in a stylish one. Look for a pet bed that matches the color scheme of your other furniture. This will help make the room appear cohesive. Another plus is that a super comfy bed that your pet loves will deter them from hanging out on human furniture. Matching colors also work for the other visible pet items you have around, such as leashes, toys, and bowls. 
Chic Storage
Let's say you did get a few aesthetically pleasing toys. There still may be that ratty, bright orange squeaker toy that your dog can't part with. No worries — there's also the option of keeping around chic storage. When a company comes by, you can mitigate the explosion of toys by throwing them in baskets, bins, or drawers that enhance the room. 
Stealthy Pet Furniture
Unfortunately, pet furniture like crates, litter boxes, and feeding bowls can look junky. However, these are things that pets need to thrive. The good news is that you can find pet items that are disguised as stylish furniture or designed to blend in with your decor.
This cute cat enclosure looks like an entry bench or nightstand, but it's designed to fit a litter box or bed. It features a little door that a cat can comfortably walk into and have privacy. You can also find handsome dog crates that act as end tables with shelving. 
Pet Station
Another way to organize your pet items is to designate a pet station in a nook or mudroom. Having leashes, treats, bowls, vests, and extra toys in one spot will look intentional instead of having these things lying about everywhere. 
Put Down Roots
Plants are a key component in home decor. Having them will add life, color, and a feeling of freshness to your home. If you prefer real plants to fake varieties, make sure to do your research before bringing them home. Some are toxic for cats and dogs. There are many beautiful plants that are pet-friendly, such as calatheas and Boston ferns. If you live with playful paws who like to swipe, keep plants out of reach with hanging planters. With a boho vibe, they make cool and interesting home accents. 
Solid Furniture
For dogs who love to chew, coffee tables or chairs with wood legs are a great temptation. For cats, rattan chairs and bins can easily become scratching posts. Furniture with metal or chrome construction offers a sleek option for your decor. Solid material legs and framing will deter chewing and claws can't sink into them. With regular polishing, they're also easy to clean. 
Pets are part of the family. While they do make their mark in the home, there are ways to keep your spaces tidy and beautiful. These pet-friendly decorating ideas will make everyone feel at home. 
Other posts you might enjoy:
4 Steps to a Pet-Friendly Yard for Your Home
New Puppy Checklist: 7 Essentials for Your New Pet
Share This Story, Choose Your Platform!