The garden is a place to escape the stress and pressures of everyday life, not just work, but those inside the house too. When home, there's always a chore to do, an errand to run, or a fur baby that needs a cuddle. When you go outdoors into your quiet space, you can be relieved of that stress. Of course, there needs to be a sense of calm, some entertainment, and room for a good laugh to do that. No one experiences nature on a solemn note. You're there to be kid-like, boisterous, and jovial. Nothing relieves the pressures of a hard day like a belly laugh and time spent in the garden. So combine these with a humorous garden sign that shows your sense of humor.
When you design the space, it needs to reflect the humorous side of your personality. The ideal way to do that is with strategically placed messages on signs throughout the area that guests would associate with you. 
You won't have to say a word as visitors follow the paths; the giggles, though, will speak volumes. What might some of your signs say? Let's look at a few examples to see how they might fit into your garden space.
Humorous Garden Sign Ideas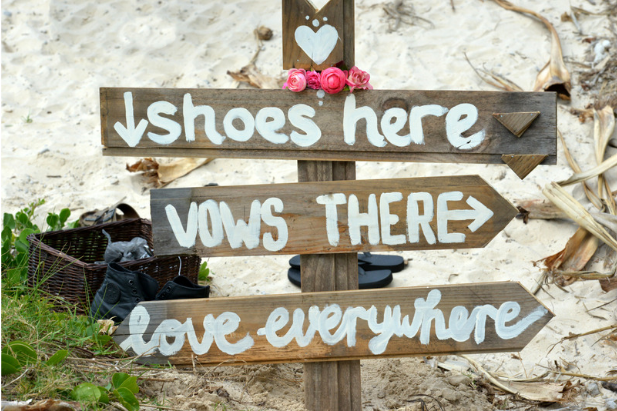 When designing a garden, it can be anything you want it to be. Primarily it should present an environment where you can go to relax, have a good time with family and friends, and work with the landscape if that's something you enjoy. Some people are a little better with the hardscaping than the plant life, but wherever your strengths lie, focus on those. A priority is having a sense of humor about it all. And in doing so, the garden can reflect that in the decor. A fun garden sign can lighten any mood.
Whether you make amusing garden signs with messages that reflect your perspective or buy them, you and your guests can enjoy a range of hilarious options. A garden sign can be light-hearted and still give a message.
The first garden sign idea: "Grow Dammit"
Whether you buy or make this for yourself or a loved one, it speaks to those who only wish they had a green thumb. Instead, our cactus dies, and that's not supposed to happen. While you're encouraging the plants with this sign, it's more of a motivation for yourself or the person you give it to.
Garden sign idea # 2: "Garden of Weedin"
Some people give in to the weeds. After being anxious for the season to kick in, you're ready with your hat, gloves and are gregarious about yanking out those weeds and getting the roots as you pull. That's supposed to mean they don't come back. And yet they do, and at a greater volume. Then you become a little afraid to pull this new batch because what if they multiply again? It's you or them. You decide to live in harmony with the weeds. Find a few garden projects you can do along with your signs at https://www.thesprucecrafts.com/diy-garden-projects-4126789/.
We might just let this one sit here and be.
When you're super protective of your space: "No Trespassing, trespassers will be composted"
Everyone's a little territorial. Some people are relatively private. And then there are the neighbors no one ever sees. This might fall into that category. If you see this out front of someone's home, it's unclear whether you should take it on the humorous side or as a subliminal message. Pushing up daisies in someone's garden is not a favored image in this writer's mindset. Picking up the pace down the street would be a wise move.
A simplistic garden sign for those who love animals (or slugs): "snail crossing"
Gardeners can live in any number of different settings. Still, wherever you are, there will be critters of some sort. If you love living creatures of any species, you will want visitors to pay attention to even that little tiny gnat they can't see, but you do. 
This garden sign makes everyone aware of your feelings so the living will be respected while guests are on your property. No bugs will be trampled, bees won't be swatted, and the spiders will get scooted out the door.
In the vein of not having a green thumb, there's this: "I don't remember planting this"
When you have a mystery flower, bush, or even the starting of a tree, and you don't remember ever having planted it, but the little plantling is doing well, you don't want to do anything to spoil it. It's survived so far all by itself. If you try to take care of it, it will likely die. Remember the cactus.
This some of us needed a few years ago: "Unattended children will be given hugs, sugar, and a free pup"
When your kids come over and never find their way back home, it won't be anyone's fault how they return except your own. 
That means they could be all hopped up on candy and soda, maybe have themselves a brand new pet or something, or have received so much attention by the end of the day they'll be expecting the same from you from now on.
Remember the weeds that multiplied; resort to this: "Die weeds Die!"
I don't know if you're supposed to run through the garden while saying this repeatedly or if you're supposed to be pulling them. I'd be sort of afraid of what the neighbors might say.
When you have a flower bed that you're getting started: "Now entering the seedy part of town"
Of course, if the seeds are planted, and nothing is coming up because you aren't the consummate gardener, that sign might fall flat on the funny meter. 
You might need to get some seed packets to stick in the ground where you planted seeds so people know what they're supposed to anticipate. Go here for ideas on making over your garden space.
This is just lovely, so I wanted to include it: "The earth laughs in flowers"
Final Thought
Everyone should have a good laugh and enjoy their outdoor space as often as possible. It doesn't matter if you do well with plant life or have an eye for hardscaping as long as you enjoy fresh air, relaxation, and those you love. 
There's no better combination for overall health and well-being. If you can bring humor to other people, break out those signs. Let your light shine. 
Other posts you might enjoy:
Unwanted Plants: 4 Tips to Naturally Remove Garden Weeds
10 Tips for a Low-Maintenance Garden
Share This Story, Choose Your Platform!