The food and beverage industry is immensely competitive. However, many entrepreneurs find success. Creating a Café design that is chic and welcoming can go a long way toward drawing in patrons and keeping them coming back. You could pay for a professional restaurant design firm, but that might be outside your budget. Fortunately, some simple design choices, like selecting the right stools, tables, and outdoor patio furniture can go a long way.
3 Restaurant – Café Design Tips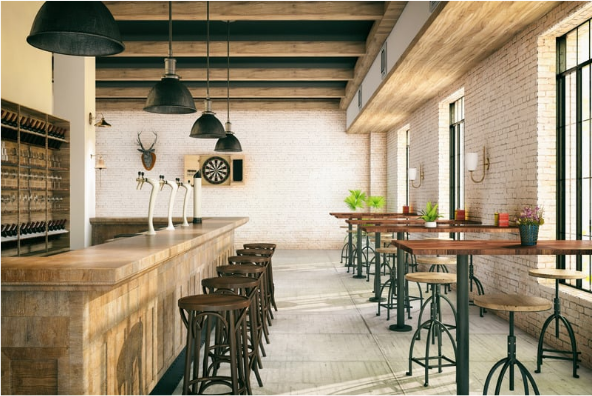 Consider a Green Touch
People often feel more relaxed in settings that help them connect with nature. There are more ways now than ever before to bring nature into a restaurant, bar, or cafe. For example, if you're still designing the building or can remodel your space, lots of windows and skylights mean more natural light. This could make patrons feel more comfortable during the day and can make your space feel bigger even at night.
You can also find many plants that can survive inside restaurants and cafes. A few simple planters near the entrance and even spread through the dining area could add a unique feel. Some suggest that plants may even reduce stress and anxiety, which could help folks trying to unwind after a long day.
Of course, you can also add a patio to your cafe design. Many patrons prefer dining outdoors.
Keep Ergonomics in Mind for Guest Comfort
Furniture is one of the most important aspects of any restaurant, bar, or cafe design. This is true regarding not just looks and feel, but also comfort. Indeed, designer chairs, like Breuer Cesca chairs, can add a chic vibe to your space while also ensuring that patrons are comfortable. High-quality chairs and stools also often offer excellent ergonomics.
Poor ergonomics leads to people being uncomfortable and perhaps even in pain. If your guests are suffering from back aches, they may not come back, even if they love your food and drinks. On the other hand, if guests are comfortable, they'll be more likely to return.
Offer a Unique Theme or Vibe
One of the biggest challenges in the food and beverage industry is standing out from the crowd. Potential customers will often have a lot of options. First impressions count a lot in life, including for restaurants, cafes, and bars. Your business only has about seven seconds to leave a good impression. If your restaurant draws the eye, you may get more foot traffic. Likewise, if your space looks comfortable, people looking to relax may be more likely to stop by.
Perhaps you're setting up a restaurant in small-town Illinois or Nebraska. If so, an Irish-themed pub might offer something unique. Or maybe a modern design, with chic designer stools, tables, and chairs, will stand out even more. It's important to evaluate the market and then figure out how you can appeal to local tastes while offering something that stands out.
Establishing a thriving restaurant takes a lot of work, but the right interior designs and a focus on comfort can go a long way.
Other posts you might enjoy:
5 Restaurant Design Tips for Success
Design A Restaurant Correctly Using The Basics
Share This Story, Choose Your Platform!