Everything and everyone changes with time. As we grow and experience new people, places, and things, our values and goals change. Our new outlooks on life urge us to change our jobs, our homes, our tastes in fashion, and just about everything else. It's normal and natural. Therefore, don't be afraid to embrace new outdoor living designs. It's time to take advantage of new plants and flowers, new landscape designs, hot trends, and more. You aren't going to cut down that beautiful oak tree in the backyard, and you probably have some favorite shrubs or flowers that you would never touch, but everything else is fair game. Here are some hot trends to consider when you're looking to redesign your landscaping.
The Hottest Trends in Outdoor Living Designs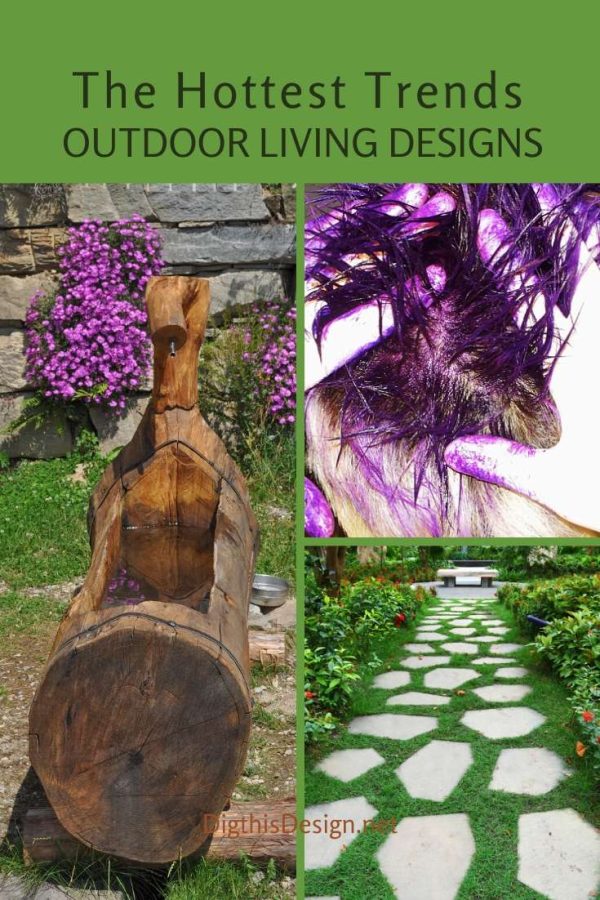 Natural Dye Gardens
No matter where you reside, you probably live near people who have chickens, beehives, or vegetable gardens in their backyards. The newest addition to the homesteading movement is growing plants and flowers for natural dyes used to color clothes, yarns, and other fabrics. These natural dye gardens are quite striking, including brightly colored flowers and plants. You'll recognize many of these plants because they are favorites for cuttings too. They include flowers such as cosmos, marigolds, blue cornflower, and indigo or purple basil.
Old-Fashioned Looks
Garden accents and outdoor spaces are moving beyond retro to old-fashioned. Geometric designs are giving way to the charm of DIY gardens and outdoor spaces. Railroad ties, swings, and smaller furniture are all coming back into popularity. Homeowners are searching to put their own stamp and authenticity to their outdoor spaces.
Choosing the Right Plants to Grow
The days of big lawns may be coming to an end. Larger homes continue to be built on smaller parcels, and homeowners tire of yard work that takes up entire weekends. If you're looking for ways to introduce low-maintenance plants, dwarf shrubs may be the answer. These shrubs fit better with smaller gardens and won't overgrow the area. That means they are easier to maintain. When selecting plants and shrubs to grow, you need to think about their full-size potential. Then you can place them where they have enough room to grow. You'll also find that your pruning chores are much easier. Homeowners who still have large areas to maintain are taking cues from nature. They are planting native trees, plants, and grasses that better fit their surroundings and require little maintenance. A short-grass meadow or yard means no watering beyond what nature provides, and no mowing or edging chores.
Using Color
Home trends follow fashion trends. Therefore, you might want to see what's happening on the fashion runways for inspiration. For example, you can borrow a trend in women's fashion, such as color blocking. Color blocking can be used in outdoor living designs to frame certain plants or to highlight certain corners. Paint a wall or fence with a bright color that draws the eye. Maybe try to use it in your outdoor living area by laying down a colorful throw rug and some new pillows. You'll have the perfect background for outdoor get-togethers. I recently decorated my outdoor patio pool area and used pops of orange. I found myself digging orange in my fashion choices too, so it kind of goes hand in hand. You can find lots of trendy fashion ideas for outdoor living at tobi.
Play Areas for the Family
Playing outside is not just for kids. Homeowners are looking to create bocce courts and no-fuss outdoor living spaces that they can enjoy with hammocks, fire pits, and pet areas. Kids are still part of the mix, but their play areas are changing too. Parents are foregoing the swing set in favor of more natural areas. They are going with natural rock and plants that not only fit better with the landscape but also encourage kids to use their imaginations and the items around them to dig, build and create.
Combining Old and New
Out with the old, in with the new? Not necessarily. Homeowners who once stuck to modern themes are starting to add more old-fashioned elements, while traditionalists begin to mix in modern touches. Everything goes these days and the results can be very appealing when done well. Be careful to plan thoroughly or you'll end up with a contrasting hodgepodge mess.
The right outdoor living designs and plants can help you achieve your ideal outdoor spaces. Whether that's romantic, relaxing, or a fun place for gatherings, you can create the perfect space. Many of these ideas you can incorporate yourself, but don't hesitate to consult a designer who can get you through the tough spots and help you plan your best outdoor design ever.
Images Courtesy of Canva.
Other Posts You Might Enjoy
Garden Growing Success – 5 Tips To Succeed
Indoor Garden Designs, 4 – Types To Consider
Share This Story, Choose Your Platform!