Looking for some new and inspiring ideas for your laundry room? Something to brighten the mundane process of cleaning your clothes? Here are some ideas to make it look great, some unique inspirations to utilize that small space, and a few great storage options.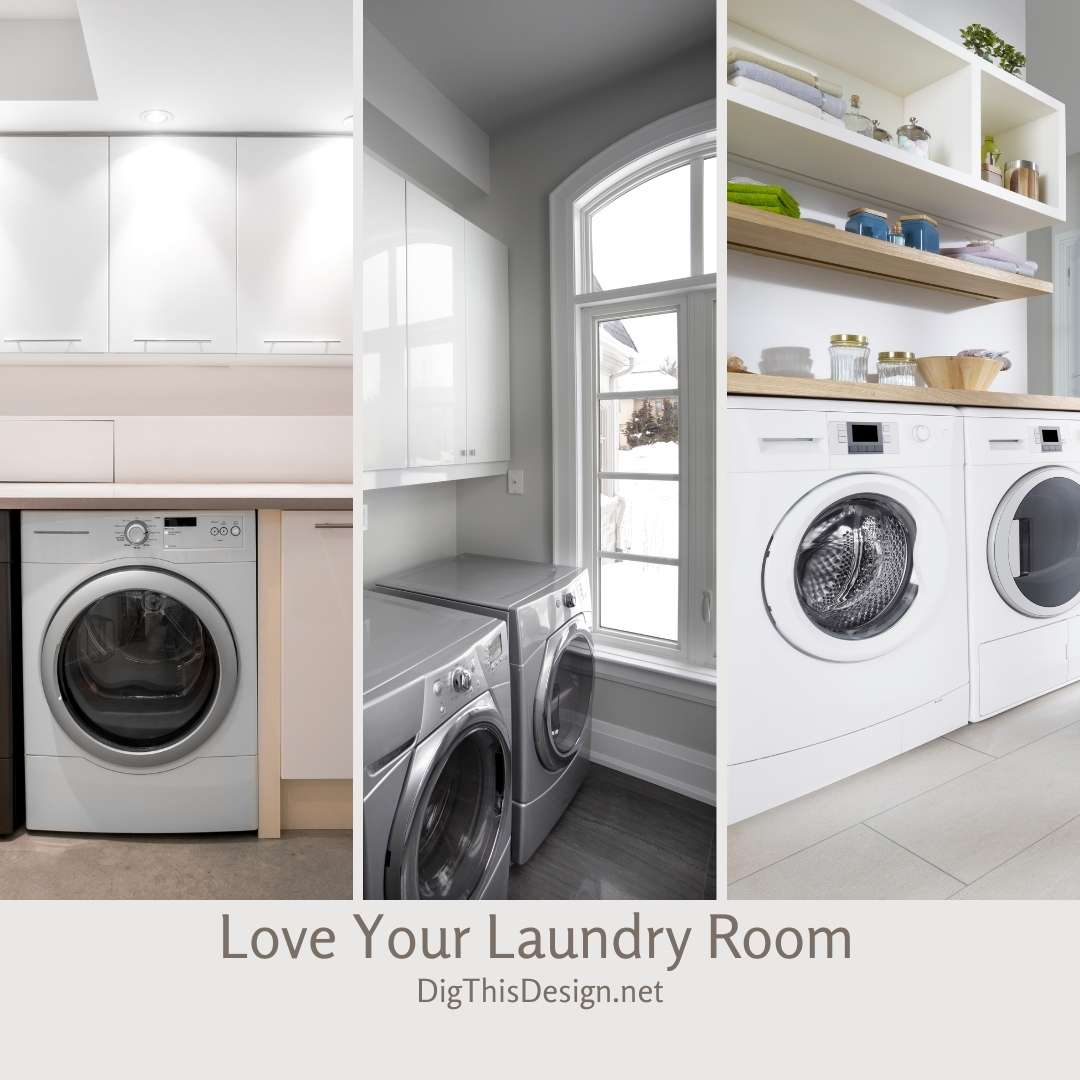 Design Ideas for a Small Laundry Room
As with any room can be difficult to be creative when making designs for a small room. Laundry rooms are no exception to the rule – especially since they aren't the first room people really consider when they think of decorating. But if you can make the room where you brighten dirty laundry a more pleasant place to be, especially in small space, then you should go for it!
For those of you in apartments, condos, or a house with minimal space in your laundry room, take a look at this great idea using shelves, and a double stacked washer and dryer. You have room for towels, detergent, and a sink. This would not only be great for personal usage but perhaps in a tanning salon or spa as well.
This laundry room has a smaller washer and dryer and has employed shelves as a great resource to put away necessary items without making it seem cluttered or an eye sore. This is excellent use of wall space – hanging the ironing board and adding more shelves makes more space in a small room. With the adorable baskets under the counter to separate whites, and colors, it is both pleasing to the eye and great for organizing. This is a great concept and inspiration for a homeowner or apartment renter.
Make Your Laundry Room Pleasing to the Eye
Perhaps you have a ton of space in your laundry room and now you want it to look just as nice and enjoyable as the other rooms in your house. Below are some inspirations for a beautiful and functional laundry room.
The laundry room featured below has plenty of space but also has a very crisp and clean appearance. With the natural sunlight and white walls this room seems even larger than it is and gives the impression that it's not only a clean space but a pleasant one that you wouldn't mind spending time in. (Whenever you have the opportunity to invite natural light, I'd always suggest you utilize it!)
The laundry room featured below feels more like a bedroom than a laundry room. It is smartly color coordinated and is not just functional but comfortable as well. With cushioned seating and natural lighting the brightness of this room inspires a cheerful mood. The cupboard and shelving space alone is to be admired.
How to Hide Your Laundry Room
Perhaps you have excessive space, a quirky sense of humor, or just want something that sets your laundry room apart from the rest of your house. Below a few different rooms are shown to inspire you to create a laundry space that no one even knows you have! You can have fun with it and be as creative as you want!
This first laundry room not only has a sense of humor about itself, but it is also a great concept for utilizing a small space. If you are in a one room flat or have tried to add laundry facilities in a place where there isn't an actual room for it, this sliding door idea is just brilliant. This sliding door "room" should help you to think outside of the box and just have fun with it!
This is another image of a room that has been inspired by not only small space, but thinking outside of the box to place a laundry room almost anywhere in your home. It conveniently gives itself the option of not necessarily looking like a laundry room – so could hide your laundry facilities in the kitchen and no one would be the wiser.
When thinking of hiding your laundry room, why not do it in plain sight? This room below is so fancy it could easily be hidden in someone's living room next to a fireplace. This is truly taking laundry design possibilities to a new level of inspiration.
Images Courtesy of Canva.
Share This Story, Choose Your Platform!