La Sagrada Familia Another Gaudi Masterpiece!
Tops on my list of to-dos while in Spain was to tour La Sagrada Familia. A Basilica located in Barcelona, designed by Spanish architect Antoni Gaudi. Its style is a combination of Gothic and curvilinear Art Nouveau forms. Like all of Gaudi's architecture it is distinct and bigger than life.
As you approach the basilica you can see that it is still under construction and is an ongoing project, one that Gaudi knew he would never live to see finished. His design lives on long after his death in 1926, through reconstructed versions of the plans, as well as on modern adaptations.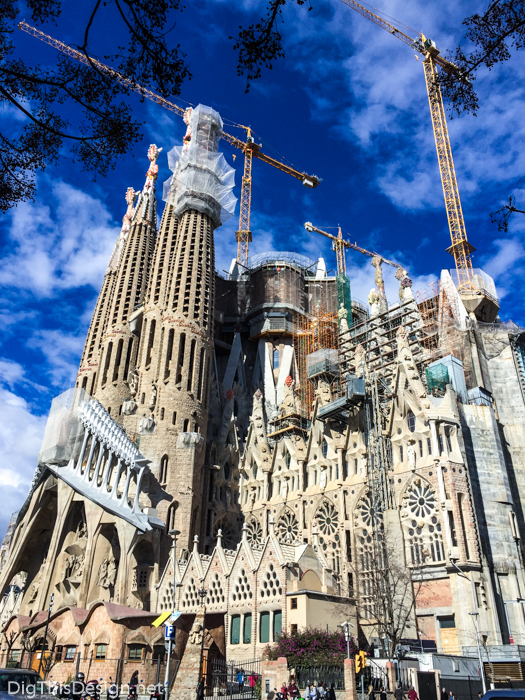 As you approach the Basilica you see that it is still under construction, targeted for completion in 2032.
In the ticket line, I had an up-close view of the passion facade, which was recently constructed. The three entries of the facade are symbolic, "dedicated to the three Christian virtues."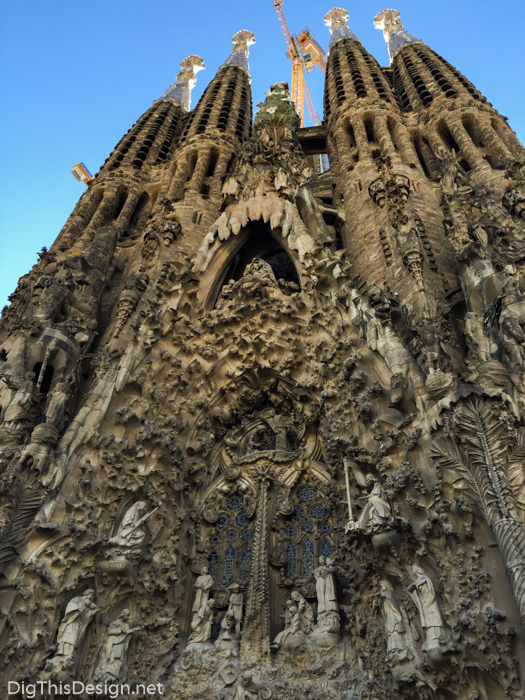 After receiving my ticket the entrance was actually at the rear of La Sagrada Familia. It is so massive it is a bit overwhelming with all its detail and symbolism in the architecture.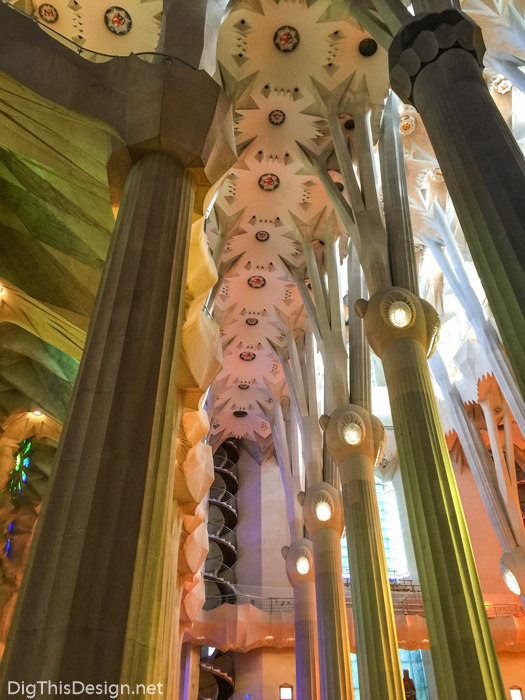 Nature was a great influence on Gaudi's design. The interior columns were designed to give a forest feeling, by branching upward, putting you closer to God.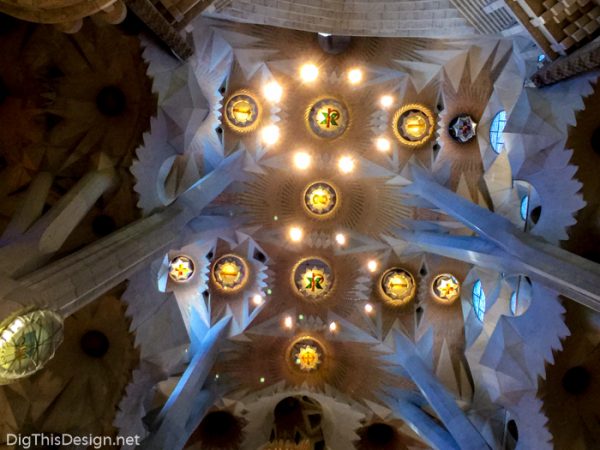 The ceiling detailing shows skylights in between the columns, based on hyperboloids, built of golden and green glass and tiles to reflect daylight inside.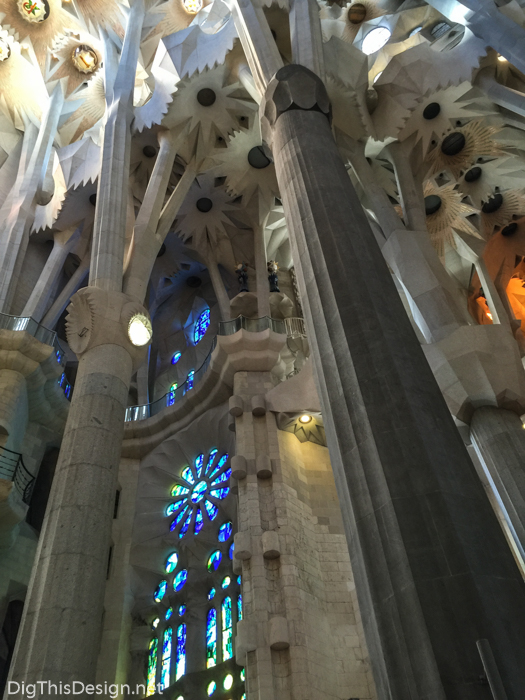 As my eyes follow up the columns I definitely get the feeling of being in a stone forest, as it is sometimes referred to.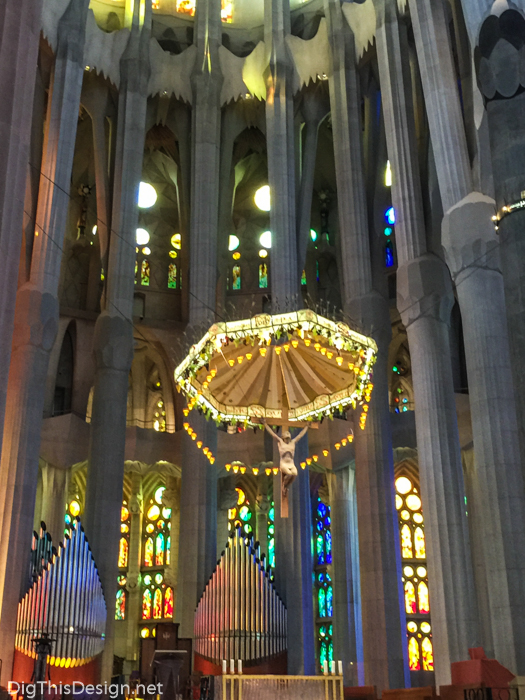 Gaudi's intent was to create an atmosphere suitable for introspection.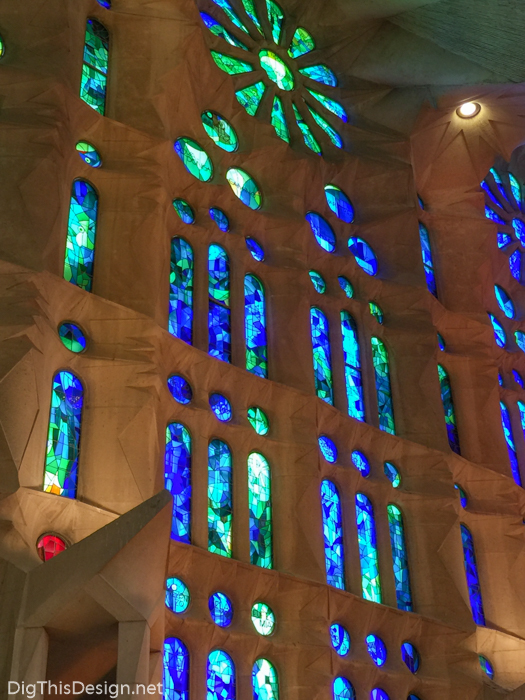 There is such power in the light and color produced through the massive walls of stained glass.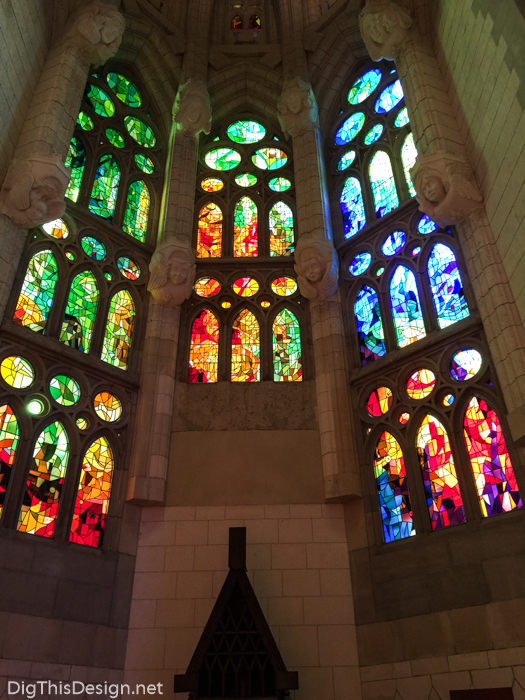 The sunlight lights up the portals and displays throughout the temple.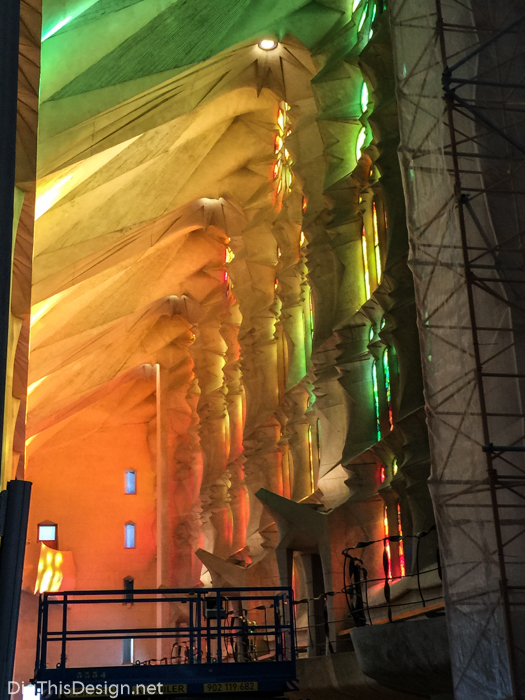 The light coming through the stained glass windows create a kaleidoscope effect throughout the interior architecture. The colors and the location of the glass Gaudi strategically designed to effect the interior as the sun rises and sets.
As a designer touring architecture I like to inspect the details and figure out how they designed and built it. Visiting the Sagrada Familia, I was blown away by its amazing details and symbolisms. The fact that Antoni Gaudi began this project in 1882, long before modern methods of design and build, is nothing more than genius. Needless to say, I highly recommend seeing La Sagrada Familia if you ever visit Barcelona!
Other posts you might like to read:
CASA BATLLÓ – A TOUR OF ANTONI GAUDI'S ARCHITECTURAL MASTERPIECE
BIOMIMICRY, A FORMUL FOR SUSTAINABLE DESIGN
Share This Story, Choose Your Platform!