A historical home's design and architecture is more than just physical buildings; they are also embodiments of architectural trends that have molded our nation's past. However, it takes careful consideration and a creative strategy to guarantee the preservation of these houses. Before starting any preservation job, you should research the best ways to finish the task and create a plan that includes what and how to do it.  
In this article, we'll look at ways to help you safeguard the style and structure of a historic house. 
Five Approaches to Saving Historical Homes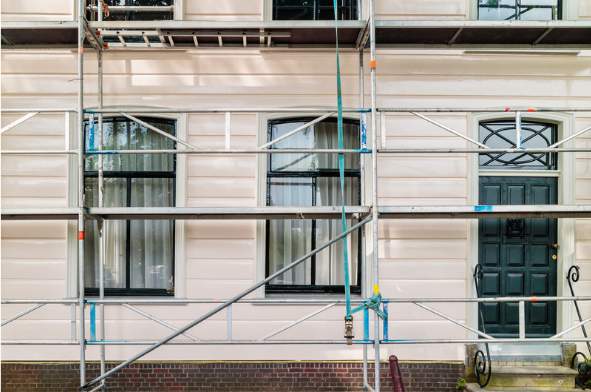 Although every property and the danger it faces are different, the majority of strategies for protecting a historic building fall into these five categories.
1. Preservation and Maintenance 
Protecting and preserving a building's history is known as historic preservation. The preservation of original elements is prioritized, even if doing so may increase expenses and restrict the building's potential uses in the future. 
2. Restoration 
Restoration involves restoring the structure to how it appeared during a particular era by utilizing historical documentation (such as blueprints and pictures) and original construction materials & methods.
3. Rehabilitation
A building rehabilitation focuses on performing the necessary repairs and modifications to keep the structure in good condition and usable. Always consider preserving or keeping any structural features with historical or cultural significance when making improvements or additions. 
4. Adaptive Reuse
Adaptive reuse is a technique for preserving a historic structure by changing its intended function. The building's interior may change to allow new uses while maintaining its original features. The most prevalent instance of adaptive reuse is converting an industrial or manufacturing facility into a storefront or museum. 
5. Moving
Moving a historic structure is a far better result than having the whole building end up in a landfill, despite the disapproval of some historians and locals for separating the building from its original location. 
Ways To Preserve and Maintain Historical Home's Design and Architecture
These are the different ways to preserve and maintain the design and architecture of a historic home. 
Limit repairs to preserve architectural value. 
Even a good maintenance routine reduces the need for repairs; eventually, you will find something that needs fixing. Use the best repair methods according to the home's kind of wood, tile, brick, or mortar. Remember that the architectural features are costly and hard to duplicate. Take pictures before you do any repairs to help you keep the original look. 
Keep the unique aspects to preserve the historic and architectural value. 
One of the most desirable features of historical structures differs from modern ones. Most likely, a glance at your property will reveal its age. Keep the peculiarities to protect the building's architectural and historical worth. 
Preserve sensitive items and artworks through climate control. 
Numerous old houses include priceless antiquities, antiques, works of art, and delicate materials that need specific environmental conditions, such as constant temperature and humidity. 
Generator basics come into play in such cases, as a generator can power climate control equipment, including HVAC units and dehumidifiers, and maintain steady temperatures. By doing this, you can protect the integrity of these items and stop moisture or very high temperatures from making them deteriorate. 
Preserve archival and historical documents. 
Numerous old houses are museums, libraries, or repositories for old documents and archives. These collections often need continual electricity to run temperature control systems, lighting, and specialist equipment for preservation.  
A generator, such as a Predator generator, can be a reliable solution, delivering uninterrupted power to ensure the safety and availability of these priceless historical treasures. Are Predator generators any good? Predator generators have gained a reputation for their reliability and performance, making them a viable choice for powering critical systems in preserving historical documents.
Carefully carry out masonry repairs to protect historic features. 
The process of making bricks has changed throughout time. Newer bricks can withstand the weight of cement, while older bricks cannot. If you ever need to make repairs to the bricks of your building, engage a qualified mason who has the knowledge to match the kind of mortar used for the repairs to the type of brick involved.
Remodel with consideration for architectural compatibility. 
There is a wide range of sizes for historic homes. If you outgrow it, you could add a room to your house to preserve the historic little element. Build your addition to blend in with your current building, selecting a size and architectural style that work together.
Reserve the distinct features of historic homes. 
Root cellars, full-sized attics, and twisting staircases are distinctive characteristics of older houses. These architectural characteristics give it personality. The window trim, chair rails, and artistic design of the doors are just a few of the finer building features that provide essential information about the property's history. 
Plan routine upkeep to protect historical value.
Maintaining a regular maintenance program is essential to maintaining significant architectural elements in your historic building. Cleaning, waxing, and painting are some of the jobs you must do on the interior and exterior of old buildings to prevent unwanted damage and the need for repairs.  
Conclusion 
A significant way that enables us to connect with the past and value our cultural history is by preserving the design and architecture of a historic house. By carefully implementing preservation techniques, we can ensure that these architectural gems excite and enthrall future generations. 
If you have a historic house, you have the responsibility to maintain its distinctive qualities, the structure's style, and architectural integrity via necessary repairs and routine maintenance efforts.  
Other posts you might enjoy:
Top Challenges for Preservation of Cultural Heritage Buildings
3 Ways to Transform a Rural Property
Share This Story, Choose Your Platform!