Storms come and go, but it's a different issue altogether if you're facing a different kind of storm—a hailstorm. If you live in an area where this is frequent, then chances are, you already know how to deal with one. This involves the preparations before the storm and the things you need to be aware of after it's gone. In fact, going through this makes you a survivor of sorts.
Yet, regardless of the level of your disaster preparedness, it's still different when assessing the aftermath. Hail damage costs hundreds to thousands of dollars every year for homeowners. In the US alone, statistics show that there were over 2.8 million hail claims from 2017 to 2019. Have you trained yourself on assessing such damage and estimating claims?
Assessing the Costs of Hail Damage to Your Roof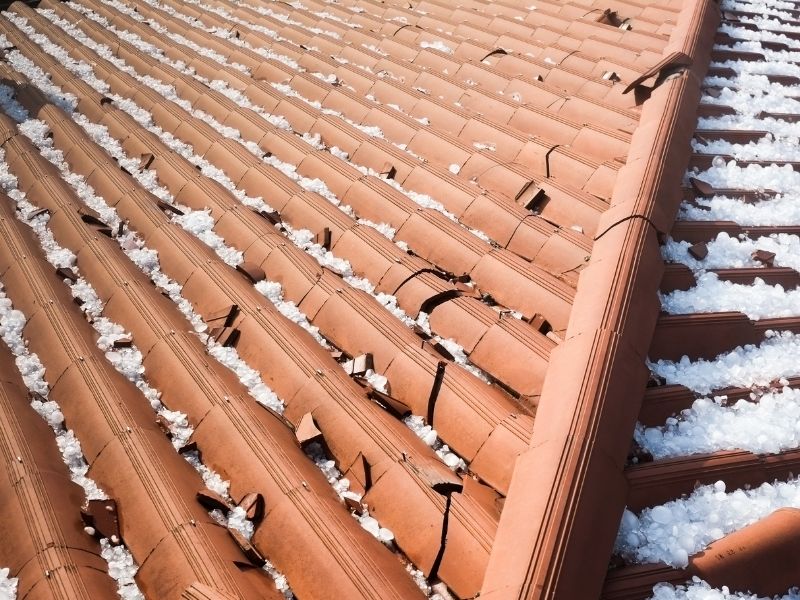 Diagnosing the Problem
Although the current roofing systems rate from 1 to 4 for hail resistance, it's a good idea to visually observe hail damage on your roof after a storm. Sometimes the damage is obvious, and sometimes it needs closer assessment before you estimate the cost of repair. However, the only way to correctly diagnose the problem is by climbing onto the roof to take a closer look.
However, it's not advisable to do that on your own. After all, being a roofer is one of the most dangerous jobs, so allow the professionals to do your diagnosis.
Initial Assessment Before Costing
After a professional roofer offers a diagnosis, he will advise if some vents or panels require repair. Damage restoration usually involves replacing the damaged panels instead of patching up damaged materials, as the damage inevitably leaves visible nicks and cracks. The process of replacement depends on the type of roofing materials on your home. So, it's a wise decision to get in touch with your insurance company first before spending one cent.
How Much Does Repair Service Cost?
The cost of repair obviously depends on the severity of the damage, as well as the type of materials used on the roof. With that said, it's possible to estimate the approximate cost of the repair by analyzing the data.
If your roof suffers severe damage and needs an entire replacement, expect anywhere from USD $5,000 to $20,000 for the service. For standard repair services (for section repairs of the roof), you might need to pay around USD $400 to $700 per square foot, assuming it's a 100-square foot roofing section.
The above cost covers material, labor, and flashing. However, it doesn't include extras for tearing off the existing roof. Therefore, expect the repair cost to be around $4,000 to $5,000 for an average-size roof.
Does Homeowner's Insurance Cover the Cost Of Repair?
If you have homeowner insurance, expect them to cover most of the repair or replacement cost. As mandated, the insurance company should cover any damage that happened beyond your control, which includes natural disasters. However, you might need to shoulder some minor expenses, such as replacing rotted roof decking.
Whether the hail-damage to your roof is minor or significant, don't delay the repair time since most insurance companies have a statute of limitations. So, you need to make a claim as soon as possible to take advantage of your insurance policy.
Also consider that if you delay repairs, your roof gets exposure to more damage. In that case, your insurance company will argue against not paying the full expenses anymore since the additional damage is due to your negligence.
Stay Away From 'Storm Chasers'
It's normal for homeowners to look for a professional yet affordable roofing contractor to diagnose the problem. Due to this urgency, some out-of-town roofing contractors quickly move into a community hit by a hailstorm. One might call these contractors 'storm chasers.'
These storm chasers rely on door-to-door marketing to get customers, and they'll offer lower prices to tempt you to do business with them and close a sale quickly. However, these contractors could also be scammers producing poor quality work. So, before choosing a contractor, do some in-depth research and check their company credibility.
Final Thoughts
Hailstorm damage is something difficult to avoid, especially if you live in an area that's directly in the storm's path. However, the silver lining is that there are many economical options for roof repair. Furthermore, there are insurance services ready to cover the costs. Once you do your homework and finalize on hiring a reliable roofer, then the hail-damage roof repair should be smooth sailing.
Do you have any questions? If so, please leave them in the comment section below. Also, take a look at the links below for more great articles about all things design.
Images Courtesy of Canva.
3 DIY Solutions to Slash the Cost of Your Roof Repair
6 Tips to Help You Get the Best Roof Repair for Your Home
How Much Value Does a New Roof Add? A Look at Appraisals and Roofing
Building Owners Beware: 3 Vital Functions of Roofing Insulation
Share This Story, Choose Your Platform!