It's summertime which means more fun under the sun, all things blooming and bright. But wait, did you ever look at summer as not just for beach trips and tropical getaways? Before you plan for your sunny escapades, be sure to take care of your home maintenance checklist. But we cannot emphasize enough that it's important to prepare your roof for summer.
Some homeowners tend to make the mistake of anticipating that this warm season is the easiest time for home maintenance. Yes, there's no chance of heavy rain pouring down or mountains of snow filling your driveways.
But don't forget that along with the bright weather also come challenges such as storms and the scorching summer sun that might damage your roof no matter how durable it is. Before you get ready to prepare your roof for the summer months, we invite you to continue reading to learn more.
Prepare Your Roof for the Summer Months with These 4 Tips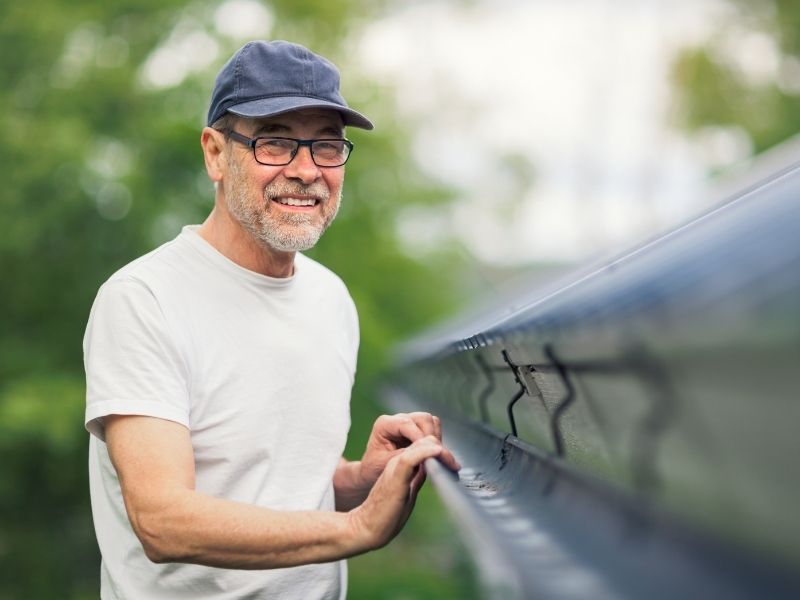 Summer-Proofing your roof.
Preparing your roof for the summer is a routine you don't want to forget. Remember that your roof serves as the armor protecting your property from natural elements. Therefore, it's necessary to keep it in prime shape. In addition, because summer's here, it pays to look into some preparations to ensure your roof is ready for the intense heat.
It's necessary to do a roof inspection in Ontario regularly. If you already have a roofing Oakville company you're working with, that's good. But in case you don't have one, you may want to start looking for a professional contractor you can get in touch with any time you need roof inspections or repairs. Here are additional tips on how to prepare your roof for the hot days of summer.
1. Clean your gutters.
If you regularly inspect your roof, you know that gutters can get clogged and eventually weigh down because of debris and dirt accumulation. However, most of those fall during summer. Think leaves, twigs, branches, small rocks, and dust that the wind could easily carry ending up in your gutter. When that happens, gutters won't function properly and eventually damage your roof in the long run.
Cleaning your gutters regularly goes a long way in making sure the roof stays in pristine condition, especially during warmer days. It's one of the first things to do when preparing the roof for the summer season while also making sure gutters receive regular maintenance as seasons change.
2. Inspect the shingles and tiles.
As your roof becomes exposed to natural elements such as rain, ice, and snow, its tiles and shingles loosen and fall off. Of course, this exposes the underside of the roof even more. These areas are more prone to leaks, mildew, and mold. If you don't treat them, the damages lead to more serious problems that may require the complete replacement of the roof.
To avoid this from happening, inspect the shingles and tiles carefully and check for any cracks or bent and missing shingles. You must repair them immediately to restore the integrity of the roof.
3. Ensure proper ventilation in the attic.
A thorough roof inspection doesn't involve the roof alone. We also recommend that you include the attic in your checklist as you prepare your roof for the summer days. There should be enough ventilation so hot air doesn't remain stagnant in your roof's wood rafters and decking. Stagnant hot air can lead to moisture which could damage your entire roofing system.
Insulation should also be updated for this purpose. As attics are generally used for heating and cooling systems in the household, there needs to be proper insulation to ensure all systems are functioning accordingly.
4. Check the roof's flashing.
The flashing or those metal strips you can see around the chimneys, satellite dishes, and skylights should also be examined for any signs of damage. There could be rusting or warping due to winter storms damage. If these damages are present in the flashing, that means it needs to be replaced immediately to prevent further damage.
In conclusion.
Roof maintenance is one of the most essential tasks for any homeowner. With the hot summer days approaching, you need to prepare your roof to ensure it can take the scorching heat without causing further damage. For starters, clean your gutters and do a thorough inspection of the entire roofing system to determine if anything needs to be repaired or replaced.
Stay cool and protected even on the hottest days of the year. Prepare your roof for what's ahead so you can enjoy the summer breeze more pleasantly knowing that your roof is in great shape.
If you have any questions or suggestions, we always love to hear from you in the comments below. Also below are links to more fantastic articles about ALL things DESIGN for your home or business.
Images Courtesy of Canva.
Other Posts You Might Enjoy:
9 Signs You Must Hire a Commercial Roofing Contractor in Naples
5 Tips to Prepare for Home Roof Replacement
Roof Restoration With Roofing Contractors Brisbane
Share This Story, Choose Your Platform!