There is something invigorating about the beginning of a season. The fall season seems to put everyone in a festive mood and is a great time to get together with family and friends. I love the brisk air fall brings in and it gets me in the mood for some outdoor entertaining. With the changing of the leaves and a cooling of the weather I find gathering around a fire pit for some fall outdoor entertaining the perfect thing to do.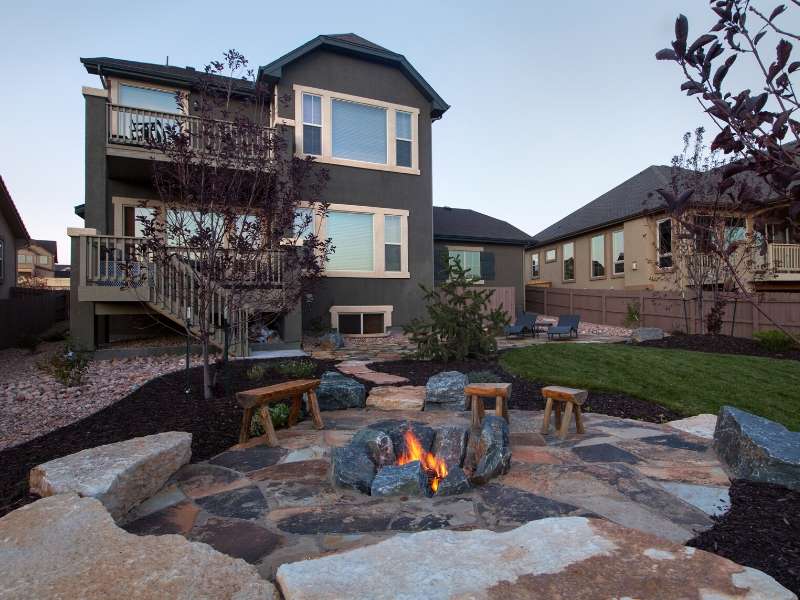 Fall Outdoor Entertaining Around a Fire Pit
Fire pits are great for having a cocktail around at the end of an evening or even serving the makings of S'mores for everyone to create their own delicious treat, it all makes for a fun time!  A serve-yourself setup works the best and looks festive.
Keeping It Cozy
With cooler temperatures, it's important to offer the comfort of a warm cozy blanket for guest to wrap themselves in. I like to decorate with blankets by using ones that have bright fall colors in them. Pillows are another accessory that adds color and comfort.
Anyone can carve out space for a fire pit for fall outdoor entertaining. There are many fire pits available premade that you can pick up at any big box store or you can custom make your own. The most important aspect is to have comfortable seating arranged around the fire for the perfect social entertaining. I like to make sure that it is designed to blend into the landscape because being outdoors is what makes it so peaceful.
How to Light Your Fall Outdoor Entertaining Area
Lanterns are the perfect solution to soft lighting that is not only decorative but, is a functional way to light your outdoor space for safe navigation. Another great way to light your patio area is with old fashion string lights. They offer up the perfect soft glow for just the right mood.
Images Courtesy of Canva.
Other posts you might enjoy:
Fall Décor Fashion Re-Imagined for the Home
Fall Fashion Trends for Over 50
How a Waterfall in Your Home Design Can Improve Health
Share This Story, Choose Your Platform!