How many times do you step into a room and fall in love with a rug? Rugs are a wonderful addition because they serve as decoration and provide warmth and comfort in your home. Moreover, a Southwestern area rug design is a thing of beauty for many homes. They are also a fantastic combination with a hardwood floor.
If a Southwestern area rug is something you want to work into your home, continue reading to learn what you need to know about this wonderful rug design for your home.
The Basics About Southwestern Area Rug Design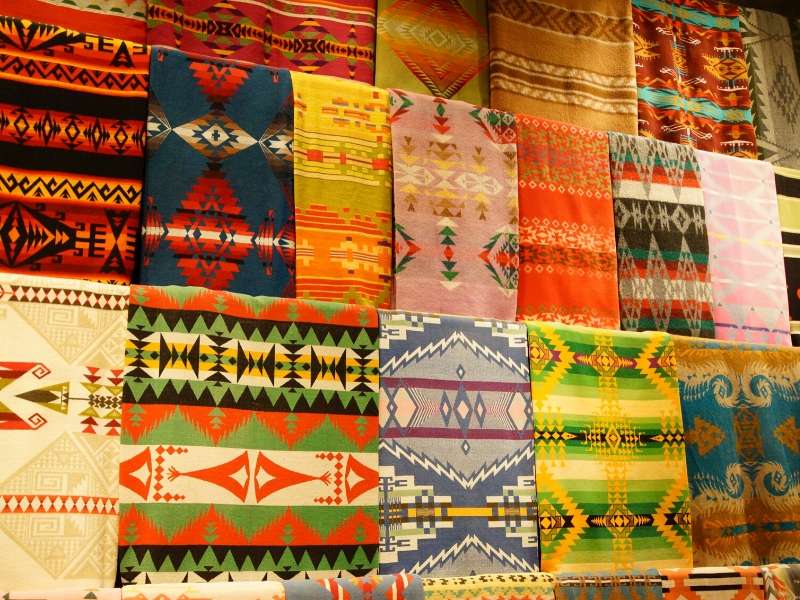 Makes Your Living & Other Rooms Quieter
The ideal area rug is one that fuses with the pattern of the other items and colors in the room. In fact, area rugs act as artwork for the floor. So, infuse some playfulness by experimenting with colors and patterns. If you opt for rugs with bold patterns, then ensure that you place furniture on them. This means that you take the color and pattern of your entire room into consideration before you make your rug purchase.
Warms Up Your Space
Surviving the winter season, especially when you live in a region that goes through four seasons is always a challenge. Summers are always great but electricity bills from heating a home during the winter season might be too high. However, area rugs can make heating your home more efficient and affordable during the cold months. These rugs will trap the warmth from your heating efforts and redistribute it making your home cozier.
Good for Your Floor
Your floor faces a lot of risks of damage from pets. There is also damage risk when you move your furniture. Additionally, there may be sharp objects that fall on your floor and cause damage. An area rug protects your floor from scratches and make it more durable. Such rugs are easy to remove, clean. Some of the floor materials that may be resistant to damage include stone and luxury vinyl.
Area rugs come with a lot of advantages as you can see from the above points. The biggest obstacle that is to choose the best rug for your home because of the thousands of area rugs on the market.
Why You Need a Southwestern Area Rug
Maintenance
Buying an area rug is not enough. Rather, go a step further and ensure that you keep it in good shape if you want it to be last longer. The texture and type of area rug determines the maintenance approach that you take. If you have flat-weave and low-pile rugs, then you need to take them out for cleaning regularly. You need to vacuum medium-to-high pile rugs frequently to get rid of dirt. However, these types of rugs need a thorough cleaning once per year to deal with particles such as allergens and hairs.
Pattern, Style, & Color
The choice of color depends on your taste and preferences. You might involve an interior designer to ensure that you choose colors and patterns that blend with the rest of your home. Also, opt for custom designs for your irregular rooms. Traditions also play a part when it comes to the design of area rugs. Shopping with a knowledgeable company like Southwestern Rugs Depot makes the search easy for those who are looking for these designs.
Sizes of Rugs
There are also different dimensions for rugs. Perhaps you're looking for one that fits perfectly in your family or living room. The size of the room determines the choice of rug that suits you best. The ideal area rug fits under all the key pieces of furniture in a room. You might also have different sets of rugs if you have a big living room. Such rugs don't have to be the same pattern or color but they must work well together. Additionally, ensure that you leave space for people to walk on the rug especially on areas with heavy traffic.
Selecting the best area rug for your living room is not hard if you consider the above tips. Such carpets are easy to maintain to ensure longevity. You might also keep a watchful eye on your children and pets when they're playing on the area rugs.
Your Amazing Southwestern Area Rug
We wish you the best when shopping for your area rug. If you have any other suggestions, please leave a comment below. You will also find links below for other articles about all things design.
Images Courtesy of Canva.
Other Posts You Might Enjoy:
Five Things to Plan for When Renovating Your Home
How to Spot and Treat Termite Infestations in Your Home
10 Signs that You Have a Leaking Basement in Your Home
5 Home Improvement and Remodeling Ideas to Boost Your Home Value
Share This Story, Choose Your Platform!