If apartment decorating is one of your favorite creative outlets, why not take that hobby to another level and design your own decorations? It's a fun, budget-friendly way to upgrade your new apartment. As you put your creative energy into each item you design, it gives each decoration a story of its own. You might even ask your friends to join you in the process which makes the end results even more memorable. Here are a few creative ideas to get you started.
6 DIY Tips for Ingenious Apartment Decorating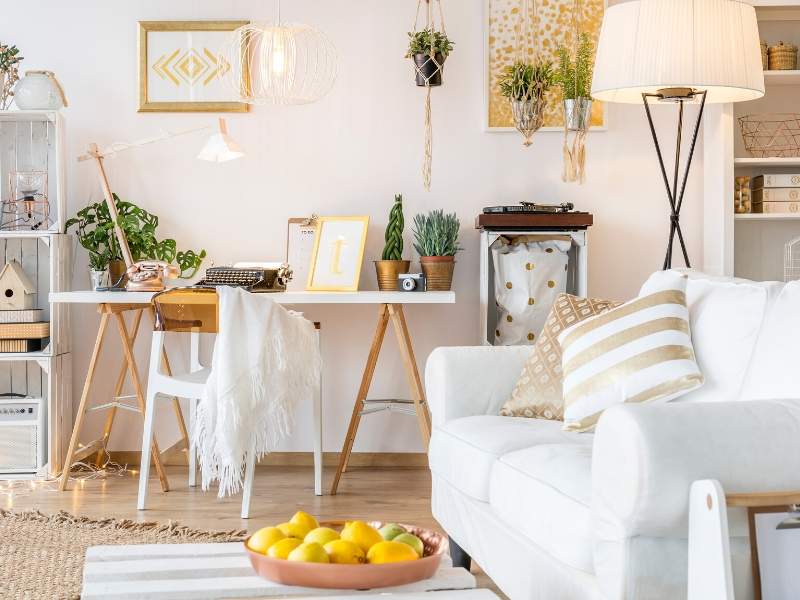 String Lights, Clothespins, and Pictures
Start with string lights and hang pictures or other graphics on the string using clothespins. This is a great beginner project to get you started. It requires very few materials, very little time, and it is inexpensive.
Show Off Your Travels
My new job sends me around the country, so I bought a framed map to mark my adventures. I use different color pins to indicate solo trips, family trips, and special places (like the city where I proposed to my fiancée).
Attractive Themed Areas
You can add a stylish touch to any upscale apartment by creating unique rooms that give your home a sense of character. For instance, you can decorate your study space like a coffee shop with a few old signs, wooden tables, a coffee station, and hanging lights.
Create your Own Art
To bring life to a luxury apartment, think about creating your own art to add to the otherwise bare walls. You don't necessarily have to paint. Think about creating collages, make alterations to thrift-shop paintings, or use string or masking tape to create abstract or geometric art.
Temporary Wallpaper Decor
Decorative temporary wallpaper is perfect for apartments. Many modern apartments have great features like a kitchen island, but they often need a little extra character. If you place it on the side of the island, it gives your kitchen a unique style and accentuates its other features. You can also frame wallpaper to use as hanging art or to add texture to a bedroom wall.
Shine the Lights
Every apartment should have modern, stylish lighting. It can make or break your apartment's mood, so it's worth the investment. Line your stairs with dim lighting for a starry look or create hanging lights out of a few simple materials from your local electrical supply that you can easily assemble at home.
When you do it yourself, you surround yourself with endearing objects and that fills your apartment with fabulous creative energy. We hope we've given you some useful ideas and inspiration to create your own original DIY apartment decorating projects.
Images Courtesy of Canva.
Other Posts You Might Enjoy:
Autumn 2018 Hot Color Trends to Warm Your Home
7 Steps to a Spacious Apartment
What to Look for in a Luxury Apartment
Share This Story, Choose Your Platform!