The Ugliest Bathroom Contest –
Winning Entry
Jennifer B. from Tucson, AZ is the winner in our Ugliest Bathroom Contest. Jennifer is won the grand prize – which includes:
A complete design plan for a new bathroom from Patricia Davis Brown and ongoing consulting services to help him through a complete bathroom transformation
A designer lavatory faucet from Brizo
Radiant Floor Heating from WarmlyYours
Bathroom accessories and hardware from NiftyNob
Take a look at Jennifer's bathroom and use the form below to vote if you think this ugly bathroom deserves the grand prize!
Meet Jennifer's Bathroom
Here's Jennifer's story about her "almost" cool bathroom:
Where to start? Built in 1972, this bath has great potential and is ALMOST retro enough to be cool, but almost is the key word there. It is officially an eyesore!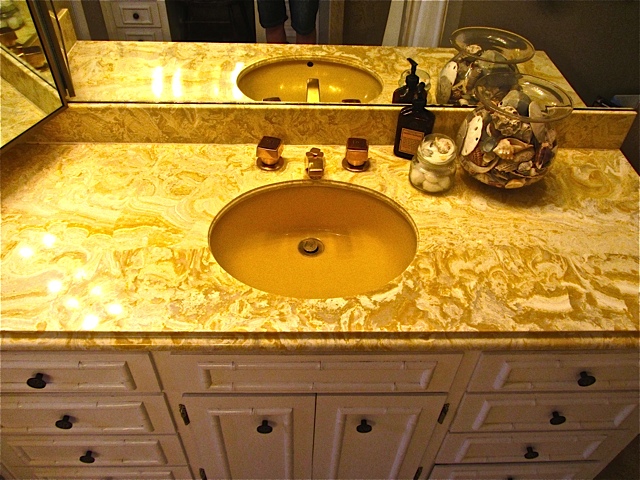 From the second you see the bright lemon meringue plastic laminate countertops, oversized step-down shower walls & ceiling (!) & bath surround !) you feel like you've been enclosed in one of Granny's pies. The sink is solid gold – actually brilliant yellow, though the tub has a putrid puce tint The bath is also set right next to the toilet and is positioned awkwardly in the room. No one wants to take a bath in the banana boat.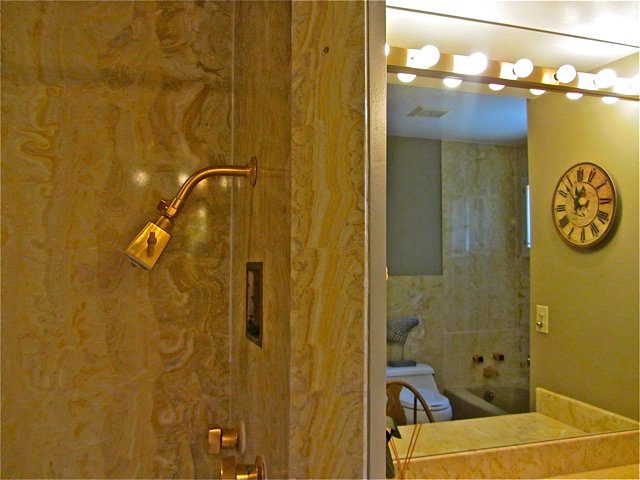 The cheesy Hollywood lights, corner mirrored medicine cabinet and badly corroded & outdated brass fixtures definitely date this space. The painted surfaces all show signs of moisture by way of streaky water marks. The original window is not only potential security issue, but it allows both cold & hot air to seep in, along with small critters from the desert. The vintage vertical shutters scream "jail cell". It is definitely a room one wants to escape.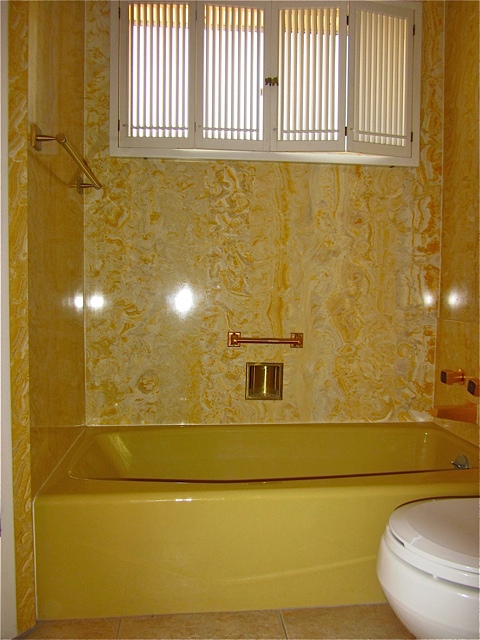 Jennifer's Dream Bathroom
The house is in the southwest so has the potential to include some unique features. This secondary bath is also the one used by house guests and Jennifer would like them to feel like they have a relaxing retreat, as well. The rest of the house is eclectic and has a lot of natural materials in it but she's not opposed to using some glazed or glass tile or even concrete and metal accents to bring the room into this decade!
Cast Your Vote
Voting Closed
See the Other Finalists
Check out the other finalists and all of the details about this contest by clicking here.