Building a productive and successful online e-commerce takes time and dedication and it's important to have the right e-commerce tips on hand when you start. E-commerce businesses offer you a sense of freedom, unlike traditional brick and mortar shops. You get to sell your favorite goods and services with a special added bonus. You don't have to deal with customers face-to-face and you can sell to anybody, anywhere, at any time.
As online store-fronts grow, so must their strategies for reaching out to fresh faces. It can become all too easy to fall into a sense of complacency. However, one of the best e-commerce tips is to stay on your toes. Don't rely solely on a yet static audience of customers who return again and again. While loyalty is great, it's essential for business success to grow your consumer base. Furthermore, you need to increase the number of products they buy for long-term success.
Whether you've run into a plateau or merely want to be prepared, it's a great idea to challenge yourself and constantly build upon your success. Today, we're sharing seven e-commerce tips to take your shop to the next level.
7 E-Commerce Tips to Boost Your Business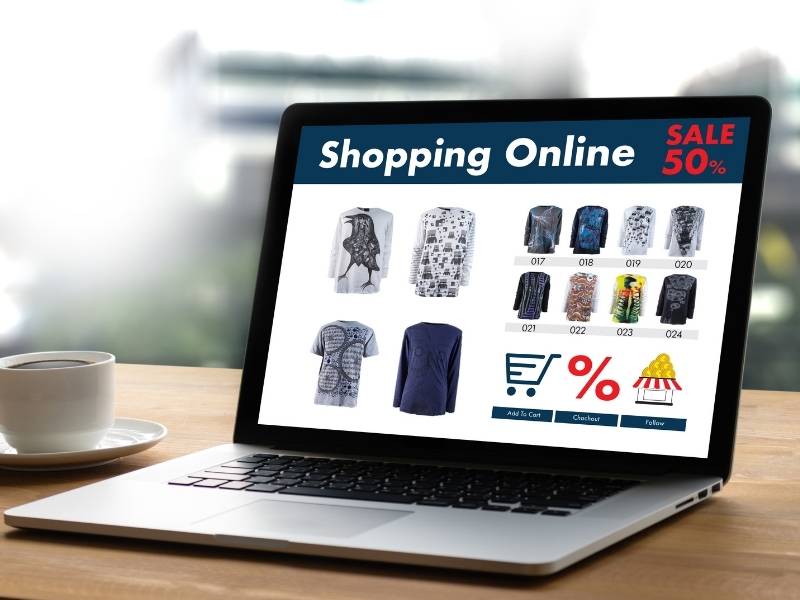 ① Always Upsell
One of the simplest e-commerce tips to build your business is simply to grow your loyal consumer base. This tactic has long been known as an effective strategy throughout many industries. Both online and off, building a large consumer base helps insulate brands from economic downfalls. Moreover, it helps protect your bottom line.
One of the best ways to upsell to your consumer base is to offer suggestive sales. These are made available through plug-ins on the e-commerce storefront and offer related products to your customers' current purchases. It's a minimally-invasive way to nudge shoppers into buying more.
② Send Out Reminder Emails
If you own an e-commerce site, you've probably heard of your bounce rate. Furthermore, you know that cart abandonment can hurt your sales in the long run. The longterm goal is to make sure people don't forget those purchases – especially if the items are already in their cart. Studies show that two out of three people don't return to make their purchase, and that's the last thing you want.
E-commerce brands can reduce cart abandonment today by simply pinging their potential shoppers with the occasional email. It's a minimally-invasive technique that reminds shoppers about what they might have forgotten. One of the simplest e-commerce tips here is to implement a strategy where shoppers get an email or series thereof, that reminds them of what they're missing. It's a simple way to improve your bottom line through an easy and personable sales tactic.
③ Reduce Poor-Performing Inventory
Any good e-commerce store knows that some products sell better than others. This is the reality of any store-front and it can be a frustrating experience for owners who want to move as much as possible. It can also negatively impact your bottom line when you have an inventory that doesn't sell. If you're tied up financially in a product that's sitting in storage, you won't have funds to invest in a new product.
Ultimately, it is often better to get these products out of your inventory. You may take a small financial hit, but it will be worth it in the long run. Many brands will have close-out where they eliminate various forms of inventory by dramatically lowering prices. Not only can this help increase the number of sales you're making, but it'll free you up to invest more heavily in products that actually sell well.
④ Go Big with a Redesign
Many e-commerce stores design a suitable website for their brand, generate some success and leave it at that. Unfortunately for them, consumer preferences change over time. What may have worked 5 years ago in terms of aesthetics may seem outdated, clunky or non-functional today. E-commerce and online businesses, in general, will never be a set-it-and-forget-it industry.
Some brands can prosper with relatively poor web design: namely, those online brands that have a lock on their industries and/or niche markets. However, e-commerce stores that have lots of competition and/or offer a variety of products and services stand to lose a lot from a poorly-designed website.
Setting up a new website is easy in today's world. However, it's important not to settle for a simple, boring design. You need to ensure your website is easy to navigate, optimized with great content and reflective of your brand entity. This leads us directly to our next point.
⑤ Optimize for Mobile
It's no secret that mobile devices are the norm these days. Quickly replacing standard desktop and laptop devices for online shopping, the nature of the internet has changed. These changes continue to evolve over time, and it's important that your business does the same. If you don't, you run the risk of losing potential customers and sales.
If you don't optimize your e-commerce site for mobile, you run two major risks. First, browsing a web-friendly site via a mobile device offers a poor user experience. It's hard to navigate, browse, and search. Most people will give up and bounce.
Second, search engines don't value websites these days that aren't optimized for mobile devices. More than two years ago, Google and other search engines announced that websites that do not follow mobile optimization guidelines will experience penalties. In short, this means that your e-commerce website will not rank well (or at all) in targeted search results.
⑥ Expand Your Customer Service
Just because your business is online, doesn't mean that you can forgo the customer service aspect. Without answers to questions, potential customers will likely spend their money elsewhere. Therefore, one great e-commerce tip is that all such businesses should strive to provide real-time information as much as possible.
An increasing number of stores have found immense value in 24/7 live customer service chat. This is reasonably affordable and allows shoppers to easily access information about a particular product. Additionally, customers can relay inquiries, access returns or shipping policies, or seek technical help with placing their order.
Without such assistance, stores ultimately lose customers. While it may not be an immense amount, any business worth its wealth knows that every sale counts – and every customer matters.
⑦ Invite & Welcome Feedback
Unfortunately, a lot of e-commerce stores lack the recognition necessary to be household names. If this hits a little close to home for your business, it might just be time to figure out why and how you can change this. Your goal should be simple. Build brand recognition. Get your loyal customers to engage in marketing your brand for you. Basically, build out your review presence.
Through a variety of websites and platforms, satisfied customers can leave reviews about your brand. Likewise, you can implement reviews and testimonials directly on your website. The more reviews and positive comments people can find about your brand, the more likely they are to finalize their purchases.
Here's to Your Successful E-Commerce Sales!
Improving your e-commerce store sales isn't a cut-and-dried process, but tweaking several minor elements can cumulatively produce dramatic results. No suggestion laid out here today is immensely time-consuming or difficult. Making an online business website the easy way using these tips will increase your revenue. These are all e-commerce tips that you can accomplish with a little thought and consideration though. Best of all, you can take charge of the situation now to ultimately grow your business and build that bottom line.
Images Courtesy of Canva.
Other Posts You Might Enjoy:
5 Tips to Effectively Market Your Design Services
Design Business: 3 Ways to Diversify Income
5 Amazing Smartphone Features for Designers
Boost Web Engagement with 3 Simple Steps
https://digthisdesign.net/wp-content/uploads/2018/03/E-Commerce-Tips-7-Ways-to-Build-a-Great-Online-Business1.jpg
788
940
Melissa Moore
http://development.digthisdesign.net/wp-content/uploads/2016/11/OLD_DigThisDesign_logo.jpg
Melissa Moore
2018-03-29 08:00:19
2021-04-30 17:08:04
E-Commerce Tips: 7 Ways to Build a Great Online Business