Camouflage fabric is a print that never goes out of style, but not all women feel they can pull off the camo look. If you are considering adding camo prints to your wardrobe, there are several ways you can do it with confidence. Take a look at these simple ways to incorporate camo into your everyday look.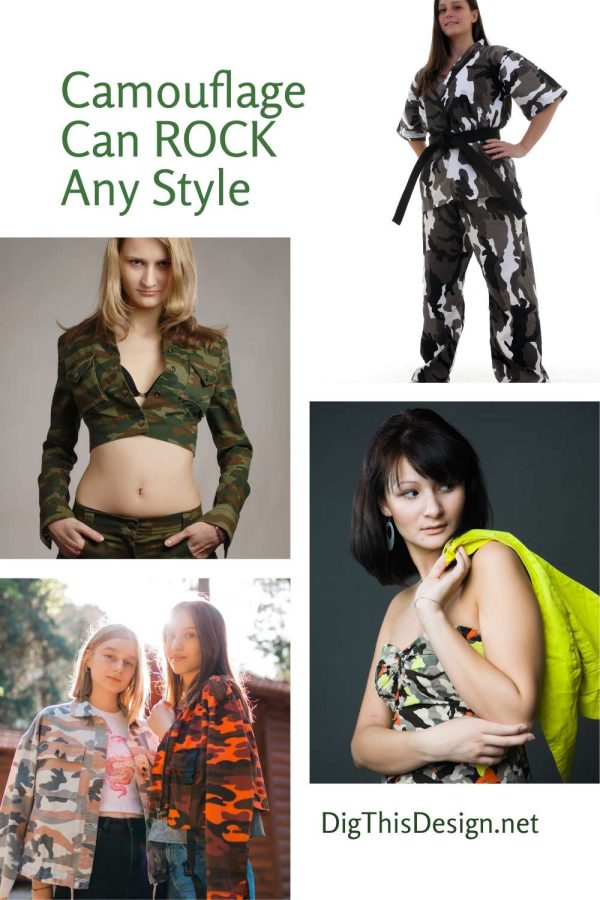 City Style
If camo seems too "rural" for your chic personal style, think again. Working the pattern into your wardrobe is just a matter of what you pair it with. Fortunately, camo can go with anything if you do it with confidence.
Couture: Love high-end clothing? That's great because there are plenty of runway looks that feature camo patterns. Find a single standout garment such as a jacket and add it to your regular style.
Girly: Pull off some camo style by pairing the fabric with rhinestone dangling earrings or a feminine lace skirt.
Formal: Rocking camo can be as simple as choosing a handbag with the pattern when you are wearing a more formal outfit.
On Trend
Younger women might be drawn to the militaristic vibe you can get from camo clothes, the trend works well for many styles.
Any Day Chic
There are many subtle ways you can add camo colors to your wardrobe, and in some cases it might not even involve using the print. Here are some ideas.
Classic: If you like a more "preppy" look, you can combine khaki pants with a white shirt and military-cut short jacket.
Boho: A flowy, camo maxi skirt goes well with a linen top and a headscarf.
Casual: Jeans go perfectly with any camo garment. This might be an opportunity to choose more of the pattern such as with a cardigan or T-shirt. Add some brown suede boots to complete the outfit.
Camo is the hot pattern of the season, and it's a fun addition to anyone's wardrobe. Using these basic tips, you can add a touch of camo to your personal style without looking as if you just walked out of a military surplus store. Don't be afraid to pick up a few small pieces, and then rock them with confidence.
Images Courtesy of Canva.
Share This Story, Choose Your Platform!