Summer is just around the corner, and that means it's time to hit the beach or poolside for some fun in the sun! Finding the perfect swimsuit can sometimes be a daunting task, especially when you want to feel confident and comfortable in your own skin. Fortunately, 2023 brings a variety of trending swimsuits that cater to all body types. Whether you're curvy, athletic, petite, or anything in between, this guide will help you discover the perfect swimsuit for your unique shape.
Trending Swimsuits for ALL Body Types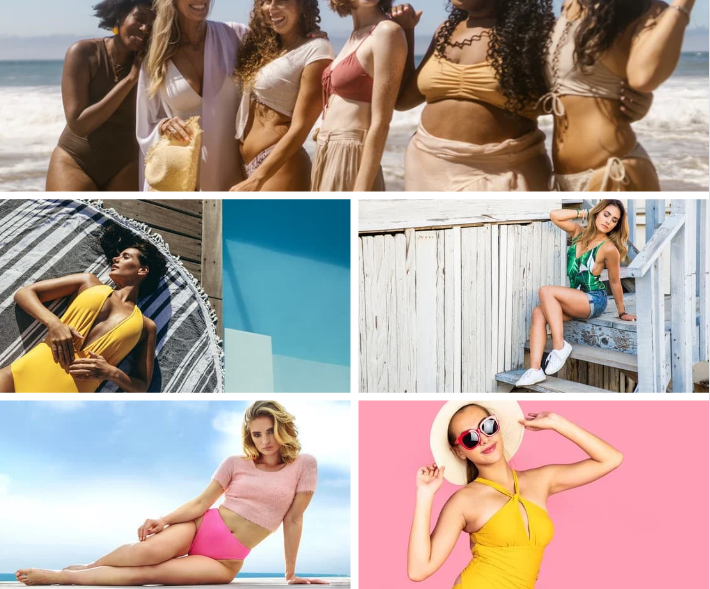 High-Waisted Bikinis: Embracing Retro Glamour
High-waisted bikinis have made a strong comeback in recent years, and they continue to be a popular choice in 2023. This style is ideal for creating an hourglass silhouette, as it accentuates the waistline while providing ample coverage for the stomach area. High-waisted bottoms come in various designs, from classic solids to bold patterns, allowing you to find a style that matches your personality.
One-Piece Wonders: Flattering and Chic
One-piece swimsuits are a timeless choice that suits all body types. They offer more coverage while accentuating your curves in all the right places. In 2023, one-piece swimsuits are taking on bold prints, unique cutouts, and asymmetrical designs. Whether you prefer a classic black one-piece or a vibrant pattern, there's a style to suit your taste. Look for designs with strategic ruching or color blocking to further enhance your figure.
Cutouts and Mesh: Trendy and Playful
Cutouts and mesh panels are making a splash in 2023 swimsuit trends. These designs add an element of intrigue and sexiness to any swimsuit, regardless of your body type. Strategically placed cutouts and sheer mesh panels can draw attention to your favorite features while providing a touch of modesty. From geometric cutouts to intricate lace-like patterns, this trend allows you to show off your style while feeling confident.
Ruffles and Frills: Feminine and Flirty
If you want to add a touch of romance and femininity to your beach look, ruffled swimsuits are a great option. Ruffles and frills create movement and add volume, making them an excellent choice for those with smaller busts or straighter body shapes. Opt for ruffled bikini tops or one-pieces with cascading ruffles along the neckline or down the sides for a playful and eye-catching look.
Sporty Chic: Athletic and Comfortable
For those with an athletic body type or who prefer an active day at the beach, sporty swimsuits offer both style and functionality. Look for sleek one-pieces or bikinis with sporty details like racerback tops, mesh panels, or zipper closures. Bold color-blocking and streamlined designs will keep you looking chic and confident, whether you're lounging by the pool or participating in water activities.
Conclusion
In 2023, swimsuit trends are all about embracing your unique body type and personal style. Whether you prefer high-waisted bikinis, flattering one-pieces, trendy cutouts, feminine ruffles, or sporty chic designs, there's a swimsuit that will make you look and feel fabulous. Remember, the most important thing is to choose a swimsuit that makes you feel confident and comfortable in your own skin. So, dive into the summer season with style, and enjoy the sun, sand, and surf with the perfect swimsuit that suits your body type!
Other posts you might enjoy:
Let's Talk Bikinis for ALL Ladies
Share This Story, Choose Your Platform!