Living clean is a choice I make for my family and myself. My son Patrick was a victim of a bad pharmaceutical drug that almost cost him his life. Ever since that moment, I work hard at finding clean products without harmful toxins. We at DigThisDesign search for products offered by companies we trust to be responsible with consumers and the environment. My post today is a natural skin care choice in a healthy skin care line made up of natural ingredients found in the sea. Rick Fox is the founder of SeaQuarious and I sat down with him to hear about his unique process in developing his product.
Recently I found out I had high levels of mercury and lead. My doctor and I were baffled by this due to never being exposed to an industrial environment. My husband was also tested for high metals and did not have high levels. I was surprised by how living in the same home with my husband for 29 years and I was the only one with high metals. This caused me to see what might be in my skin care and the cosmetics I was using. I was shocked to find out my skin care product had mercury in it under another name, Hydroquinone. This is why I am diligent in my search for, "Clean" and passionate about finding clean products and this natural skin care choice is one such product. I am so glad there are people like Rick Fox making a difference and giving us, the consumer, healthy products.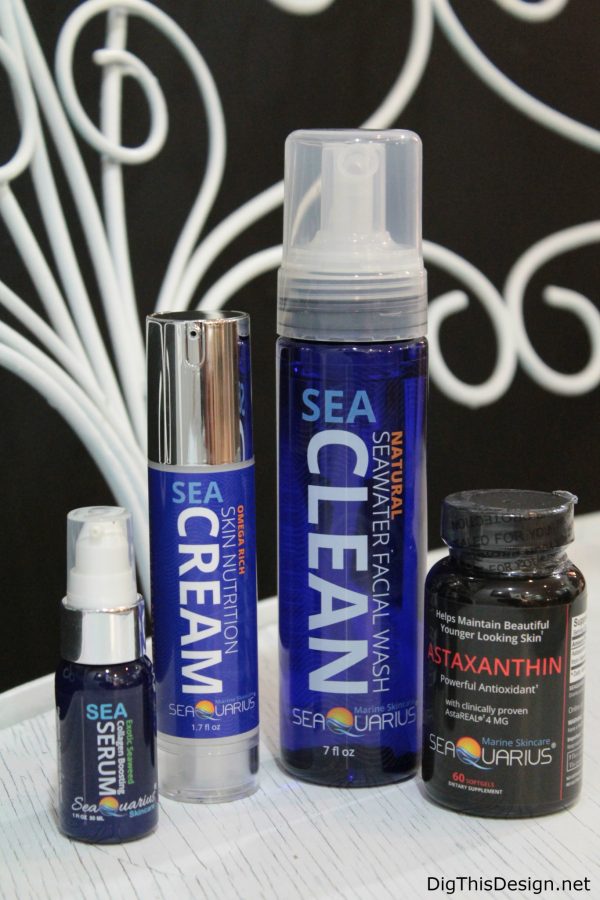 Chatting with Rick gave me some insight on some of the restorative properties of seawater. The ocean is composed of many minerals in ideal proportions, some of which are trapped inside seaweeds, algaes, and other marine botanicals. There are extracts from 6 species of marine plants throughout the SeaQuarius line. The combination of these different sea plants are there to provide omega fatty acids, minerals, antioxidants, and emollients.
Astaxanthin is a name I had not come across before finding out about SeaQuarius. Although it has a long scary chemical sounding name, it's real identity is a natural pigment (or carotenoid) found in microalgae, salmon, lobster, and flamingos just to name a few. This powerful antioxidant helps to fight free radicals in the body caused by external sources like UV rays or smoke.
Please visit my Clean Living and Eco-Friendly boutiques of my hand selected and recommended by me at PDBHomeStore.com and for healthy choices at happy hour, check out DigThisDesign's, "Clean Drink Happy Hour". You can also find the SeaQuarius line by clicking here.
Share This Story, Choose Your Platform!