Mother's Day is a special occasion to celebrate the most important woman in your life. This day is an opportunity to show your love, appreciation, and gratitude for everything she has done for you. One way to express your affection is by giving her a thoughtful gift. Finding the perfect Mother's Day gift can be challenging, but with a little creativity and consideration, you can find something that she will cherish.
Mother's Day Gift Guide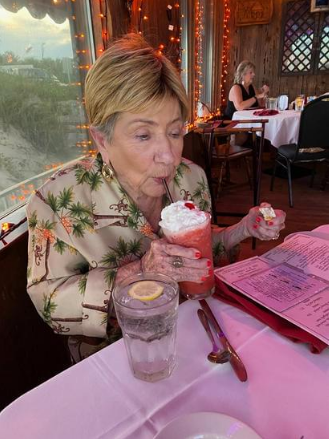 My mother enjoying her day!
Mother's Day Gift Ideas
Here are some Mother's Day gift ideas to help you get started:
Personalized Jewelry: Jewelry is a classic gift that always brings joy to a mother's heart. Consider getting a personalized necklace, bracelet, or ring that features her name, initials, or birthstone. You can also choose a piece of jewelry that represents a special moment or memory you shared together.
Spa Day: Every mother deserves a break from her busy routine, and what better way to relax than with a spa day? You can book a spa package for her that includes a massage, facial, and other relaxing treatments. Alternatively, you can create a DIY spa experience at home with scented candles, bath salts, and a soothing playlist.
Photo Album: A photo album is a sentimental gift that allows your mother to relive happy memories. You can collect pictures of you and your siblings, family vacations, and other special moments and put them together in a beautiful photo album. You can also include handwritten notes and captions to make it more personal.
Kitchen Appliances: If your mother loves cooking, then a new kitchen appliance can be a useful and practical gift. Consider getting her a stand mixer, blender, or air fryer, depending on her interests and needs. You can also get her a cookbook from her favorite chef or cuisine to inspire her cooking adventures.
Subscription Box: Subscription boxes are a trendy gift idea that can cater to your mother's hobbies and interests. You can choose from a variety of options, including beauty, wellness, cooking, and even book clubs. This way, your mother can receive a monthly surprise that brings joy to her doorstep.
Flowers and Chocolates: Sometimes, the simplest gifts can be the most meaningful. You can never go wrong with a beautiful bouquet of flowers and a box of chocolates. You can choose her favorite flowers or opt for a bouquet that represents your relationship. You can also get creative with the chocolates and choose a unique flavor or brand.
DIY Gift: A DIY gift shows your mother that you put effort and thought into her gift. You can create a handmade card, a scrapbook, or a piece of art that reflects your mother's personality and style. You can also create a DIY gift basket filled with her favorite treats, candles, and other items that she loves.
In conclusion, Mother's Day is a special occasion to show your mother how much she means to you. Whether you choose a sentimental gift or a practical one, the key is to make it personal and thoughtful. Use these gift ideas as a starting point, but always keep your mother's personality and interests in mind. Happy Mother's Day!
Other posts you might want to read:
A Mother's Day Coffee Drink; Best Mom's favorite coffee
Indulgent Cocktails for Mother's Day
Interviewing Mom, Tips on Being a FASHIONISTA at 89! Recipes for Mother's Day Bubbly & Brunch
Share This Story, Choose Your Platform!